The coaching carousel is already starting to spin.
Ohio State fans are often worrying about the team's assistants who could move on to head coaching positions elsewhere. It's happened repeatedly over the last few years with the likes of Tom Herman, Chris Ash, and Luke Fickell all pursuing opportunities at other schools.
It really can be a sign of a great program, and Urban Meyer has gained the reputation of developing his staff members much like his players. Sometimes, however, these moves have an impact on the recruiting trail, but most often the presence of Meyer is more than enough to smooth things over. 
Now imagine being a major college program in the midst of head coaching turmoil and how that could impact a class. 
The folks in Gainesville are living that right now following Sunday's firing of third-year head coach Jim McElwain. The Gators fell to Georgia by a score of 42-7 and that – combined with an overall lack of support from UF administration – was the final straw for McElwain. His record at Florida was 22-12 overall and 16-8 in the SEC.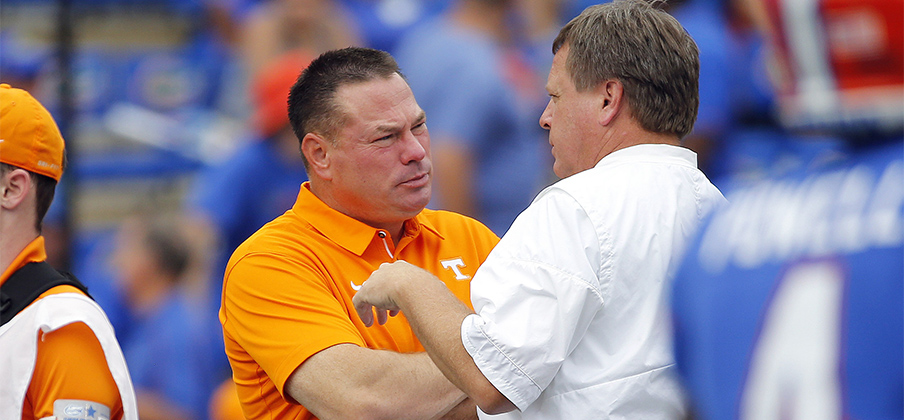 Elsewhere around the country, it sure seems like Tennessee fans could be going through a similar experience in the near future. The Vols are now 3-5 and have not won a single contest within the SEC. On Saturday they fell on the road in Lexington for their fourth-straight loss. Volunteer fans are not happy and have been voicing their displeasure for a while now. It seems as though this one is all but a foregone conclusion at this point.
The Buckeyes' national recruiting approach means that Meyer butts heads with coaches all across America. Tennessee and Florida haven't had a whole lot of success lately, but when it comes to recruiting, they've still pulled their share of talent.
An argument could be made that Ohio State's biggest miss in the Class of 2017 was five-star offensive tackle Trey Smith. The true freshman has been starting in Knoxville (at guard) since day one, and he's been mauling defenders all season long. The race between the Buckeyes and Vols was a close one. Would Smith have sided with the home-state program if he had seen this coming? Impossible to say, but I'm guessing not. 
Urban Meyer's focus on the state of Florida has led to countless recruiting battles with the Gators. The Sunshine State is perhaps the most talent-rich area in the country, so those battles are sure to continue regardless of who takes over in Gainesville. 
The Watch List
The Buckeyes likely have room for about six more in the 2018 class. We've been talking about the top targets for a while now, but the issues surrounding Florida and Tennessee may end up changing things a bit. There's already been some movement with a few prospects, and there are a handful to monitor closely as signing day approaches.
Cade Mays • ★★★★★ • Offensive Tackle • Knoxville, TN
The nation's No. 2 tackle has been committed to Tennessee since July of 2015. He's a Volunteer legacy and for the longest time there were zero question marks surrounding his recruitment. A lot has changed since 2015 and Mays is coming off an unofficial visit to Clemson. He's also slated to check out Notre Dame and Ohio State in the next month. The Buckeyes are still the favorite to land Jackson Carman, but it's definitely possible to add two more tackles to the 2018 class. 
Alontae Taylor • ★★★★ • Athlete • Manchester, TN 
Four-star athlete Alontae Taylor has been a Volunteer commit since June of 2016, and his recruitment is also going through some twists and turns. Taylor was in South Bend last weekend and is planning on visiting Georgia and Ohio State as well. Tony Alford has been putting in work on this one, and Taylor is scheduled to visit Columbus on Nov. 11; the same weekend as Mays. 
Trey Knox • ★★★★ • Wide Receiver (2019) • Murfreesboro, TN 
The Trey Knox recruitment is one the Buckeyes may not need much help in winning. Still, the outlook could get even more clear if a change is made in Knoxville. Ohio State already has a commitment from Master Teague – a teammate of Knox – and the Buckeyes remain the favorite for the 6-foot-4, 205-pound wideout.
There also are a few names to watch amidst the chaos in Gainesville. The country's No. 4 tackle doesn't appear to be anywhere close to a decision, but the Gators are the current crystal ball favorite for Nicholas Petit-Frere. The Tampa product visited Ohio State this summer, but right now Notre Dame may be the frontrunner in his recruitment. Carman, Mays, and Rasheed Walker are all top targets at tackle, but Petit-Frere is right up there with them. A return trip Columbus in the coming months could certainly make things interesting. 
Amari Burney • ★★★★ • Safety • Clearwater, FL
The Buckeyes are in a good spot at safety with commitments from both Josh Proctor and Jaiden Woodbey. There are, however, some question marks surrounding just how solid those commitments may be. Nothing too ominous has happened quite yet, but a guy like Amari Burney could re-enter the fray if something were to happen. Burney's recruitment was down to the Gators and Buckeyes before he sided with Florida back in June.
---
The Buckeyes have a long history of nabbing prospects who were once committed to other schools. Dwayne Haskins, Keandre Jones, Tate Martell, and Pete Werner are just a few of the names from recent years. Even further back, Meyer was able to flip prospects like Dontre Wilson, Demetrius Knox, Mike Weber, and Isaiah Prince. 
Coaching changes at some of the country's recruiting powerhouses should make the ride toward signing day that much more interesting as Ohio State looks to finish out its top-ranked 2018 recruiting class.