When Oregon first donned alternate uniforms in 1999, it was a clear attempt at gaining an advantage on the recruiting trail. After all, the Ducks had only six conference titles to their name in their 105-year history, and top-rated prospects weren't clamoring to play in the Pacific Northwest.
So minutes after he watch his alma mater get blown out by a national powerhouse, Nike founder and chairman Phil Knight asked then-head coach Mike Bellotti what he could do to help take the program to the next level. He donated millions of dollars to build a top-of-the-line practice facility, and immediately called a meeting with his top executives at the apparel company.
Among them, Tinker Hatfield, vice president for design and special projects, who is most famous for designing the Air Jordan IIIs.
"He simply said, 'I want you guys to come up with some ideas on how we can help the University of Oregon improve the ability to recruit better student-athletes for the football program,'" Hatfield recalled in an interview with USA TODAY Sports.
"It helped us get visits from kids that were four-star and five-star [prospects]," former defensive coordinator Nick Aliotti added. "Way back when we were a second-class citizen, coaches would say, 'Don't even look at these guys because they're not for you.' Now, when we show up, we have the strongest hand. We carry the largest trump card."
Fast forward almost 20 years and seemingly every school outside of Tuscaloosa, Alabama, wears at least one alternate uniform or helmet every year. Oregon no longer has the distinct advantage in the recruiting department. No school does, for that matter. But that doesn't stop teams like Ohio State from introducing flashy new uniforms every season.
"I think players like [them]," head coach Urban Meyer said during his weekly press conference on Wednesday night. "I think it's appealing to recruits, too."
Ten years after the Ducks brought a change of pace to the traditional college football landscape, Meyer — then the head coach at the Florida — and Ohio State were both involved with Nike's initial attempt to make alternate uniforms the norm. Both the Buckeyes and Gators were among the 10 select Nike schools to be a part of the Pro Combat System of Dress, which introduced non-traditional getups for some of college football's most recognizable programs.
Meyer admitted he doesn't care about alternate uniforms and added he's preferred the usual scarlet and gray since he was a child. But there's no denying he puts recruiting ahead of his own thoughts.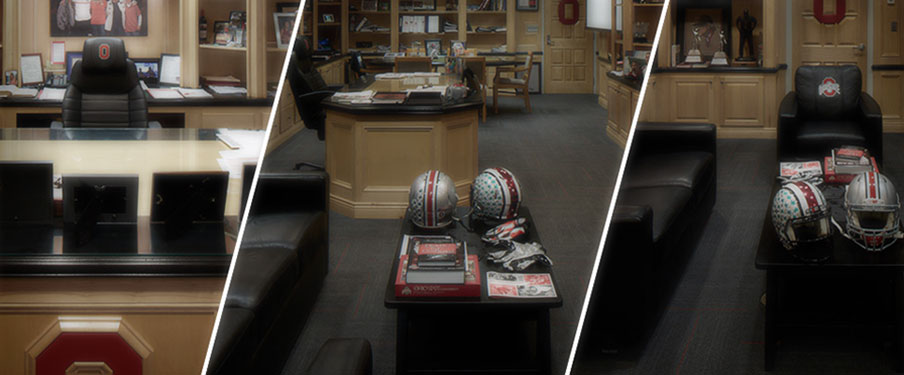 "I think everyone looks pretty cool out there in some of those helmets. I've saved the ones we've won [while wearing]," he said. "I'm glad the fans appreciate it. I think at first there's some resistance because we're a very traditional school. But, you know, recruiting a lot of the times is very important, and I know recruits like them."
And that they do. Eleven Warriors asked several commits and top targets for their thoughts on the uniforms, and the response was overwhelming.
FOUR-STAR QUARTERBACK COMMIT EMORY JONES
"Best uniform combination I've seen in a while. I love them."
FIVE-STAR RUNNING BACK COMMIT JAELEN GILL
"Jersey of the year! They're raw."
FOUR-STAR OFFENSIVE TACKLE COMMIT MAX WRAY
"I think they're awesome. I can't wait to see them."
FOUR-STAR LINEBACKER COMMIT DALLAS GANT
"They look awesome. Can't wait to see them play in them Saturday."
FOUR-STAR LINEBACKER COMMIT TERADJA MITCHELL
"Straight fire. I love them. Could be a little more red, though."
FOUR-STAR CORNERBACK COMMIT SEVYN BANKS
"Them unis too nice. Nice and sweet."
THREE-STAR CORNERBACK COMMIT MARCUS HOOKER
"Once I saw them, I got so excited because I can't wait to play in them."
FOUR-STAR LINEBACKER COMMIT K'VAUGHAN POPE
"The new unis are fire, man. Especially the cleats and helmets. I can't wait to wear it."
THREE-STAR RUNNING BACK COMMIT MASTER TEAGUE
"They look nice. The helmets are my favorite."
FOUR-STAR WIDE RECEIVER L'CHRISTIAN "BLUE" SMITH
"Smoootttthhhh."
FOUR-STAR SAFETY JOSH PROCTOR
"I love them. Helmets [are my favorite part]."
FOUR-STAR SAFETY JAIDEN WOODBEY
"I like them and they look hard."
FOUR-STAR DEFENSIVE END TARGET JAYSON OWEH
"Those jerseys are so beautiful. The little accents throughout the uniforms really make it that much better."
FOUR-STAR DEFENSIVE END TARGET TYREKE SMITH
"Those jerseys are so cold. Some of the best jerseys I've seen in football."