Ohio State and Urban Meyer always say that when their football program loses a great player, it better be ready to insert another one of similar caliber without blinking. Otherwise, things will go south quickly.
With expectations for Meyer at an all-time high and not showing signs of dropping below annual appearances in the College Football Playoff, the Buckeyes took a massive step in the right direction toward replacing the seven former players that heard their names called in the 2017 NFL Draft. Ohio State's 2017 recruiting class ranked second in the country according to 247Sports, with a ridiculous average prospect rating of 94.47.
Meyer's first six recruiting classes all ranked seventh or higher nationally. Reeling in the top players every year is the best way to compete with the Alabamas of the world at season's end. Not every top recruit pans out, however, due to an injury, a decision to play elsewhere or struggle to reach their potential. Every situation is different.
We revisit the stories of the top-5 rated players in each of Meyer's Ohio State recruiting classes below and decide if their careers merit a boom, bust, somewhere in the middle or TBD. All rankings are courtesy of 247Sports Composite.
1. Noah Spence — ★★★★★ Defensive End from Harrisburg, PA
Spence represented the first big fish Urban Meyer reeled in at Ohio State, the No. 5 prospect in the country and top player at his position that committed three weeks after the University announced Meyer as its new head coach. Though his time with the Buckeyes lasted just 23 games stretching the span of two seasons, when Spence was right, he was outstanding.
Spence finished with 8.5 sacks, 15 tackles for loss, four quarterback hurries and a forced fumble during the 2012 and 2013 seasons, earning first-team All-Big Ten honors from the media his sophomore year. Failed drug tests for ecstasy kept him out of the Orange Bowl that season and ultimately ended his time in the Big Ten, but Spence resurfaced at Eastern Kentucky and became a second-round NFL Draft pick of the Tampa Bay Buccaneers in 2016.
The Buckeyes often ran out Spence and two-time All-American Joey Bosa opposite one another in 2013 during the latter's freshman year, almost an unfair advantage up front. Sadly, it didn't last long.
Ruling: BOOM, if only for a short time.
2. Adolphus Washington — ★★★★★ Defensive End from Cincinnati
The second-ranked defensive end in the country and No. 21 prospect overall, Washington battled a few nagging injuries early in his career. It caused him to miss four games over the 2012 and 2013 seasons and eventually lose his starting job to Bosa midway through his sophomore year.
At the behest of new line coach Larry Johnson, a revitalized Washington added the necessary weight for a switch to defensive tackle in 2014. His sack numbers weren't too eye-popping that year (just 4.5 total) but he recorded 10.5 tackles for loss as the Buckeyes won the national championship.
In all, Washington finished with 25 tackles for loss in his career, along with 13.5 sacks and an extremely athletic interception return for a touchdown during a win over Western Michigan in 2015. The Buffalo Bills selected Washington 80th overall in the 2016 NFL Draft, despite him getting cited for solicitation three weeks before the Buckeyes beat Notre Dame in the Fiesta Bowl.
Ruling: BOOM
3. Tommy Schutt — ★★★★ Defensive Tackle from Glen Ellyn, IL
Schutt was the No. 9 defensive tackle out of Glenbard West High School and the No. 80 prospect overall. The top player in Illinois that year, Schutt battled injuries frequently during his time at Ohio State.
A broken foot caused him to miss the final game of his college career, Ohio State's Fiesta Bowl win over Notre Dame. He also broke his wrist his senior season and missed two games. In all, Schutt ended his career with 42 total tackles, 6.5 tackles for loss and 3.0 sacks. He never managed to stay healthy for an entire year and the most games he played were 12 during the 2014 national championship season.
Ruling: Somewhere in the middle
4. Se'Von Pittman — ★★★★ Defensive End from Canton, OH
Pittman enrolled early as part of the 2012 class but suffered a knee injury that forced a redshirt that season. He then asked for his release from the program the following spring after what was described as an off-field issue.
Pittman, a late flip by Meyer from Michigan State, ended his college career at Akron. He signed with the Tampa Bay Buccaneers as a free agent this spring.
Ruling: BUST
5. Bri'onte Dunn — ★★★★ Running Back from Canton, OH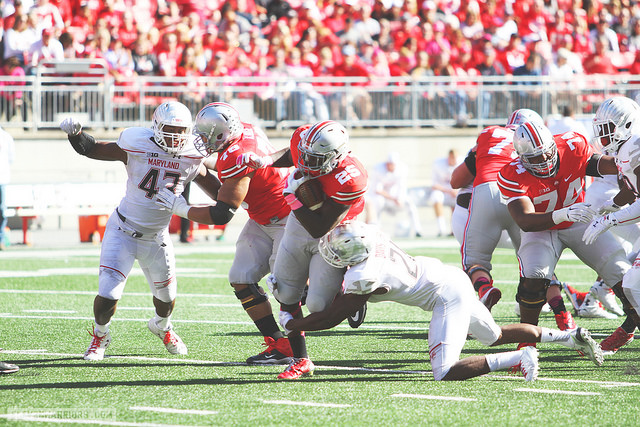 Dunn enrolled early as well and never really reached his potential with the Buckeyes, mostly due to horses like Ezekiel Elliott and Carlos Hyde ahead of him on the depth chart. He played in 2012, redshirted the following year and then hardly saw the field. Dunn was ranked as the No. 8 running back in the country in 2012 and No. 96 overall prospect.
Finally with a chance to play worthwhile snaps as a senior, Meyer kicked Dunn off the team last July before after an altercation with his girlfriend. Final career stats: 287 rushing yards on 48 carries, three touchdowns.
Ruling: BUST
1. Vonn Bell — ★★★★★ Safety from Rossville, GA
The No. 2 player at his position and No. 26 prospect in the country, Bell is surprisingly the only member of the 2013 class ranked as a 5-star by 247Sports composite. That class served as a backbone of Ohio State's 2014 national championship team, a group headlined by stars.
Bell is one of them, starting every game that season and in 2015 alongside Tyvis Powell at the back of Ohio State's defense. His acrobatic, one-handed interception of Clemson's Tajh Boyd in the Orange Bowl as a freshman gave us a glimpse into his potential to be a star and Bell didn't disappoint. He ended his career with nine interceptions, returning one for a touchdown in 2015. Bell also returned a fumble for a touchdown that season and broke up 15 passes in his career.
His interception of Blake Sims early in the fourth quarter of the Sugar Bowl not only kept Ohio State out front but thwarted an opportunity for Alabama in the red zone. Bell was a stud on the field in every possible way. New Orleans selected him in the second round of the 2016 NFL Draft.
Ruling: BOOM
2. Jalin Marshall — ★★★★ Wide Receiver from Middletown, OH
Marshall's slipperiness in space made him a terrific candidate for the H-back in Meyer's offense. He played everything from quarterback, running back to receiver at Middletown High School, the No. 35 prospect nationally in 2013.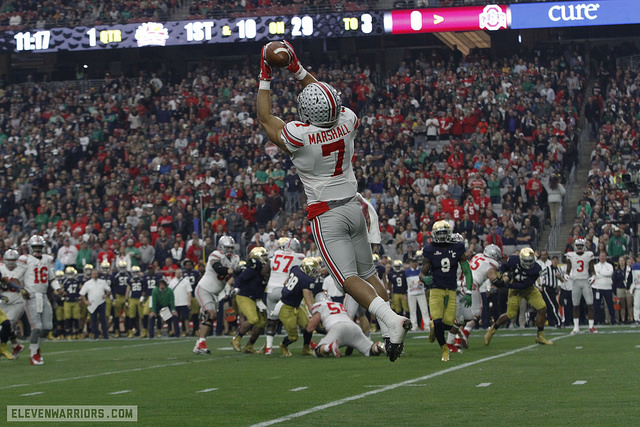 His value extended to the return game, though he did have problems at times protecting the ball in his career. Marshall bounced back from a two fumble performance at Minnesota in 2014 to score four consecutive touchdowns against Indiana the following week to lead Ohio State to a victory that kept them in the College Football Playoff hunt. One of those scores came on a punt return, where he weaved in and out of traffic to the end zone. It remains the most recent special teams return touchdown for the Buckeyes during the Meyer era. Final college stats: 976 receiving yards, 175 rushing yards, 662 punt return yards, 13 career touchdowns.
Marshall surprised some by leaving after his redshirt sophomore season for the NFL. He went undrafted but signed with the New York Jets and will serve a four-game suspension for violation of the league's drug policy this fall.
Ruling: BOOM
3. Joey Bosa — ★★★★ Defensive End from Fort Lauderdale, FL
Joey Bosa was a consensus two-time All-American during his three seasons at Ohio State, living up to the billing as the No. 4 defensive end and No. 37 overall prospect in the country for the 2013 recruiting cycle. One of the more dominant players we've seen in recent memory to wear the Scarlet and Gray, Bosa ended his career with 26 sacks and 50.5 tackles for loss.
Need we say more? Not really.
The then-San Diego Chargers selected Bosa third overall in the 2016 NFL Draft. He promptly won Defensive Rookie of the Year despite missing four games because of a contract dispute. So yeah, he good.
Ruling: BOOM
4. Eli Apple — ★★★★ Cornerback from Voorhees, NJ
Apple enrolled in January 2013 but eventually redshirted that season due to an iron deficiency. The No. 5 corner in the class and 48th-ranked player overall, Apple then blossomed into a star for Ohio State.
Under Kerry Coombs's tutelage, Apple became one player in a long line of first-round NFL Draft picks at corner from Ohio State in 2016 when the New York Giants took him 10th overall. He ended his Ohio State career with 18 passes broken up and four interceptions, a long and athletic player that starred once he finally was healthy enough to enter the lineup.
Ruling: BOOM
5. Mike Mitchell — ★★★★ Linebacker from Plano, TX
Thought to be the must-have player at his position for the Buckeyes in this class due to low numbers at linebacker, Mitchell never played a down for Ohio State. He redshirted in 2013 after an injury then elected to transfer home after the following spring semester to be closer to his father, who was ill.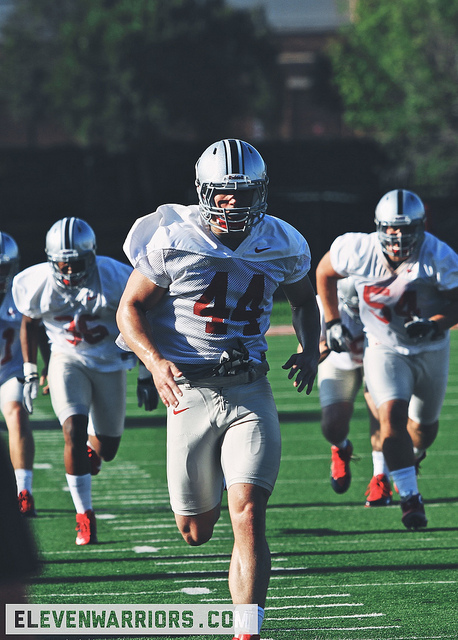 The No. 6 linebacker in the class and No. 58 overall prospect, Mitchell landed at Texas Tech. He left that program in December 2015.
Ruling: BUST
1. Raekwon McMillan — ★★★★★ Linebacker from Hinesville, GA
Solid on and off the field for the Buckeyes, Raekwon McMillan was the lone 5-star recruit in Ohio State's 2014 class. The top-rated linebacker in the country and No. 22 overall recruit, McMillan contributed to the national championship team and then started back-to-back seasons in Columbus before leaving early for the NFL.
McMillan led the team in tackles each of the last two seasons and finished with 275 total in his career, including 17.5 for a loss and six sacks. He returned an interception for a touchdown as a true freshman at Maryland and acted as the leader and play caller of Luke Fickell's defense in 2015 and 2016.
Ruling: BOOM
2. Damon Webb — ★★★★ Cornerback from Detroit
One of a trio of players on Ohio State's current roster from Cass Tech High School in Detroit, Webb served as the subject of scrutiny for a good chunk of the fanbase last season. He is the lone returning starter in the secondary ahead of 2017, however, after Malik Hooker, Gareon Conley and Marshon Lattimore all left as first round picks.
Webb moved to safety ahead of last season and often got beat in coverage throughout the course of the year. Greg Schiano and Urban Meyer both said he recently had his best spring, however, growing into more of a leader for a secondary that needs one with all of that talent gone. Webb missed six games during the 2015 season due to a suspension, played sparingly as a freshman and then started all 13 games a year ago.
He has one career interception, which he returned for a touchdown against Nebraska in 2016 to ignite a 62-3 rout of the Cornhuskers.
Ruling: TBD
3. Marshon Lattimore — ★★★★ Cornerback from Cleveland
Lattimore only played one full season for Ohio State because of injury but he certainly made the most of it. The New Orleans Saints selected him 11th overall last month in the NFL Draft, the first Buckeye taken. Ranked as the best player in the state of Ohio as a senior, Lattimore was slotted as the sixth-best cornerback and No. 52 player in his class.
Lattimore tore his hamstring and underwent surgery ahead of the 2014 season, which forced a redshirt. He battled the issue off and on the following year and appeared in only six games. Fully healthy, he started all 13 for the Buckeyes this past year and intercepted four passes, one of which he returned for a touchdown against Tulsa in a driving rainstorm. Lattimore also broke up nine passes last season.
Ruling: BOOM, once healthy
4. Dante Booker — ★★★★ Linebacker from Akron
The No. 2 player in the state of Ohio for 2014, Booker was the No. 4 linebacker and No. 54 overall player that year. An athletic freak now listed at 6-foot-3 and 240 pounds, he is line to start at outside linebacker for the Buckeyes in 2017 as a redshirt junior.
That redshirt was forced last season by an MCL injury Booker suffered in the season opener. He probably could have returned by the end of the year but Ohio State elected to keep him on the sideline due to the rise of Jerome Baker.
Booker has 31 career tackles, mostly on special teams his freshman and sophomore years.
Ruling: TBD
5. Jamarco Jones — ★★★★ Offensive Tackle from Chicago
Jones patiently waited his turn and learned for two years behind eventual first-round pick Taylor Decker. He is now Ohio State's starting left tackle and arguably its best offensive lineman.
Jones even finished with a better season pass blocking in 2016, his first season as a starter, than Decker did a year earlier, according to CFB Film Room.
Ohio State LT Jamarco Jones finished season with a 97.4% pass block rate. Lions 1st-rd pick Taylor Decker had a 96.4% rate for OSU in 2015.

— CFB Film Room (@CFBFilmRoom) November 29, 2016
Jones is a future NFL Draft pick, maybe even a first-rounder.
Ruling: BOOM
1. Justin Hilliard — ★★★★★ Linebacker from Cincinnati
Hilliard was the top player in the state of Ohio in 2015, the No. 2 linebacker and No. 34 player overall. Simply put, he was a must-have for the Buckeyes, who believed him to be a future captain of their program.
Injuries have postponed that dream for the time being. Hilliard tore his right biceps as a true freshman and redshirted, then missed the final 10 games last season with the same injury on the other arm. Expected to provide depth to Bill Davis's linebacking corps, Hilliard was healthy this spring.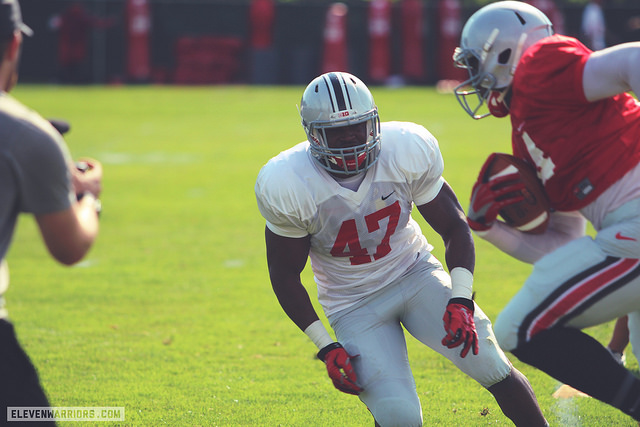 He has four career tackles, all on special teams before getting hurt last year. Expectations remain high for the player who wears Chic Harley's No. 47.
Ruling: TBD
2. Jerome Baker — ★★★★ Athlete from Cleveland
Recruited as an athlete from Benedictine High School, Baker burst onto the scene last season in place of an injured Dante Booker. The No. 3 prospect in the state of Ohio, Baker was the No. 4 athlete and No. 61 overall prospect in 2015.
A gifted athlete and tenacious tackler with speed to burn, Baker picked off Baker Mayfield last September in Oklahoma and raced 64 yards to the end zone untouched to put Ohio State up by two touchdowns early in the game. He ranked second on the team in tackles last year with 83, behind only Raekwon McMillan. Baker also had 9.5 tackles for loss and 3.5 sacks in 2016.
He is penciled in as a starter at outside linebacker for the Buckeyes this fall, which very well could be his last in Columbus.
Ruling: BOOM
3. Mike Weber — ★★★★ Running Back from Detroit
The No. 9 running back and No. 78 prospect in his class, last season Weber became just the third freshman in Ohio State's storied history to rush for 1,000 yards. Quite the start to a career after a knee injury and presence of Ezekiel Elliott led to a redshirt in 2015.
Weber is considered head and shoulders above the other running backs currently on Ohio State's roster. A recruitment that went all the way down to signing day two years ago, Weber is the man for Tony Alford this fall. He scored nine touchdowns and averaged 6.0 yards per carry as a redshirt freshman.
Ruling: BOOM
4. Torrance Gibson — ★★★★ Athlete from Fort Lauderdale, FL
A top-75 recruit nationally, Gibson came to Ohio State wanting to play quarterback. He started there, switched to wide receiver with the hope of getting on the field as a freshman, sprained his ankle during training camp, redshirted, then served a suspension during 2016 Autumn Semester for violation of the Student Code of Conduct.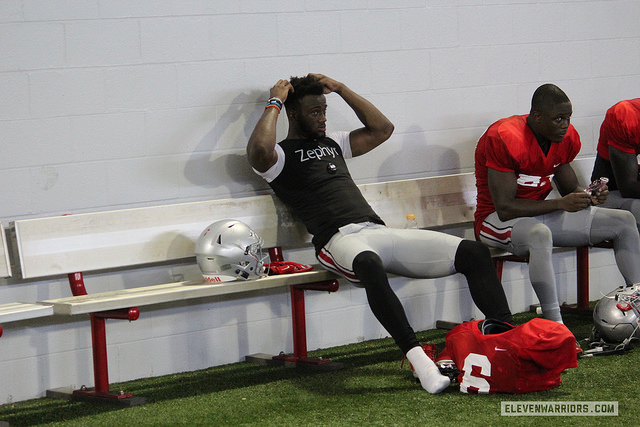 Blessed with speed, size, length and mountainous potential, Gibson elected to transfer out of Ohio State this winter. He landed at Cincinnati State where he pursued an Associate's Degree which would then make him eligible this fall for new Cincinnati head coach Luke Fickell. Now, that might not happen because he was not able to get enough credits at Cincinnati State.
The long-awaited debut of Gibson's college football career remains a mystery.
Ruling: BUST, in an Ohio State sense; TBD overall
5. Jashon Cornell — ★★★★ Defensive End from St. Paul
Like many other members of his recruiting class, Cornell redshirted as a true freshman. The top player in his state and No. 91 overall player for 2015, Ohio State moved Cornell to defensive tackle ahead of last season.
He played sparingly along Larry Johnson's deep defensive front last season, recording four tackles and 1.5 tackles for loss in five games.
Ruling: TBD
1. Nick Bosa — ★★★★★ Defensive End from Fort Lauderdale, FL
Like his brother Joey before him, Nick Bosa has all the makings of becoming a superstar. He didn't play nearly as much as his brother as a freshman as Ohio State brought him along slowly following an ACL tear his senior year at St. Thomas Aquinas. Yet the younger Bosa managed to finished second on the team in sacks with five, sixth in tackles for loss with seven and tied for 10th in total tackles with 29. His performance vindicated his No. 1 ranking at his position and No. 8 overall slot in the 2016 class.
A critical part of Johnson's Rushmen package with other defensive ends Tyquan Lewis, Sam Hubbard and Jalyn Holmes, Bosa said he worked mostly on the outside this spring and is eager for more reps. Bosa's Ohio State career is at least two years away from ending but he appears well on his way to stardom.
Ruling: TBD
2. Jonathon Cooper — ★★★★ Defensive End from Gahanna, OH
Another defensive end, Cooper played in six games as a true freshman and recorded six tackles. The No. 2 player in the state of Ohio and No. 3 prospect at his position, Cooper recorded his first career sack during Ohio State's 62-3 drubbing of Maryland.
A long athlete with a quick twitch, Cooper battled a hamstring injury this spring and couldn't do much during spring practice.
Ruling: TBD
3. Demario McCall — ★★★★ Running Back from North Ridgeville, OH
Dubbed the GOAT for his general swag and complete adoration for life as it is, the No. 3 prospect in the state and second-rated all-purpose back by 247Sports got his feet wet as a true freshman in 2016. McCall overcame ball security issues and a smaller frame to run the ball 49 times for 270 yards and three touchdowns, catch four passes for 84 yards and another score and return three punts for 14 yards.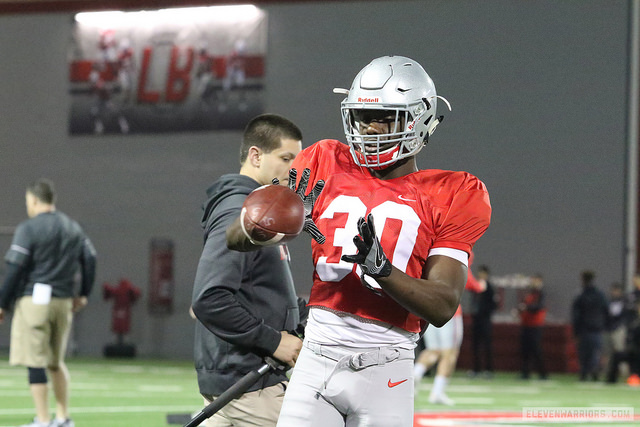 All of that came in mop-up duty when Ohio State held huge leads against Bowling Green, Nebraska and Maryland. McCall should be in line for a much, much larger role this fall with Curtis Samuel now in the NFL.
Ruling: TBD
4. Austin Mack — ★★★★ Wide Receiver from Fort Wayne
The highest-rated wide receiver in Ohio State's 2016 class, Mack was the 76th-best prospect and No. 10 player at his position. He enrolled early, played on special teams and even caught two passes for 15 yards last season.
The Buckeyes are itching for playmakers at wide receiver with Noah Brown, Curtis Samuel and Dontre Wilson all gone. Is Mack part of the answer?
Ruling: TBD
5. Dwayne Haskins — ★★★★ Quarterback from Potomac, MD
A major coup for Ohio State on 12-star Monday in January 2016, Haskins joined linebacker Keandre Jones and flipped from Maryland to the Buckeyes. A pro style quarterback with a live arm, Haskins was the No. 88 overall player in the 2016 recruiting class.
With J.T. Barrett, Joe Burrow and Stephen Collier all ahead of him in 2016, Haskins redshirted. He now is in a race with Burrow to be Barrett's backup this fall and gave the world a glimpse of his outrageous potential during last month's spring game. Haskins threw for nearly 300 yards first for the Scarlet and then the Gray team. He also tossed three touchdown passes, showing great touch in the process.
Ruling: TBD
1. Jeffrey Okudah — ★★★★★ Cornerback from Grand Prairie, TX
An early enrollee, Okudah looks to fill one of three vacant spots in Ohio State's secondary. He was the top-rated player at his position for the most recent recruiting cycle and the No. 7 player overall.
Ruling: TBD
2. Chase Young — ★★★★★ Defensive End from Hyattsville, MD
The top player in the state of Maryland, Young is an extremely well-built prospect at 6-foot-5 and 251 pounds with long arms and a penchant for getting off the ball quickly. He was the No. 8 overall player in the country and is set to arrive on campus next month.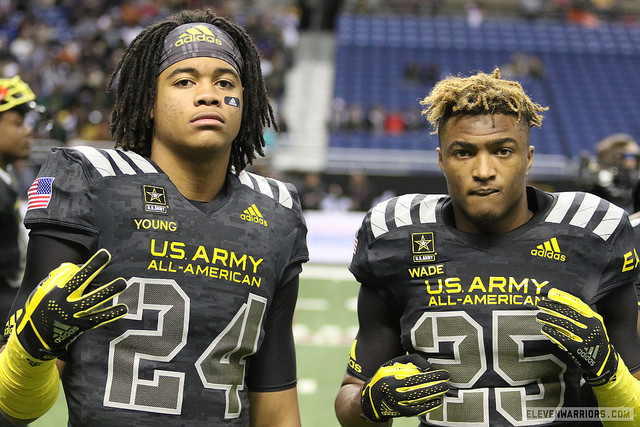 Ruling: TBD
3. Baron Browning — ★★★★★ Linebacker from Kennedale, TX
The top-rated player at his position, Browning is another Texas export that enrolled early at Ohio State. A shoulder injury knocked him out of the latter half of spring practices, though linebackers coach Bill Davis said he things Browning will be healthy this fall and ready to contribute.
Ruling: TBD
4. Shaun Wade — ★★★★★ Cornerback from Jacksonville
Yet another 5-star prospect, Wade was the No. 2 cornerback (behind Okudah) and No. 17 player in the country. A long, lanky and fast player, he also enrolled early with the hope of getting on the field this fall.
Ruling: TBD
5. Wyatt Davis — ★★★★★ Offensive Lineman from Bellflower, CA
Davis should find himself the thick of Ohio State's battle at right guard in training camp. He is set to arrive on campus next month, the top guard in the country and No. 24 overall prospect.
Ruling: TBD