Urban Meyer and his coaching staff appear to have this whole recruiting thing down pat.
When Toledo four-star outside linebacker Dallas Gant informed the world of his intentions to spurn Notre Dame and sign with Ohio State this coming February, the Buckeyes added their 10th commitment to an already star-studded 2018 recruiting class. Gant's commitment shot Ohio State to No. 2 in the 2018 national recruiting rankings and supplanted Penn State for the top spot among Big Ten teams, according to 247Sports.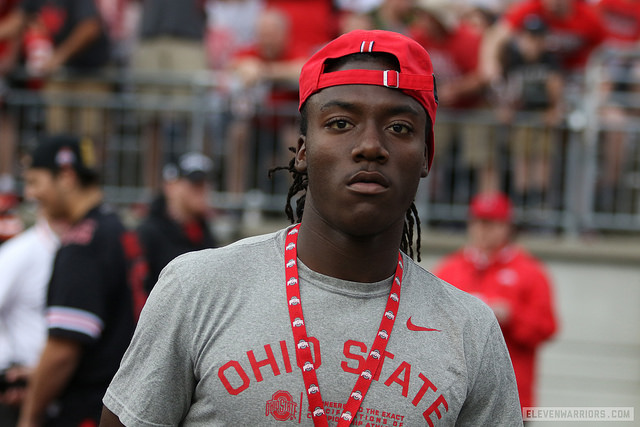 It also posted another pillar in the notion that Ohio State's 2018 class has an excellent chance to surpass its 2017 one, which ranked second in the country on Signing Day behind Alabama but was widely considered the best pound-for-pound group in college football. Ohio State's average recruit rating in 2017 was an absurd 94.47 according to 247Sports composite. With Gant in the fold, its 2018 haul is sitting at an outrageous 96.34.
There is still roughly eight and a half months left before National Signing Day on Feb. 7, 2018, so the Buckeyes have plenty of work to do before things are all said and done. But let's dive into the depth of each group at this time in their respective cycles a bit more.
Gant committed to Ohio State on Tuesday, May 15. Exactly 365 days earlier, the Buckeyes held pledges from 12 recruits. Offensive lineman Josh Myers and cornerback Shaun Wade were the two 5-star pledges in the class at that time last year, while defensive tackle Taron Vincent and quarterback Emory Jones are the 5-stars currently in the 2018 group.
It is also important to remember that not all of the players Ohio State held commitments from at this time last year finished their recruitments as Buckeyes. Quarterback Danny Clark (Kentucky), running back Todd Sibley (Pittsburgh), offensive tackle Jake Moretti (Colorado) and linebacker Antjuan Simmons (Michigan State) all signed elsewhere. So while the 2017 group ended up being ridiculously talented, with five 5-stars and three of the six best players in the state of Texas, some of the biggest pieces came later in the cycle.
That could also be the case for the Buckeyes in 2018. More on that in a bit. First, it is important to note that Gant is also the second player from the state of Ohio to commit to Ohio State for 2018, joining all-purpose back Jaelen Gill from Westerville. At this time last year, five players from the Buckeye State were committed.
Here are the 13 players in the 2017 class who were committed to Ohio State (and had not decommitted) by mid-May last year:
2017 Ohio State Football Commits (As of May 16, 2016)


| PROSPECT | POSITION | HIGH SCHOOL | CALIBER | COMMIT DATE | NOTES |
| --- | --- | --- | --- | --- | --- |
| DANNY CLARK | QB | ARCHBISHOP HOBAN (OH) | 4-STAR | 12/13/13 | Ended recruitment as 3-star, decommitted on 9/27/16, signed with Kentucky |
| SHAUN WADE | CB | TRINITY CHRISTIAN ACADEMY (FL) | 5-STAR | 1/12/15 | Enrolled in January after two-year commitment stuck |
| JOSH MYERS | OL | MIAMISBURGH (OH) | 5-STAR | 1/25/15 | Ended recruitment as 4-star, enrolled in January |
| MARCUS WILLIAMSON | CB | IMG ACADEMY (FL) | 4-STAR | 4/18/15 | Originially from Westerville, Ohio, enrolled in January |
| TODD SIBLEY | RB | ARCHBISHOP HOBAN (OH) | 4-STAR | 4/19/15 | Flipped commitment to Pittsburgh on 6/15/16, signed with Panthers in February |
| JAKE MORETTI | OT | POMONA (CO) | 4-STAR | 7/4/15 | Flipped commitment to Colorado on 11/17/16, enrolled with Buffaloes in January |
| JERRON CAGE | DT | CINCINNATI WINTON WOODS (OH) | 4-STAR | 7/23/15 | Top-15 player nationally at his position, set to enroll in June |
| BLAKE HAUBEIL | K | CANISIUS (NY) | 3-STAR | 7/25/15 | Finished as No. 2 kicker in the country, set to enroll in June |
| ISAIAH PRYOR | SAF | IMG ACADEMY (FL) | 4-STAR | 7/27/15 | Originially from Lawrenceville, Georgia, enrolled in January |
| BRENDON WHITE | ATH | OLENTANGY LIBERTY (OH) | 4-STAR | 10/2/15 | Practiced with Ohio State during Fiesta Bowl prep, enrolled in January as WR |
| HASKELL GARRETT | DT | BISHOP GORMAN (NV) | 4-STAR | 2/9/16 | One of two players in class (Tate Martell) from Bishop Gorman, set to enroll in June |
| ANTJUAN SIMMONS | OLB | PIONEER (MI) | 4-STAR | 3/1/16 | Decommitted on 11/30/16, signed with Michigan State in February |
| J.K. DOBBINS | RB | LA GRANGE (TX) | 4-STAR | 3/6/16 | One of three of top-6 players from Texas in class, enrolled in January |
And this is how the 2018 class stands right now, 365 days later.
2018 Ohio State Football Commits (As of May 16, 2017)


| PROSPECT | POSITION | HIGH SCHOOL | CALIBER | COMMIT DATE | NOTES |
| --- | --- | --- | --- | --- | --- |
| BRIAN SNEAD | RB | ARMWOOD (FL) | 4-STAR | 7/22/16 | Somewhat surprising commitment came during Friday Night Lights |
| EMORY JONES | QB | HEARD COUNTY (GA) | 5-STAR | 7/29/16 | Stock fell to 4-star but recently rose, second-ranked quarterback in country |
| JAIDEN WOODBEY | SAF | ST. JOHN BOSCO (CA) | 4-STAR | 2/7/17 | Hails from same high school as 2017 signee and 5-star OL Wyatt Davis |
| JAELEN GILL | APB | WESTERVILLE SOUTH (OH) | 4-STAR | 3/1/17 | Pulled a fast one at ceremony and committed to UCLA before picking Ohio State |
| TARON VINCENT | DT | IMG ACADEMY (FL) | 5-STAR | 4/2/17 | No. 1 DT in country, Larry Johnson finally lands a mammoth player at the position |
| MAX WRAY | OT | FRANKLIN (TN) | 4-STAR | 4/15/17 | Began Spring Game Saturday by announcing commitment, No. 2 player in TN |
| JOSH PROCTOR | SAF | OWASSO (OK) | 4-STAR | 4/15/17 | Committed during Spring Game, gives Ohio State two top-10 safeties in class |
| BRENTON COX | DE | STOCKBRIDGE (GA) | 4-STAR | 4/25/17 | Committed after Spring Game visit, his third trip to Ohio State in last six months |
| SEVYN BANKS | CB | JONES (FL) | 4-STAR | 4/26/17 | Told one Orlando paper he committed to Ohio State, came shortly after visit to Spring Game |
| DALLAS GANT | OLB | ST. JOHN'S JESUIT (OH) | 4-STAR | 5/16/17 | No. 5-rated OLB in nation, picked Buckeyes over Notre Dame, Michigan, Michigan State |
Bruce Judson announced his decommitment from the program on Oct. 4, 2015, nearly nine months after pledging to the Buckeyes the night of the national championship game. He later said the main reason behind moving on came because Urban Meyer ran into him at the Woody Hayes Athletic Center and didn't recognize him. Judson signed with Oregon and because he had removed himself from Ohio State's 2017 class before last May, he is not included in the table above.
Additionally, when J.K. Dobbins made it public that he intended to play for Ohio State on March 6, 2016, we didn't know at the time that he would be the last commitment for the Buckeyes for more than three months. Quarterback Tate Martell was the next recruit to announce his pledge to the Buckeyes, which he did on June 12.
It remains unseen if that will happen this summer, though Virginia Beach 4-star linebacker Teradja Mitchell claims his announcement will happen within the next month or so. Next in line could be 3-star offensive lineman Jake Kradel from Pennsylvania, who has his college revelation scheduled for June 10.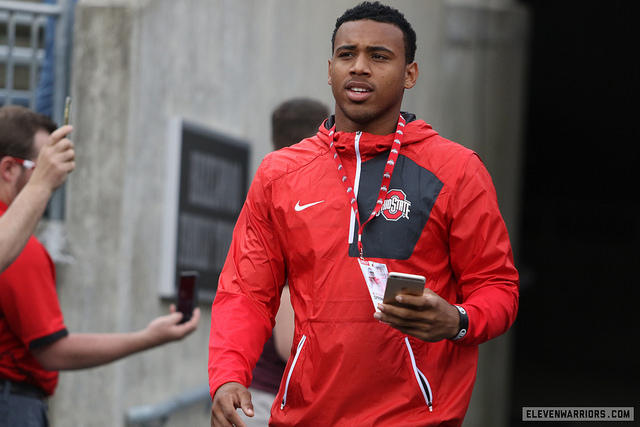 The Buckeyes held commitments from 13 of the nation's premier prospects at this time a year ago. Though their 2018 haul "only" has 10 names in it a year later, the caliber of players is a slight step above.
Cornerback Sevyn Banks is the lowest rated recruit among them according to 247Sports, the No. 256 prospect in the class of 2018. He should be in line for a rise in the rankings too, considering he is coming off ACL surgery, recently tested well and earned an invitation to Nike's The Opening in Oregon. In all, five of the 10 current commits all got open — Banks, Gill, Woodbey, Cox and Vincent. That number could swell to six, considering Jones was invited to the Elite 11.
Gant is next-lowest at No. 126 but the remaining eight are ranked 86th or higher nationally. And, every player that is committed aside from Banks is among the top-8 players at his position nationally, with seven in the top-5 nationally of their position. That is ridiculous.
To compare, defensive tackle Jerron Cage finished as the No. 236 prospect nationally in the class of 2017, the lowest of the players committed to Ohio State by last May that signed with the Buckeyes in February. Blake Haubeil doesn't have a national ranking (kickers don't roll that way) and ended as the lowest rated recruit in Meyer's 2017 class.
The Buckeyes also added Pete Werner, Thayer Munford and Ellijah Gardiner before national signing day, three players ranked lower than Cage nationally. That isn't to say they are bad players by any means — we are just comparing rankings and numbers for the purpose of this story.
Not to mention that Meyer and Co. are in on some of the best players the country has to offer for the 2018 class as coaches are hot on the recruiting trail in these late spring months. Some of those names the Buckeyes are either considered a leader for or in the thick of things with their respective recruitments (all rankings courtesy of 247Sports Composite):
You can see a full list of prospects that Ohio State has offered scholarships to here.
The Buckeyes probably won't reel in all five of the players listed above but are certainly in the conversation. If it does happen, the 2018 class looks better than last year's cycle, at least on paper.
The 2018 recruiting class got off to a much slower start too, though Danny Clark's 2013 commitment was an anomaly. Nine players in the 2017 class committed in the 2015 calendar year and not all stuck. Only two players in the 2018 class — Brian Snead and Emory Jones — committed sometime in 2016.
The Buckeyes, like any other program, will face their fair share of positives and negatives before Feb. 7 rolls around. Meyer and Co. are well on their way to inking another impressive class, one that might even be better than last year's when all is said and done.