The Hurry Up is your nightly dose of updates from the Ohio State football recruiting trail, keeping tabs on the latest from commits and targets from around the country.
TAKING FROM THE GARDEN STATE
It was quite the whirlwind week for Mount Holly, New Jersey, Rancocas Valley Regional four-star athlete Iverson Clement, who earned a scholarship offer from Ohio State on Monday and was in Columbus for the game against Michigan on Saturday.
The Big O @CurtisSamuel4__ 1 time for BK Ya heard ! pic.twitter.com/m3YJXn726p

— Iverson Clement (@Swaggy__ai) November 28, 2016
"It was amazing. Great game," Clement told Eleven Warriors. "I've been wanting to go to the Ohio State and Michigan game for so long and it came true. And Ohio State won."
The 6-foot, 190-pounder is considered the eighth-best prospect in the state and the No. 21 athlete overall in the Class of 2018. He currently holds 11 offers from programs such as Florida, North Carolina, Penn State, Tennessee and Virginia Tech, but few mean as much as Ohio State's.
"Dream school and top school," Clement said.
Iverson said he spent some time with quarterback Dwayne Haskins and H-Back Curtis Samuel after the game.
"I got to know them for a little and asked them questions," Clement said. "I asked [Haskins] how life is besides football. He was like, 'I wouldn't pick nowhere else. It's fun, even though it's a lot of work.'"
Iverson told us he plans to be back on campus of junior day this winter.
"I love the atmosphere, and it's just a dream come true to be there," he said.
RUSHMEN PACKAGE
If you're going to try and create another pipeline, doing so at a school that has won four-consecutive Washington Catholic Athletic Conference championships isn't a bad idea.
Ohio State has already locked down Hyattsville, Maryland, DeMatha Catholic five-star senior defensive end Chase Young, and has shifted its focus to four-star junior defensive tackle Austin Fontaine.
The teammates traveled to Columbus together this past weekend.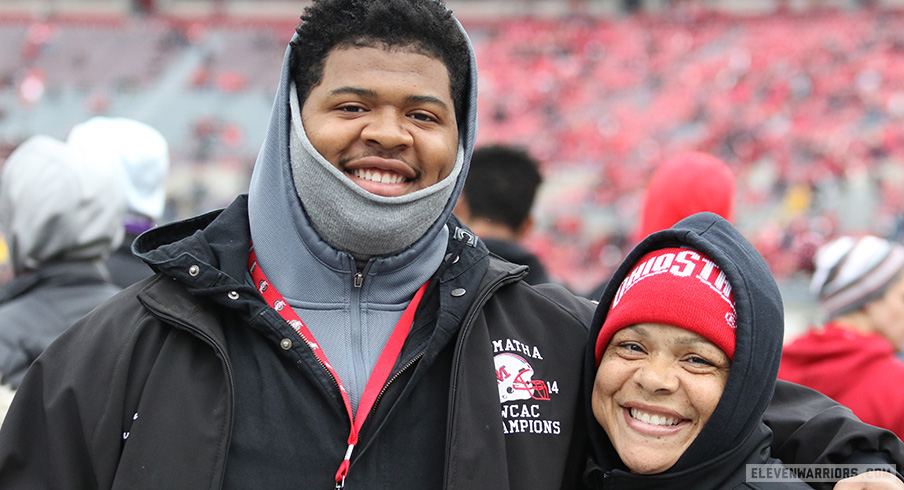 "I enjoyed it a lot," Fontaine told Eleven Warriors. "The thing that stood out to me was how the team seemed to work so well together."
The 6-foot-2, 312-pounder is considered the third-best defensive tackle and the No. 45 prospect overall in the Class of 2018. He currently holds double-digit scholarship offers from programs such as Clemson, Georgia, Maryland, Ohio State, South Carolina and Tennessee.
Fontaine and his mom spent considerable time with defensive line coach Larry Johnson on Saturday.
"He's a great person and I love the way he coaches," he said.
As for his mom's thoughts on the trip?
"I think she enjoyed it a lot," Fontaine said. "She loved seeing the fan support and the rivalry in person."
He and Young sometimes talk about playing together at the next level, but Fontaine picking a college during the football season was the least of his worries.
"I haven't really had time to sit down and think about it yet," Fontaine said.
SETBACK FOR A MAJOR COMEBACK
Las Vegas, Nevada, Bishop Gorman four-star wide receiver Tyjon Lindsey underwent surgery on Tuesday to repair a torn meniscus in his right knee. 
Finally it's all over with. Now it's time to get ready to be a BUCKEYE -

— T-WAYNE (@tyjonlindsey) November 29, 2016
The 5-foot-9, 161-pounder was doing well after the procedure but told Eleven Warriors he was too tired to conduct a formal interview. We hope to catch up with him in the next few days. 
It is unclear when Lindsey suffered the injury, but he decided to cut his senior season short on Oct. 21. He also missed the first four games of the year after breaking his collarbone in a preseason scrimmage. 
Lindsey, who committed to Ohio State in August over finalists Alabama, Nebraska, Notre Dame and USC, is not the only Ohio State wide receiver commit to suffer a season-ending injury this year, as Trevon Grimes tore his ACL in Fort Lauderdale, Florida, St. Thomas Aquinas' loss to Bishop Gorman in late September. Both are expected to be recovered in time to participate in fall camp.
PATIENTLY WAITING
Though he hasn't yet received an offer from Ohio State, Cleveland Heights four-star defensive end Tyreke Smith was on campus for the second time this season for Saturday's game against Michigan.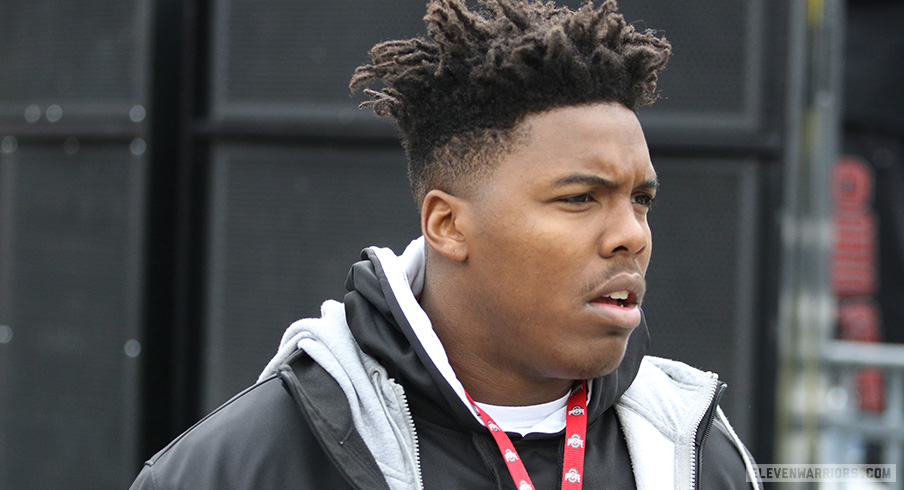 "It was great," Smith told Eleven Warriors. "The atmosphere stood out and how well the defense played."
The 6-foot-4, 241-pounder is considered the fourth-best defensive end overall and the No. 6 player in the state for the Class of 2018. He holds nearly 20 offers from programs such as Kentucky, Maryland, Michigan State, Notre Dame, Penn State, Pittsburgh, Tennessee, UCLA and USC.
Smith was unable to spend any time with coaches after the win because his dad had to catch a late night flight — "I left right after the game," he said — but still remains hopeful of an offer from Ohio State.
The staff, meanwhile, is certainly intrigued by Smith, who just wrapped up his first season of high school football.
"We could have done better. We lost the game to get into the playoffs," Smith said, noting he'll be back and better than every next season.
UNDER THE RADAR
East Kentwood, Michigan, junior linebacker Job Mayhue only recently started garnering attention from college programs after making the switch from defensive end to linebacker.
He led the Ottawa-Kent Conference in tackles this season and was invited by Ohio State to Saturday's game against Michigan. 
Yesterday was unforgettable. pic.twitter.com/eK1qFnErv0

— JobJungle (@JobMayhue) November 28, 2016
The 6-foot-2, 200-pounder is not ranked by any major recruiting sites and does not hold any offers, but Michigan, Michigan State and Notre Dame have shown some interest. 
Mayhue, who spent time with co-defensive coordinator Greg Schiano, said he hopes to get an offer from the Buckeyes.
"I'll be attending their combine camp this spring," Mayhue said. "It will be something I'll earn, but it will be good for me to show them what I've got either way."