The Buckeyes are still fending off the Crimson Tide for the nation's top recruiting class, and a quick glimpse at what Urban Meyer has put together is certainly something to be excited about. 
When scanning through Ohio State's commitment list, the lack of a single wide receiver pledge is one thing that may catch the eye. Every other position group has been accounted for, most of which are stockpiled with the nation's elite. 
The good news for Zach Smith and his Zone Six crew? That is all about to change.
---
It remains to be seen if two or three will be the magic number at wideout for the 2017 class, but a pair of the Buckeyes' long-time top targets are set to announce their decisions within the next week.
The names at receiver have been discussed for months now and even years in one case as Trevon Grimes, Tyjon Lindsey, and Donovan Peoples-Jones remain the top targets. Three players the staff has been in constant communication with throughout the cycle, and three players ranked in the top six at their position. The recruitments of the five-star from St. Thomas Aquinas and Lindsey – the nation's top slot receiver – are scheduled to reach their conclusions in the coming days.
For Grimes, there have been very few question marks surrounding his recruitment. For about a year now, the question has simply been "when?" When would the 6-foot-3, 200-pounder make his long-awaited return trip to Columbus and when would he finally pull the trigger?
The former was answered about a month ago when he made the trek for Friday Night Lights. The latter is slated to take place next Wednesday as the one-time Indiana resident will decide between Ohio State, Florida, Florida State, Miami, Georgia, and Alabama.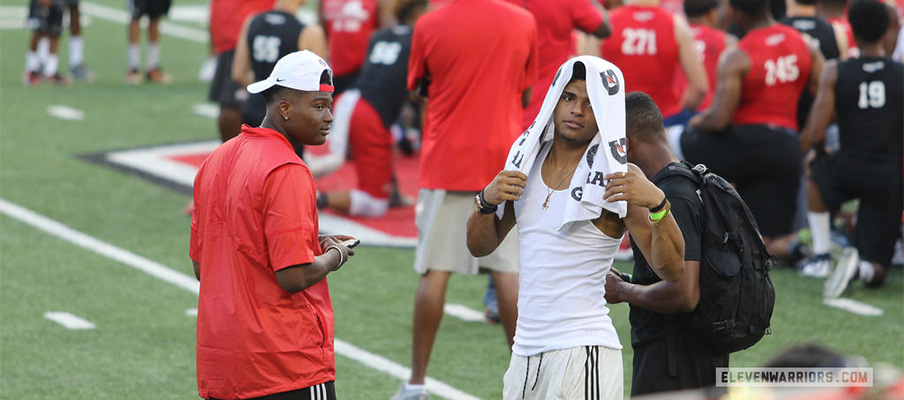 Yes, there have been a few moments when the Gators were mentioned as a serious contender, but a lot of that has stemmed from Grimes' quarterback – four-star Jake Allen – having committed to Jim McElwain in July of 2015. Most of the discussion about other schools has been short-lived as the nation's third-ranked wideout has never backed off his stance on Ohio State and Urban Meyer.
As reported in last night's Hurry Up, the country's 15th-ranked prospect has already informed some coaches of his college decision. While there's not a lot of suspense surrounding this recruitment, you won't hear any complaints from the Buckeye coaching staff as they're on the verge of landing what is perhaps their most coveted target regardless of position.
---
The recruitment of Tyjon Lindsey has had a much different feel to it. Up until the summer months, schools like Nebraska, USC, and Texas A&M were right in the thick of things for the elusive 5-foot-9 slot receiver. The Huskers, led by wide receivers coach Keith Williams, have done a tremendous job of building a relationship with nation's 24th-ranked prospect who's made multiple trips to Lincoln dating back to the spring.
In mid-June, Lindsey's close friend and teammate – four-star quarterback Tate Martell – made the call for the Buckeyes. The two lived together when Lindsey was at Las Vegas' Bishop Gorman High School and look to soon be reunited as he appears to be headed back to the Sin City after a brief stint in California. Buckeye defensive tackle commit Haskell Garrett also suits up for the Gaels as does 2018 linebacker target Palaie Gaoteote.
Lindsey was also in town last month for Friday Night Lights, and despite some travel problems, seemed to really enjoy his time in Columbus.
The announcement is scheduled for Monday and Lindsey is set to decide between a handful of schools, but most believe things are coming down to Ohio State, Nebraska, and perhaps USC. 
---
It's shaping up to be a big week on the recruiting front as the class should have a much more "complete" feel to it at this time next week. Outside of Grimes and Lindsey, the aforementioned Peoples-Jones and Cleveland's Jaylen Harris are other options at wideout. The Detroit Cass Tech product seems unlikely at this point, and Harris appears to be in the midst of a bit of a numbers crunch. 
Be sure to stay dialed in to 11W this week as Ohio State looks to add two major pieces to the 2017 recruiting puzzle and strengthen its grip atop the national recruiting rankings.