A lot has happened since the last time we took a stab at what could transpire on the first Wednesday of next February – or sooner for those that will enroll in January – and we recently looked at how things are trending with some top targets. 
Today, we take an updated look at what we think the 2017 class will look like when all is said and done, starting with the offensive side of the ball. We previously had the magic number set in the 20-22 range, but given the grayshirt requests, it's obvious space is an issue right now. Thus, we shall stick with 20 for now, and that is going to take a lot of attrition. 
---
QUARTERBACK • CURRENT COMMITS: 1 • PROJECTING: 1
Remember the last time we did this and said "Danny Clark has been committed since December of 2013 and appears to be as solid of a pledge as we've ever seen."
Welp.
It's a well-known fact by now, but Clark was not at Ohio State's spring game and ended up traveling to Tuscaloosa instead. Things have been pretty quiet from the family since that time, so right now it's pretty much anyone's guess as to what's happening behind the scenes.
What we do know – via TAMU sources – is that Tate Martell's commitment is anything but solid right now. The five-star took to Twitter last week to announce that he will be taking all of his officials this fall. Some Aggie insiders are suggesting a decommit could come sooner rather than later. And yes, they have reached that silly phase of the recruiting process when they are proclaiming that Kevin Sumlin may not even want the nation's top-ranked dual-threat quarterback anymore. 
Kellen Mond is committed to Baylor but checked out Columbus for the spring game. He visited Auburn and Florida since then. Interestingly, Texas A&M has begun courting him as well. Mond is already discussing a return trip to Columbus, and there is currently some uncertainly as to whether or not an offer has been extended. The staff could be holding out to watch him throw – possibly this summer.
While we still wait for some clarity on the Danny Clark situation, there's been some speculation that he could be faced with a tough decision over the next handful of weeks/months. For Martell, USC is another school to watch, though his skill set is certainly a better fit for the Buckeyes or a school like Auburn or Oregon.
The best guess right now is that Martell makes it back to Columbus at some point this summer to "visit with family" and then things continue to trend in the right direction, culminating with a fall official.
RUNNING BACK • CURRENT COMMITS: 2 • PROJECTING: 2 
The Todd Sibley saga took another twist last weekend when he was in East Lansing for the Spartans' spring game. It's really no surprise, though, as he was clearly perturbed by the coaching staff asking him to take a grayshirt and delay his enrollment. Perhaps even more interesting was the Spartans' decision not to offer the Akron Hoban tailback. Instead, they elected to make a push for another Akron product – Copley's Weston Bridges – a three-star tailback who committed to Michigan State Wednesday. 
J.K. Dobbins is already in the fold and he certainly has the look of an all-purpose type of back. Urban Meyer and Tony Alford continue to pursue a pair of the nation's five-stars in California's Najee Harris and Mississippi's Cam Akers. Both have been on campus this spring, but Harris hasn't really had a lot to say about his visit. That isn't necessarily a bad thing, as the Alabama commit appears to be a bit of a quiet kid. Still, there's really nothing to see here unless he makes it back for a return trip. 
Right now, the chances appear to be far better with Akers who has built a tremendous relationship with Alford. Getting him back this summer, perhaps for Friday Night Lights, could prove to be a turning point in the recruitment. He's made trips to Knoxville and Baton Rouge recently and Alford was scheduled to swing by this week. Georgia, Tennessee, and both Mississippi schools remain the biggest threats for the one-time Alabama commit. 
#GoBuckeyes pic.twitter.com/iajIcZvc7I

— Cam akers (@thereal_cam3) April 21, 2016
The Buckeyes rarely ever make any noise in the state of Mississippi, but this one just has that "feel" to it. It sounds like Alford really likes his chances and with Akers tentatively scheduled to return this summer and make an official, it's obvious that he's serious about Ohio State. 
If and when Sibley does officially exit the class, the need for a bigger, every-down back will increase. If that does happen, we will have to see what transpires on the Akers front, but right now the Buckeyes are recruiting the 5-foot-11, 212-pounder as if he is the guy.
Projection: J.K. Dobbins, Cam Akers
WIDE RECEIVER • CURRENT COMMITS: 0 • PROJECTING: 3
Strange to think that we still don't have a wide receiver pledge in this class, eh? We've been talking forever about how the Buckeyes' wide receiver and defensive back hauls could be in the running for the best ever, but I think most would have assumed at least one wideout would have hopped on board by now. Alas, everything appears to be OK. 
We've mentioned it a dozen times lately, but Trevon Grimes hasn't been to Columbus in nearly two years. The Gators' coaching staff is telling him how tough it will be to see his family if he's in Columbus. His quarterback is committed to Florida. He's been to Gainesville and Tallahassee multiple times since his last trip to Ohio. Further, Ohio State is now – GASP – sending offers out to other 2017 receivers. 
All of those negatives and yet he is still insisting that Ohio State is his leader. The five-star is bound to get back to Columbus at some point – hopefully this summer – and despite the pressure to stay closer to the family, we still like where the Buckeyes are sitting. 
Cleveland's Jaylen Harris is in pretty much the same spot he was months ago. He remains uncommitted, has offers from all over America, and it's probably only a matter of time until he pulls the trigger for the good guys. At 6-foot-5, 210 pounds, he remains one of the most physically imposing wideouts in the country. 
The Buckeyes are also seeking a slot receiver for the 2017 class, and it's pretty safe to assume that Tyjon Lindsey has been the top guy for some time now. This much is fairly obvious when you consider that one-time top target Emmanuel Greene hasn't even been mentioned in some time. 
The five-star who transferred back to California after playing with Tate Martell and Haskell Garrett in Las Vegas, has been busy with visits this spring. He's been to Ohio State, USC, and Nebraska in recent months, and those three schools may very well be at the top of his list right now.
Coming off a junior campaign that helped him earn offers from all the national powers, it looks like he will be playing with a bit of motivation due to the updated ESPN rankings. 
I'M JUST GOING TO LEAVE THIS HERE FOR THE PEOPLE TO SEE... THANKS FOR THE RANKING, NOW I GOT A CHIP ON MY SHOULDER. pic.twitter.com/dOtyKZkKln

— Tyjon A. Lindsey (@tyjonlindsey) April 27, 2016
Though they are no longer playing together, it's tough to ignore the connection with Tate Martell. The pair spent their recent years basically serving as brothers to one another and the idea of playing together in college has absolutely been discussed. 
Projection: Trevon Grimes, Jaylen Harris, Tyjon Lindsey 
TIGHT END • CURRENT COMMITS: 0 • PROJECTING: 0
When Cole Kmet committed to Notre Dame last October, most felt the heat would be turned up on Cincinnati Moeller's Matt Dotson. While the four-star has made his way to Columbus on more than one occasion, things haven't exactly taken off between the two parties. 
It appears the staff is content on waiting it out before really making a push for a 2017 tight end. They could be waiting to see how the trio of Jake Hausmann, Luke Farrell, and Kierre Hawkins look when they arrive this summer or perhaps they have already elected to wait until 2018. Either way, right now we are not projecting a tight end in the 2017 class. 
OFFENSIVE LINE • CURRENT COMMITS: 2 • PROJECTING: 3
Two of the nation's top tackles have been committed for nearly a year now, but it looks as though Ed Warinner and Greg Studrawa could be looking to take another. Sugarcreek's Joel Honigford (Garaway) appears to be willing to wait things out a bit to see if he is able to earn a Buckeye offer this summer. Obviously a lot can change between now and then, but at one point it was looking like a commitment – possibly to Michigan State – was on the horizon.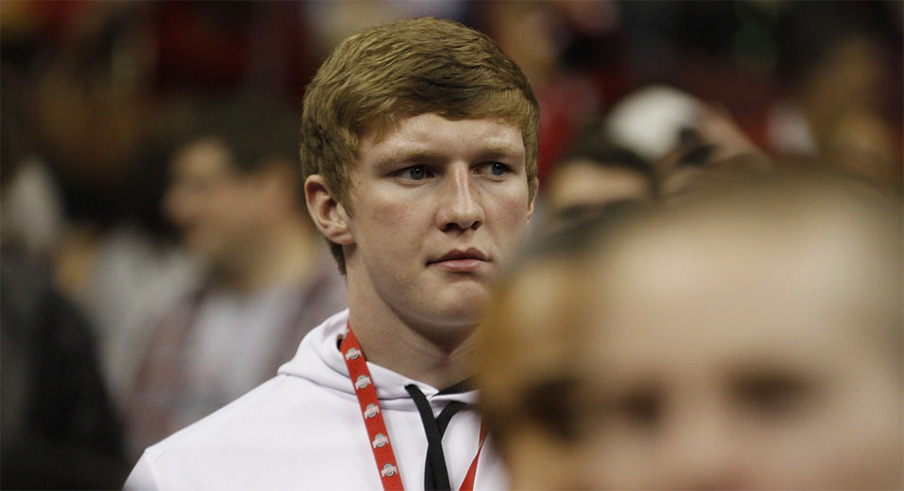 It's likely that the Buckeyes want to watch him this summer to see exactly where he may fit on the offensive line. Right now, though, it looks like the 6-foot-6, 280-pounder is going to give it a shot. This one is starting to feel a bit Nick Conner-ish. 
Projection: Josh Myers, Jake Moretti, Joel Honigford
---
That's nine names on the offensive side of the ball that we currently think will end up as a part of Ohio State's 2017 class. Sunday we will take a glimpse at how things could shake out on the other side.