The Hurry Up is your nightcap of Ohio State recruiting news, catching you up on the day's events with an ear on the ground for what's next.
---
MARYLAND 2018 DEFENSIVE LINEMAN VISITS BUCKEYES TODAY
The Buckeyes tried in 2014 to land Sam Mustipher, one of the country's premier high school offensive linemen at the time, but he opted for Notre Dame, picking the Irish from more than 25 offers. 
Thursday, defensive tackle P.J. Mustipher, the younger brother of Sam, visited Ohio State after arriving in Columbus late last night.
"It's my second time up here," Mustipher told 11W. "The coaches wanted me to come up as soon as I could to watch practice and sit down and talk with them."
Mustipher has, as most Maryland prep products are, been recruited by Ohio State's Larry Johnson. The Buckeyes offered during the visit.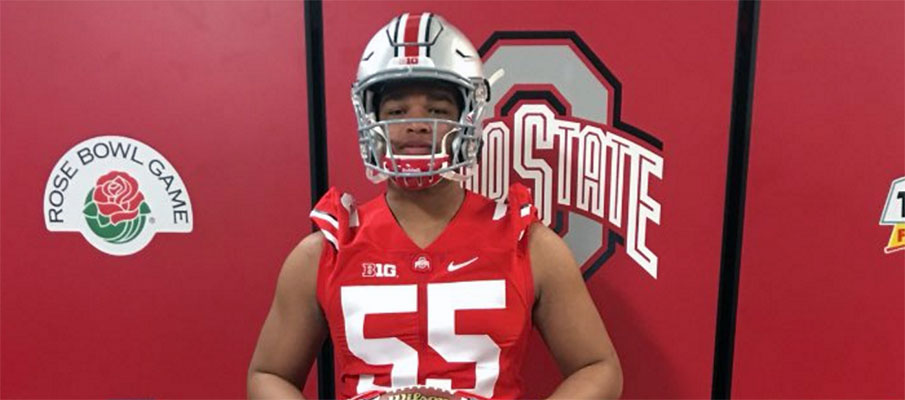 "With the visit, everything stood out. Meeting with the people, the academics and sitting down and talking with (Urban) Meyer and Coach Johnson," Mustipher said. (Larry) Johnson recruited my brother. I've known him for some time now. I've been exposed to his style for a while. He's definitely the one of the best in the business, so it's always great to hear what he has to say, to learn some new stuff while I was up there."
Notre Dame is the current leader in the 247Sports.com crystal ball but Mustipher says his brother being in South Bend doesn't necessarily guarantee he follows suit.
"The Buckeyes have always been on my mind since I visited in 7th grade with my brother," he said. "Everyone thinks that (he'll end up at Notre Dame automatically) but it's not true. I chose a different high school than he did. It just goes to show I'm my own person. I love my brother, but I have to do what's best for my future on and off the field."
The McDonogh School lineman, ranked as the country's 24th-ranked prospect in 2018, says he's heading now to Michigan State for a visit and hopes to return to Columbus this summer.
"I'm going to be back up (to Ohio State) for a one-day camp," he added.
EXAMINING 2017 OFFENSIVE LINE OPTIONS
Ohio State has two commitments along the offensive line already for 2017 and Rob Hainsey visited last week, but there are still a number of potential out-of-state players that are worth paying attention to at the position, including Atlanta, Georgia's Andrew Thomas.
Thomas, 6-foot-5, 295-pounds is the country's 71st-ranked prospect in the class and he's been hearing from the Buckeyes pretty regularly.
"I have talked to (Urban) Meyer and (Greg) Studrawa," Thomas told 11W. "(We talk) like once or twice every two weeks. I don't know much about (Studrawa) but just over the phone, he seems like a good coach."
The Ohio State coaches have also talked to his parents in an effort to build their relationship with the Pace Academy star. He says he's considering making an Ohio State visit but it's not been determined yet.
"They talk to my parents about the program, just about what Ohio State has to offer," he said. "I don't now yet about a visit, but we'll see."
With close to 30 offers, Thomas is one of the most sought-after offensive lineman in the nation. He's visited a number of schools already, including Notre Dame, Clemson, Georgia, Bama and Auburn and says he's likely to make a college choice after his takes his five official visits this coming fall. Ohio State is hoping to work themselves into that mix.
HOUSTON GRIFFITH RIDING BIG RECRUITING WAVE
One of Tuesday's bigger visitors for the Buckeyes was Chicago's Houston Griffith, the son of former Illinois star, NCAA record holder (eight touchdowns in a game) NFL veteran, and current Big Ten analyst, Howard Griffith.
A 6-foot, 180-pound 2018 cornerback, Griffith has had a big couple of days. He was offered by Notre Dame during a visit to South Bend last week, then made a tour of big name schools including Tennessee and Alabama before rounding out the trips in Columbus. He didn't get an offer from the Buckeyes, but he left campus impressed.
"(Urban) Meyer and the rest of the staff stress being great on every play," Griffith shared. "Being good isn't good enough at Ohio State. It's very obvious why they compete for championships."
The pace and intensity of the Buckeyes' practice was for Griffith, as it is for most recruits who witness it in person, something that caught his eye. He says his coaches at Mount Carmel are similarly aggressive and that Meyer had a nice message for him when they got a chance to talk.
"Absolutely it is (an atmosphere I can relate to) because my high school practices are run similarly," he said. "(Urban) Meyer said at the end of this process he wants me to be a Buckeye."
The process is just starting for Griffith and he told us he's considering a return to Columbus this summer for one of Ohio States camps. His father's advice has been simple to this point.
"I have to take my time, because this is not a four-year decision – it's a 40-year decision," he added. "I need make sure it's a place I'm comfortable with."
NATE BAUER CHECKS IN OHIO STATE
Let's continue this week's focus on the 2018 class and another intriguing Ohio talent, Akron Archbishop Hoban's Nate Bauer.
The wide receiver/defensive back was one of a host of players from around the state who were in Columbus last weekend and saw the Buckeyes' first 2016 scrimmage. Before that, he was part of the Unrivaled Athlete Consulting group that was at Michigan State.
"They were both really cool," he said of the trips. "Both had great facilities and coaches. The only difference I saw was Ohio State's practice was way more up tempo and competitive. I just loved how competitive it was and getting to talk to (Urban) Meyer a bit."
Right now, the 6-foot-1, 180-pounder is still waiting on his first offer, but it won't be long until that comes through. He's a versatile two-way player and a key part of the Knights' 2015 state championship run. He's been hearing from a number of schools around the area.
"I've been talking to Michigan, Michigan State, Boston College visited me," he said. "I got invited to the Buffalo spring game. (Michigan State) wanted to see me at a camp to see me in person, I'm running track so I can run fast times at camps."
Bauer ran an 11.4 in the 100-meter dash in Hoban's win against Firestone in the season's first track meet on Tuesday. He was also the first leg of their 4x100 meter relay team, which took first place in the meet.