The Hurry Up is your nightcap of Ohio State recruiting news, catching you up on the day's events with an ear on the ground for what's next.
---
SHAUN WADE'S SHORTS AND WHY THEY MATTER BUT DON'T

I'm sure that you've heard the old adage "The clothes make the man," and while that's true in a lot of places, it's rarely true in the world of football recruiting, but that doesn't mean it's not worth paying attention to. Michigan State signee Donnie Corley wore Ohio State gear in public on multiple occasions, highlighting that he certainly liked the Buckeyes but maybe liked the clothing better. When Terrell Hall, an Ohio State commitment, showed up in Columbus last July wearing Alabama stuff, it was a very public slap in the face for the Buckeyes and a death knell for his Ohio State recruitment. So, the thing is, it does matter, especially when you're committed to one school and wearing–representing–another program publicly.
That brings us to this weekend, when Ohio State commitment Shaun Wade–who has been verballed to the Buckeyes for over a year–showed up to a 7-on-7 tournament in Florida wearing a different hue of red than he normally does.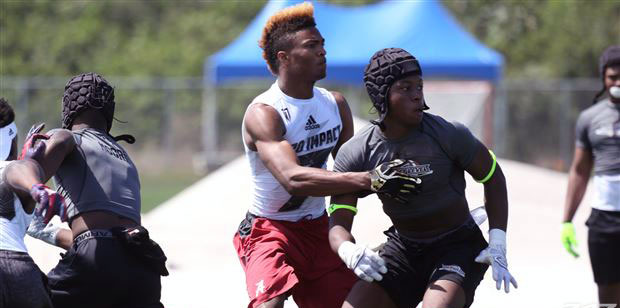 Wade has, repeatedly, reiterated that he's "100 percent" with the Buckeyes, though he's not been to Ohio State since last June and has made multiple trips to Florida and Alabama, and has also been to Georgia. Ohio State has sent Kerry Coombs and Tim Beck to Florida as frequently as possible, and they're not backing off by any measure. 
With regards to Alabama, there are a few things worth noting, namely that Wade's mother is from Alabama but his father has not yet been on any of the trips Shaun has made, telling some that he won't visit any other schools until he's been to Ohio State. 
Clothing is clothing and it's hard to not put too much stock into the minutiae that comes with every little bit of recruiting. There's a tendency to overreact to this sort of thing because fans feel their team is being slighted and certainly, if you're committed to one school, it's not a great "look" to represent another, especially a rival, but this is 2016 and this is the beast we've created.
On Wade, Ohio State needs to get him back on campus and soon if they want to stem the Tide and the Gators.
TYJON LINDSEY LIGHTS UP LOS ANGELES

It seems that Corona Centennial five-star wide receiver Tyjon Lindsey has not taken a moment to breathe since moving to California at the end of February. He's been at multiple recruiting combines, earning a spot in The Opening, heading to Las Vegas to win a national title in 7-on-7 and this weekend he was back in Los Angeles for the Rivals.com Camp Series. Lindsey was his usual spectacular self.
Rivals' Adam Gorney talks about Lindsey in this video:
He talks with Lindsey here, though Gorney inexplicably leaves Ohio State out of the entire conversation.
Ohio State has been at the top of the list with the 5-foot-9, 175-pounder since they offered last August. Zach Smith has made Lindsey a top priority and that relationship has paved the way for the Buckeyes to become a major player in his recruitment, though the battle for his services is going to get way more interesting as USC becomes a big-time thorn in Ohio State's side. Lindsey was offered by Alabama this past week, and he'll have an offer from everyone in the country if he wants it.
One interesting note from the above video is that USC, who has one wide receiver committed in 2017, told Lindsey and others that they'll take only one more in their class, and it seems that push could impact how quickly a decision may be made. 
Lindsey will visit Ohio State for the first time next week and says he's still been talking with Smith almost daily. 
WHAT'S UP WITH MARTELL

The possibility of a Tate Martell visit to Ohio State has been raised here many times, discussed many times and, at every turn, we've said that it likely would happen at some time. Primarily it would happen because the five-star Texas A&M quarterback commitment has family in Ohio and he's bound to be in the Buckeye State eventually, so a trip to Columbus to check out one of the most prestigious college football programs just makes sense.
That trip could happen next week. Martell will visit Ohio with Tyjon Lindsey, but a trip to Ohio State itself has–at this point–not yet been planned. The 5-foot-11, 205-pounder said he's not discounting it, either.
"I'm just going up to Ohio to visit my family that lives there towards the end of my spring break," Martell told Eleven Warriors. "I'm not sure if I'm going to make it over to see Ohio State or not. It just depends if my grandpa wants to check it out."
If I was a betting man, I'd be comfortable betting that yes, Martell would visit Ohio State during his trip, but as of today at least, it's not a sure thing. 
JAMYEST WILLIAMS WILL VISIT OHIO STATE IN MAY

Ohio State will, thanks to a scheduling conflict, get a visit from Georgia four-star defensive back Jamyest Williams in May.
Due to a planned setback I won't compete @TheOpening ATL Regional but will compete @ the Columbus Reg. 5/7 & visit the Ohio State Univ.

— Jamyest Williams (@Jamy0602) March 13, 2016
Williams is the country's 48th-ranked overall prospect and one of the most explosive two-way athletes in the nation. Multiple times during the 2015 football season he had planned trips to Ohio State with his former teammate, Buckeye commit Isaiah Pryor, but was unable to. 
The Opening regionals have been at Ohio State the last two years, but this year the event will be held at Westerville North High School on May 7, as listed above.