The Hurry Up is your nightcap of Ohio State recruiting news, catching you up on the day's events with an ear on the ground for what's next.
---
MORE ON SIMMONS FROM HIS HEAD COACH

In case you missed it, Ohio State added its 12th commitment for 2017 Tuesday morning when Antjuan Simmons, a three-star linebacker from Michigan, committed to the Buckeyes over Michigan, Notre Dame, Michigan State and a host of others.
We took a look at the impact from the Ohio State side and examined a bit further how the commitment took shape, but I wanted to try and round out the coverage by highlighting Simmons as a teammate and a player.
His head coach, Jari Brown, shared more on Simmons, his star linebacker.
"He's my kid obviously, so I try to keep my opinion out of this thing, but I've been doing this for a while and I've seen other guys play around the country," Brown said. "To do some of the things he's done as a player–all-state on both sides of the ball, offensive player of the year–to do the things he can do, I don't know who else in the state of Michigan is doing it like him." 
When you add 30-plus scholarship offers in a two-month stretch, it's easy to let your ego go, to let the recruiting process take on a life of its own. Simmons has navigated those landmines well according to his coach.
"He's a special player, but to have the attention he's had and all that, if you walked into our weight room, you wouldn't know he's had all the attention," his head coach concluded. "He works hard everyday and hasn't changed who he is. What you see is what you get; he's 100 percent genuine. He's a great human being and one of the best kids I've ever been around."
LINDSEY HAS VISIT DATE SET

It's been about 24 hours since we've talked about Tyjon Lindsey. 
Let's not waste any more time.
The Corona, California, resident, fresh off a visit to USC and earning his second-straight invite to The Opening, has a date set for his first visit to Ohio State.
"I'll be there the 22nd through the 25th," Lindsey told 11W. "Me and Haskell Garrett are coming."
Though he's been primarily recruited by Zach Smith, Lindsey says he and Urban Meyer continue to talk as well.
"I talk to (Urban Meyer) almost every week since they've offered me," he added. "He makes sure I know he wants me there."
In fact, Meyer and Smith share a text message thread with Lindsey according to Cleveland.com's Ari Wasserman.
"Coach Meyer told me he has never done anything like that before or anything, but for a guy like me, he wanted to for the first time," Lindsey told cleveland.com during a phone interview Monday evening. "He's been messaging in the group chat like he's young again." 
Lindsey has family in Ohio–Middletown–and he will also stop to see them on his trip. Ohio State, USC, Oregon and Texas A&M remain among the schools he's most interested in.
HASKELL GARRETT UPDATE FROM SCOUT.COM

Ohio State 2017 commitment Haskell Garrett also earned an invitation to The Opening after this past weekend's regional camp in Los Angeles. He talked to Scout.com's Greg Biggins about the camp and his recruitment, which included a stop at USC on Saturday with current Bishop Gorman teammates (and former Tyjon Lindsey).
From Scout.com:
SELLING DRAFT PICKS TO FUTURE RECRUITS? OF COURSE.

Clairton, Pennsylvania's Lamont Wade, a Top-40 player nationally and one of the longer-standing targets in Ohio State's 2017 recruiting cycle, hears all kinds of promises and recruiting talk everywhere he goes.
The talented cornerback, who spent the past weekend at Penn State and Pitt, wrote on RecruitDiaries.com last week about the pitch he gets from the Buckeyes and Urban Meyer, and to say the least, it's effective.
From RecruitDiaries.com:
The funniest coach is low-key Coach Urban Meyer. A lot of people will never see this side of him but he is super funny and always cracks jokes when I'm with him. The best recruiting pitch I have heard is very straight to the point, and really simple. An Ohio State coach told me, "We might honestly have like seven first rounders this year, what other school can say that?"
The Buckeyes are the current leader on the 247Sports.com crystal ball for Wade.
MATTA AND THE BUCKEYES WATCHING A 2017 GUARD

Ohio State's basketball team doesn't play again until Saturday and that means there's time for Thad Matta's program to get on the road and check out some 2017 talent. Tuesday night they'll take a look at Tennessee prospect Parker Stewart.
2017 G @Parker2828 Stewart (TN) will be evaluated by Ohio State, Iowa State, Utah, and Wisconsin tonight. @StlEaglesbball

— Andrew Force (@AndrewForce8) March 1, 2016
Stewart, 6-foot-5 and 185 pounds, is the country's 129th-ranked overall player.
On Sunday, the Buckeyes' hosted 2017 Cleveland East Technical four-star Markell Johnson, a Top 100 player nationally.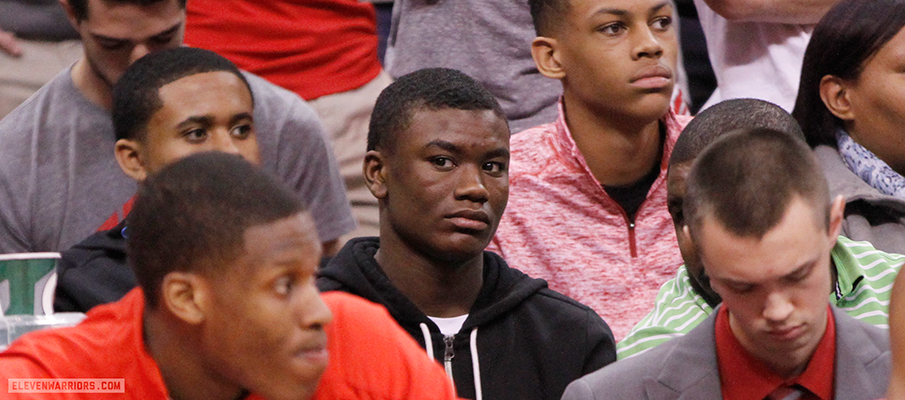 Johnson, a 6-foot-1 point guard, visited Virginia Tech a week ago and is considering a possible reclassification to the 2016 class, which could put Ohio State in an interesting position numbers-wise as they still evaluate 2016 wing Andre Wesson.