Lately, we've been breaking down each position group in preparation for 2017's national signing day – which feels like it's forever away. Ohio State currently has 11 commitments, only one of whom is rated less than four stars, in what is the nation's top recruiting class.
The logical next step is to try to put all the pieces together and make some way-too-early predictions on what the 2017 class will look like come signing day. Obviously the number of signees is totally up in the air right now, but we are thinking the magic number will end up being somewhere in the 20-22 range.
---
QUARTERBACK • CURRENT COMMITS: 1 • PROJECTING: 1-2
Danny Clark has been committed since December of 2013 and appears to be as solid of a pledge as we've ever seen. The question remains as to whether or not Urban Meyer and Tim Beck will make a push for a second signal-caller for 2017. If there's a player to watch, it's probably Texas A&M commit Tate Martell, though no offer has been officially extended – yet.
Andrew's Projection: Danny Clark
Birm's Projection: Danny Clark
RUNNING BACK • CURRENT COMMITS: 1 • PROJECTING: 1-2 
Todd Sibley is already in, but running back is one position group where the Buckeyes appear likely to add another between now and signing day. Mike Weber and Antonio Williams should carry the load in 2017 and players like Curtis Samuel and Demario McCall could also see some time in the backfield, but that's not a lot of true running back depth. 
Alabama has two of the nation's best backs in the fold and both are looking at Ohio State as well. Trey Sermon and Adarius Lemons are also considering the Buckeyes.
Andrew: Todd Sibley, Trey Sermon 
Birm: Sibley
WIDE RECEIVER • CURRENT COMMITS: 0 • PROJECTING: 3-4
No pass-catchers have committed thus far, but the position group is still expected to be one of the stronger units of recent memory. The fact that there are a couple very highly touted in-state wideouts that really aren't being recruited too heavily right now probably tells you all you need to know. Urban Meyer and Zach Smith have seemingly already identified their top targets, much like last cycle with Austin Mack and Binjimen Victor. 
Andrew: Trevon Grimes, Jaylen Harris, Emmanuel Greene
Birm: Grimes, Harris, Tyjon Lindsey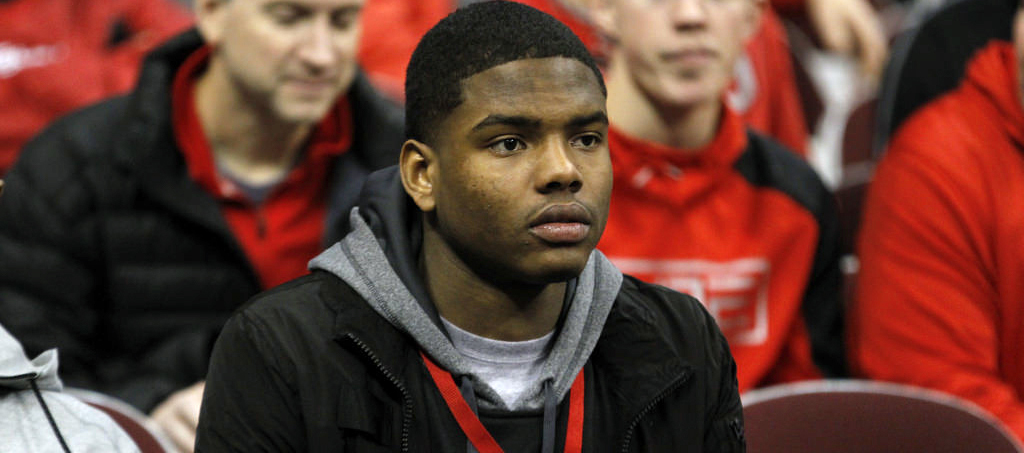 TIGHT END • CURRENT COMMITS: 0 • PROJECTING: 0-1
The Buckeyes brought in a trio of the nation's top tight ends in 2016, and even though Kierre Hawkins could play more of an H-back or wide receiver role, there isn't a great need for 2017. Ohio State has only offered two tight ends thus far, and one of them – Illinois' Cole Kmet – has been committed to Notre Dame since October. Cincinnati Moeller's Matt Dotson is the lone tight end still left on the board who holds a Buckeye offer, but that certainly is subject to change.
Andrew: Matt Dotson
Birm: -- 
OFFENSIVE LINE • CURRENT COMMITS: 2 • PROJECTING: 3-4
Josh Myers and Jake Moretti are two of the nation's top tackles, so the position group is off to a tremendous start. Offensive line shouldn't end up being as big of a need as it's been in past years, so the Buckeyes are in a position to be a little bit picky for the remaining spots. Matt Bockhorst, the state's second-best offensive line prospect, committed to Clemson last month. Bockhorst didn't hold a Buckeye offer and it will be tough for any other in-state linemen to earn one of their own. 
Andrew: Josh Myers, Jake Moretti, Jordan McNair
Birm: Myers, Moretti, Joel Honigford
DEFENSIVE BACK • CURRENT COMMITS: 4 • PROJECTING: 4-6
As we mentioned last week, defensive back recruiting is a bit difficult to pinpoint since there are two players – Isaiah Pryor and Brendon White – who could ultimately end up at linebacker. For now, both are listed as safeties in the 247sports.com database, so we will list them as such, but it's definitely worth nothing that some position changes could end up taking place down the road.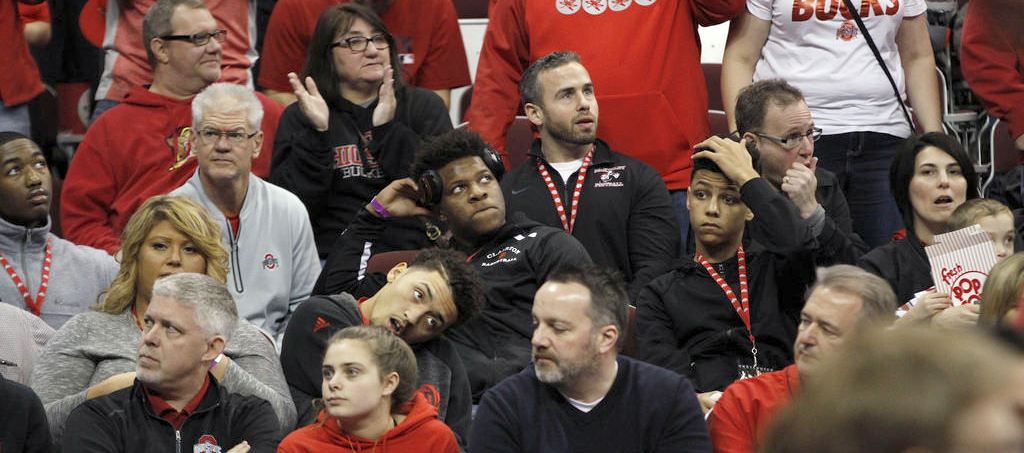 This is another group that definitely has potential to be the best in America. In fact, it's difficult to imagine many schools being able to top the defensive back haul that the Buckeyes have put together at this point, nearly one whole year before signing day.
One of the biggest questions for Ohio State: can they hang on to five-star Shaun Wade? 
Andrew: Marcus Williamson, Isaiah Pryor, Brendon White, Lamont Wade, Jeffrey Okudah, Amir Riep
Birm: Williamson, Pryor, White, Riep, Lamont Wade, Okudah
LINEBACKER • CURRENT COMMITS: 0 • PROJECTING: 1-2
Again, a tricky unit to evaluate given the uncertainty of a couple athletes on the defensive side of the ball. The Buckeyes are in the running for a handful of linebackers, but it doesn't really look like they necessarily lead for any of them at this point. 
If Pryor or White continue to add to their frames, there's certainly a chance that Ohio State "settles" with what they already have committed. 
Andrew: Santino Marchiol
Birm: Antjuan Simmons
DEFENSIVE LINE • CURRENT COMMITS: 2 • PROJECTING: 4-5
The need for interior defensive linemen has already been remedied a bit as Ohio State currently has two of the nation's top tackles in the fold. As is always the case these days, both of them will need to be recruited up until the pen is put to the paper. Jerron Cage's older brother is at Notre Dame and Haskell Garrett still needs to make a trip to Columbus. 
While defensive end may not be a huge need, Ohio State appears to be in a great spot for the nation's top player at the position; a player who is expected to enroll early. 
Andrew: Jerron Cage, Haskell Garrett, Darnell Ewell, Josh Kaindoh 
Birm: Cage, Garrett, Derrius Mullins, Kaindoh
SPECIAL TEAMS • CURRENT COMMITS: 1 • PROJECTING: 1
With Drue Chrisman joining the Buckeyes this summer, there's no need for a punter in the 2017 class. There is, however, a need for a kicker. Fortunately for Ohio State, the nation's top kicker – Buffalo's Black Haubeil – has been committed since last July.
Andrew: Blake Haubeil 
Birm: Haubeil
---
For a point of reference, the 247sports class calculator shows the above projected classes with a score of 305.68 (Andrew's) and 302.24 (Birm's). Last year, the Buckeyes finished with a score of 289.17, which was good for the No. 4 class in the country. Alabama's top-ranked 2016 haul checked in with 301.42 points. 
This shouldn't come as a surprise to anyone, but the highest-rated class of the Meyer Era came in 2013. The class ended with a score of 303.27, which was second only to Alabama's ridiculous 319.48. Five of those Buckeye signees are expected to be selected within the first couple rounds of the 2016 NFL Draft.