The Hurry Up is your nightcap of Ohio State recruiting news, catching you up on the day's events with an ear on the ground for what's next.
---
GRIMES STILL FEELING OHIO STATE
The Buckeyes have had a pretty good run at Fort Lauderdale's St. Thomas Aquinas in recent years and this summer have struck Raiders' gold again, adding a commitment from defensive end Nick Bosa. Although Bosa's likely the last 2016 pledge for Ohio State from St. Thomas, the 2017 class holds wide receiver Trevon Grimes, the country's top-ranked player at his position and a big fan of the Buckeyes. When last we checked on Grimes, we spoke to his father about potential visits and although nothing had been planned, the younger Grimes told Scout.com that he's still putting the Buckeyes at the top of his list.
"Definitely, they're still number one," Grimes told Corey Bender. "It definitely helps my teammate (Nick Bosa) is going there...it helps me out a lot."
Grimes mentioned that Ohio State and Miami are the teams he's spent the most time dealing with, but mentioned that Florida State is one program he'd like to learn a bit more about. He cited the Seminoles recent success producing wide receivers as a primary explanation for that.
The 6-foot-3, 180-pound Grimes said he had been planning on making a decision before the start of his junior season but indicated to Bender that he was unsure if that timeline was still in place.
Regardless of when he commits, I strongly expect the Buckeyes will be celebrating the decision.
DANIELS MAKES OHIO STATE VISIT
Ohio State's top remaining names at defensive tackle in the 2016 class are well known: Rashan Gary, Antwuan Jackson and Rashard Lawrence have been bantered about here, there and everywhere very regularly. Today they received a visit from Chris Daniels, a four-star from Euless, Texas, who checked out Columbus a day after a visit to Ann Arbor and the University of Michigan. 
Daniels is a very good player, and his visit isn't one to be dismissed or overlooked. The Buckeyes are a fan of his and have liked his game for a while and if they feel a guy like Georgia's Antwuan Jackson is fading away, Daniels may be a name to watch moving forward. He's got family in Michigan, so he knows the region and isn't bothered by the idea of traveling.
Tim Beck has been the primary recruiter for the 6-foot-4, 300-pounder from Trinity High School standout.
OLENTANGY LIBERTY VISIT
I had the chance this afternoon to visit Olentangy Liberty High School and a take a little time to check out the Patriots in action. Head coach Steve Hale's group is big – there was close to 130 kids in pads between the freshmen and varsity squads – and talented. There's a couple names on the roster that should be familiar with Ohio State fans and a few others that might be worth paying attention to down the road.
In the 2016 class, senior quarterback Alex Lando is a 6-foot-3, 180-pounder that threw for over 2000 yards as a junior. Lando hasn't gotten much in the way of college attention yet, but could be a late steal for some Mid-American level football program.
At 6-foot-4, 270-pounds, offensive guard Nathan Brock has the right frame for college football but at this point a number of teams are waiting for a bit more information to further their evaluation.
(Note: Michigan State 2016 offensive line commit AJ Arcuri was absent today with a minor injury)
The Patriots' biggest talents are in the 2017 class and it starts with defensive back and wide receiver Brendon White. A 6-foot-2, 195-pound Buckeye legacy, White definitely passes the look test and moves exceptionally well laterally.
He is fluid, long and aggressive on defense and seeing him in person today you can certainly see where the comparisons between a high school-level Darron Lee and White come from.
After white, tight end/defensive end Drew Rosi is a player that is worth watching closely, even if he doesn't end up at Ohio State. Rosi is a legitimate 6-foot-4 and 240-pounds and he stands out on the football field athletically.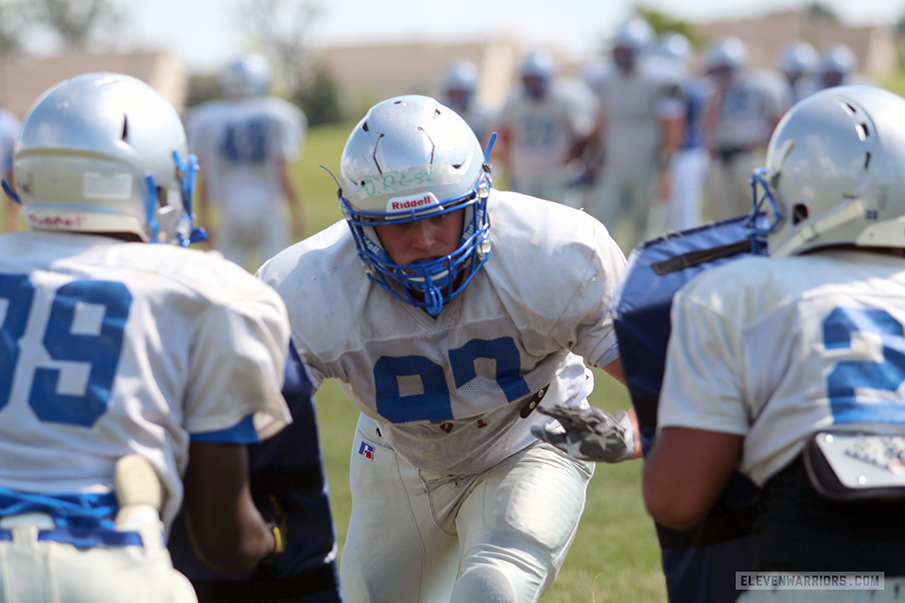 I saw him today only in a defensive capacity and – maybe it was the No. 97 practice jersey – looked like he could be dominant at that position if he wanted to be. Ohio State invited Rosi to Friday Night Lights and they're going to be watching closely this fall. 
In the 2018 class, linebacker Edward Warinner, the son of the Ohio State offensive coordinator, was a regular during reps for the Patriots and showed an excellent knack for the game as you'd expect.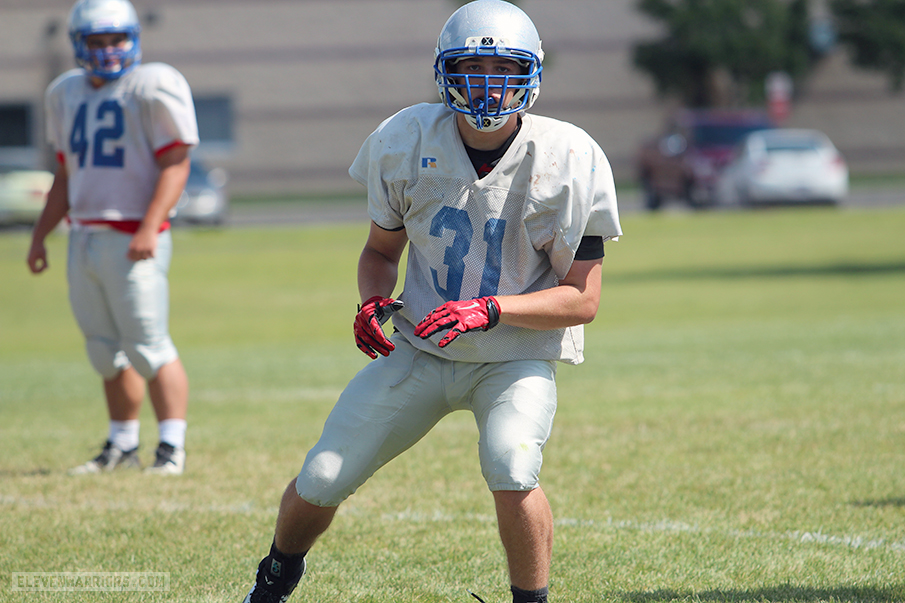 Football IQ will not be a problem for Warinner, who is a solidly-built 205-pounds at just over 6-foot-tall. According to people close to the linebacker, he's likely to max out around 6-foot-2 and should be in the 225-230 pound range by the time he's done with high school; he also ran a 4.6-40 at an Ohio State camp this summer. His physical development will be interesting to watch over the next three seasons, especially as he becomes more confident in his assignments on the field.
BOSA ADDS PRESEASON HONORS
MaxPreps.com is in the middle of their "Top 25 Athletes to Watch" and they have, as expected, listed the aforementioned Nick Bosa as one of those folks. The Buckeye commitment came in at No. 7 on the list: 
Baby Bosa: It's amazing to think that Nick Bosa could possibly be even better than older brother Joey, who helped Ohio State capture a national title last season. The younger Bosa has been an impact player since his freshman season. Now entering his senior campaign, his dominant play could help lead St. Thomas Aquinas to a national title.
HARRIS BLOWS UP
Football season is just around the corner and with that comes some excellent August scrimmages. Today in Cleveland, it was Lakewood St. Edward and Cleveland Heights and what was a good team matchup turned into a battle of two future Division One studs.
Heights' wide receiver Jaylen Harris, a 2017 standout with a Buckeyes' offer and 2016 St. Ed's defensive back Tony Butler went head-to-head all day. 
Harris had a big afternoon: Seven catches, 130-plus yards and three scores. He said the chance to line up against Butler will only help each of them grow their individual game.
 "It was a great opportunity before the season going against one of the top defensive backs in the country," Harris told Eleven Warriors. "It was great work for both of us."
Scout.com analyst-extraordinaire Bill Greene was in attendance today and his take on Harris couldn't be more glowing:
Jaylen is so good as a high school junior that its scary.............Doesn't truly know the game yet, but he is a monster.  Speed. Size. Hands. Athletic ability. Toughness. Checks off all the boxes. 

How good is he? He's the best WR I've ever seen in Ohio since I started doing this with only DeVier Posey being on Jaylen's level. But Jaylen is better as a junior than DeVier was at the same age. Jaylen is going to play in the NFL one day. Probably after 3 years of college.
Ohio State is the clear front-runner for Harris, but he's in no hurry to make a decision. Alabama, Michigan State and others are also involved and will make their play for the 6-foot-5, 210-pounder. 
He told 11W that he's hoping to get back to Ohio State sometime soon. He was unable to make it to Friday Night Lights because he as playing in an AAU basketball tournament in Kentucky. 
"I'm hoping I can make it down before the season starts," Harris said of his plans for a trip to see the Buckeyes. "I also play on Friday nights so I should be able to make it to a few games."