Yesterday was a historic day for those of us that follow Ohio State recruiting. Two blue chip prospects in Linebacker Justin Hilliard and Defensive End Jashon Cornell both committed to the Buckeyes within minutes of each other.
While I will leave the star rankings to the experts, there is no doubt that the additions of Hilliard and Cornell mean only positives for the future of the Ohio State Buckeye defense. Even though we've yet to see the full version of Chris Ash's Silver Bullets, we have a pretty good idea of what to expect thanks to what was shown in this year's Spring Game.
The Buckeyes continue to line up in the classic 4-3 defense they've run for years.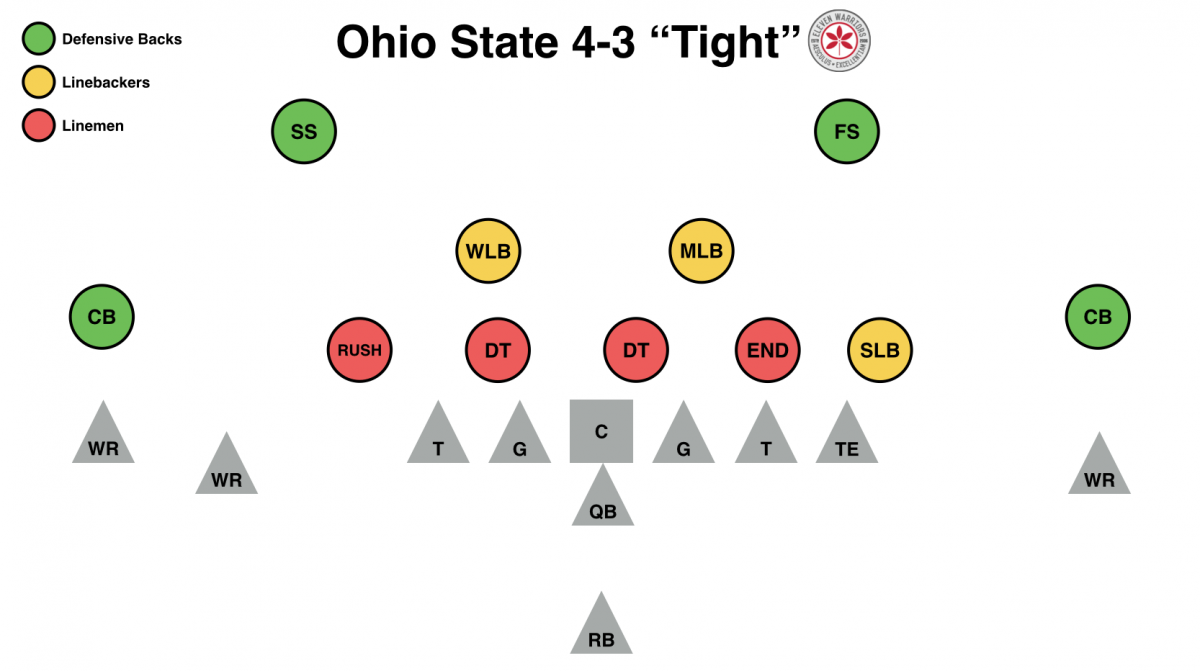 While Ash calls it a 4-3 "Tight" it's essentially the "4-3 Under" system that the Buckeyes have run under defensive coordinators Mark Dantonio, Mark Snyder, Jim Heacock, and perhaps most importantly, Luke Fickell. It's also the same scheme that new defensive line coach Larry Johnson coached for decades while at Penn State.
For any current or future Buckeye defender to see the field, they'll need to fill one of the spots shown above. Let's see how Hilliard and Cornell might fit in.
---
Justin Hilliard

While the highlight tapes of incoming recruits hardly tell the full story of their abilities, they can still give us a small snapshot into their experience playing the game and where their strengths already lie. 
Hilliard plays one of the outside linebacker (OLB) spots in St Xavier's 3-3-5 defensive scheme. While the term 'outside' is relative to the other linebackers, Hilliard isn't the end man on the line of scrimmage, playing behind a defensive end instead. This alignment is similar to that of Ohio State's WLB spot, as opposed to that of an outside linebacker in a 3-4 defense like the Pittsburgh Steelers or Baltimore Ravens.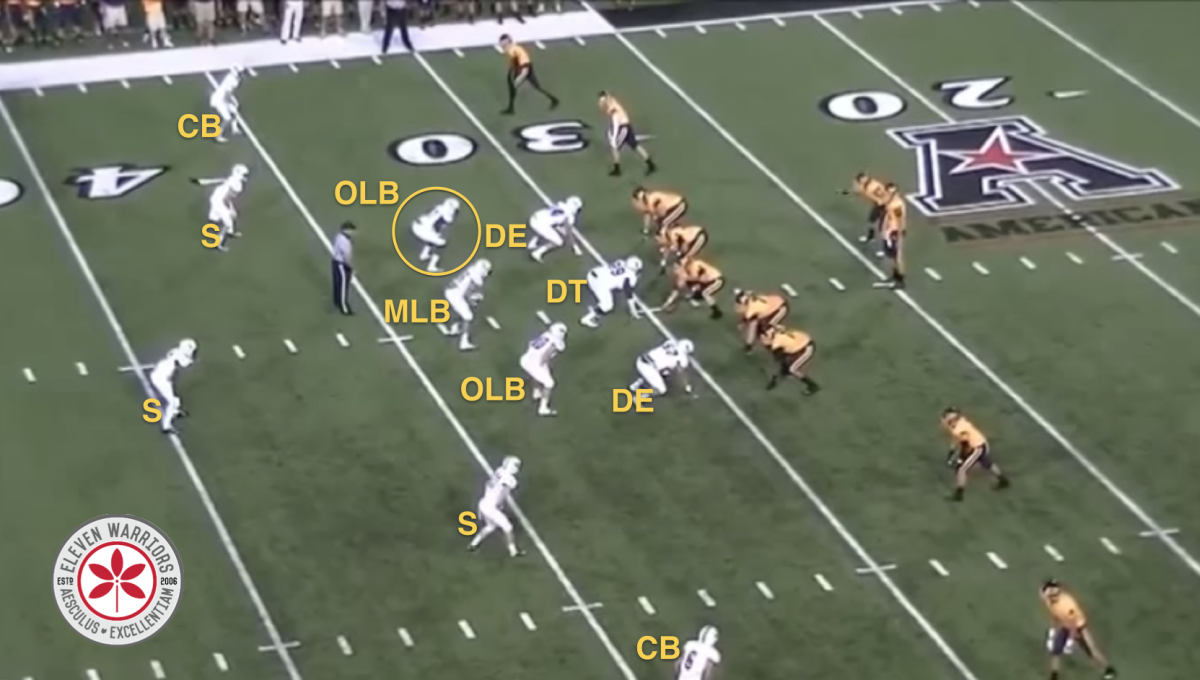 In this spot, the three linemen in front of him are tasked with eating up blockers and allowing him to flow to the ball, maximizing his athleticism. Without having to fight off opposing linemen, Hilliard is able to maximize his athletic ability and chase down ball carriers.
While the highlight film often shows him blitzing the quarterback, something Ash and Fickell don't require that often from linebackers, these plays showcase Hilliard's closing speed and athleticism.
As seen in the example above, Hilliard waits as the other defenders around him take on blocks. While theoretically the offense shouldn't have to worry too much about him, as they're running to the opposite side, he's athletic enough to cut in between "the wash" of blockers around him and take down the ball carrier in a hurry.
This was certainly by design. Hilliard was most likely the best athlete and best tackler on the St. Xavier squad, and the coaching staff aligned the defense in such a way that he is the one going unblocked and able to track down the runner.
Most defensive coordinators that run a version of the 4-3 want their most athletic linebacker to line up in the weakside position, and Ash is no different. Former Buckeye greats A.J. Hawk and Ryan Shazier excelled at this spot, and Hilliard appears to already have the skill set to match the necessary athleticism. 
The highlight film being what it is, it's hard to tell how comfortable Hilliard is in pass coverage though. But with a history of strong coaching and well-played football in the GCL, one can expect this will improve over the course of Hilliard's senior season. There's no question that Hilliard could contribute on special teams right away, but there is certainly a chance we could see him out on the field with the rest of the Silver Bullets as a freshman.
---
Jashon Cornell
Cornell's Cretin Derham Hall team appears to favor a 3-4 scheme, very similar to that of the aforementioned Pittsburgh Steelers. While Cornell is a defensive end by name, he's not usually the end man on the line of scrimmage.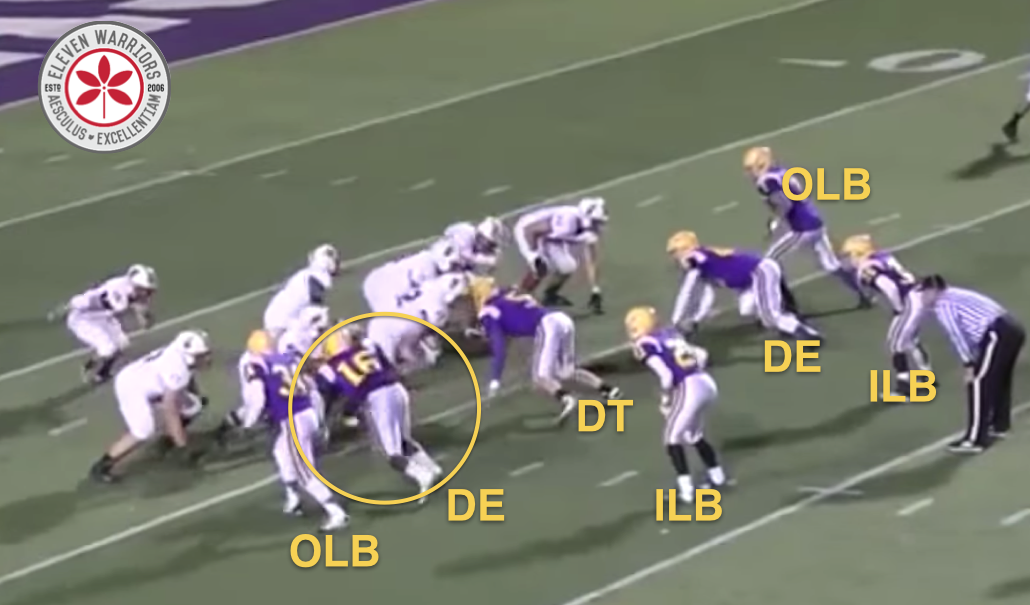 In nearly every clip shown, Cornell has a linebacker outside of him, responsible for setting the edge and turning plays back inside towards Cornell and the rest of the defense. At the same time, Cornell is often lining up over the opposing guard or tackle.
It's clear that Cornell combination of size and natural strength are his biggest assets at this point, which is not a bad thing. He does a great job of fighting off blockers, holding his ground and making plays because of it. In effect, his job is to cause chaos.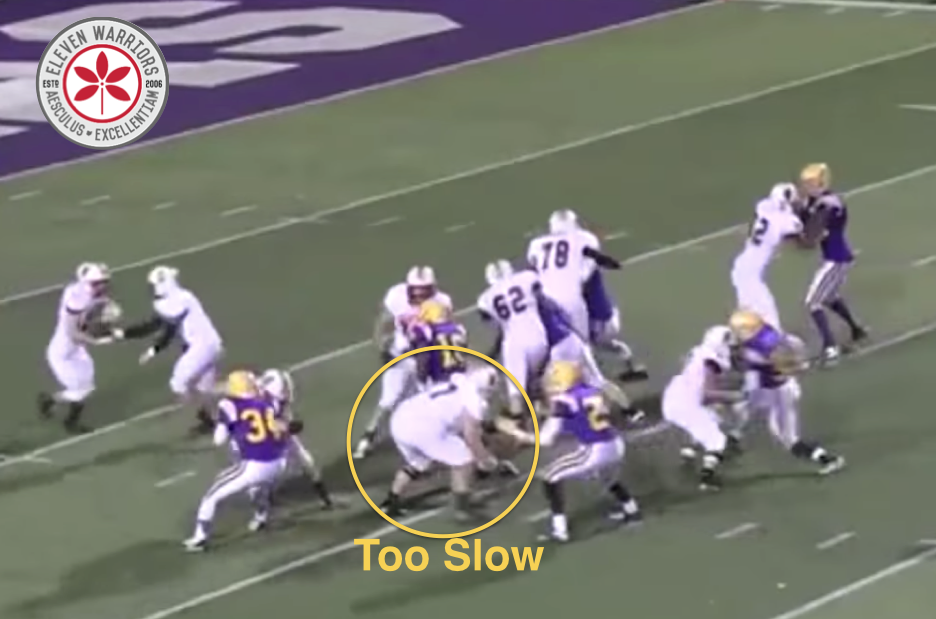 Cornell's athleticism allows him to beat the tackle on his first step, getting into the backfield before the opposing blocker can even get a hand on him.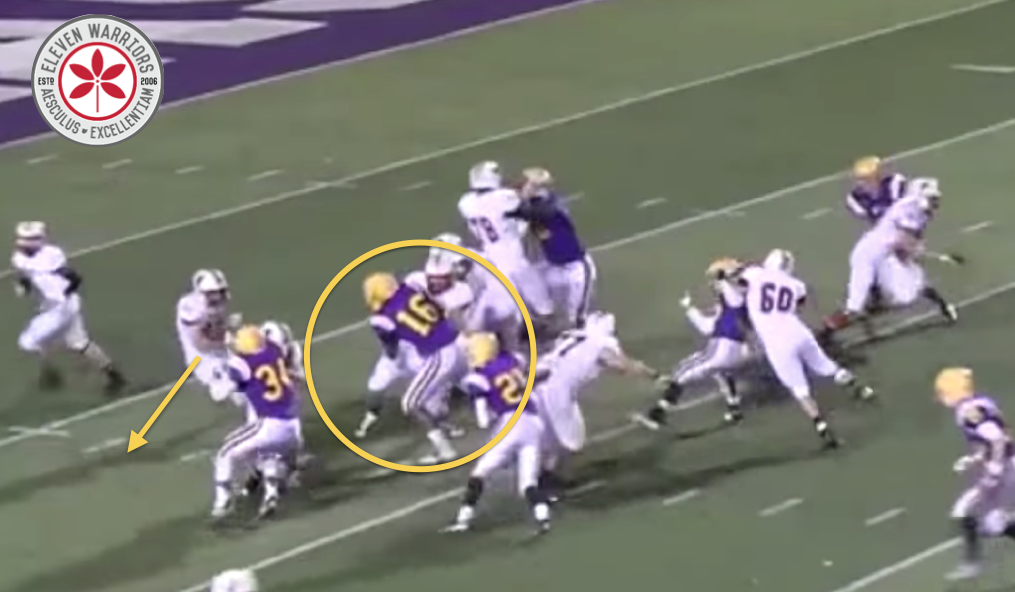 Cornell is now in the path of the pulling guard, who still should have leverage to knock a normal defensive linemen out of the way. However, Cornell is much stronger than his opponent, and simply holds his ground as the block comes his way. The runner sees 16 coming right at him, and instinctively cuts towards the outside.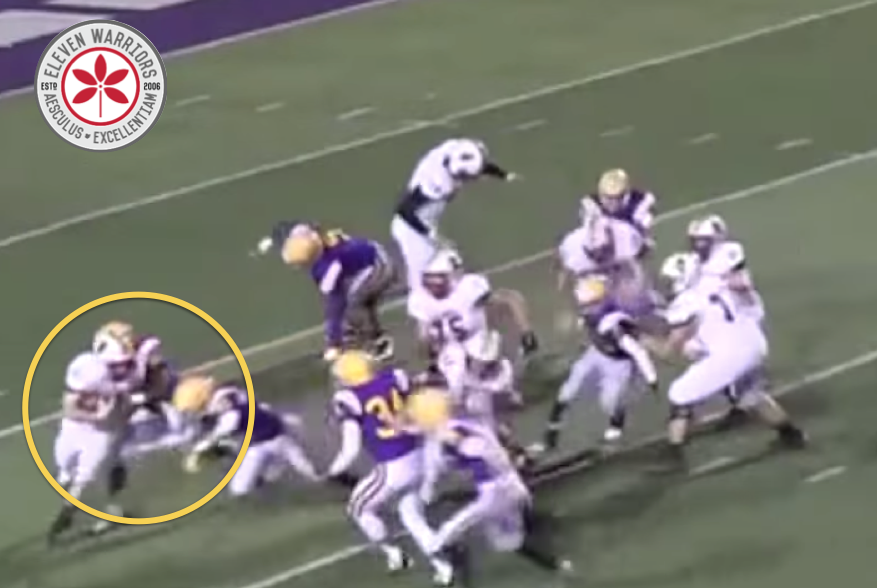 But Cornell's long frame is too much to overcome, as he is able to get off his block and get a hand on the ball carrier long enough for help to arrive and create a negative play.
Before we get too carried away, let's remember that Cornell is facing high schoolers here. Assuredly he was the biggest, strongest, and possibly most athletic guy on the field at all times in this film. That will almost never be the case once he gets to the Big Ten.
But it's also clear that Cornell hasn't yet had to develop many technical skills, meaning there is plenty of room to grow. Learning from Defensive Line coach Larry Johnson will be a huge benefit, as Cornell has all the natural tools necessary to develop into creator of havoc at the next level.
While the weakside "Rush" end position is often the glamour spot for defensive ends, and it's pretty clear that Cornell is a very different player than the current Rush end for the Buckeyes, Noah Spence. But Cornell projects well into a spot that has become a star-maker of late for the current Buckeye coaches.
The "End" spot in Ash's defense will almost undoubtedly be manned this fall by Joey Bosa, who will look to replicate the production of Ash's most prized pupil while at Wisconsin, J.J. Watt. Watt, Bosa, and former Buckeye great Cameron Heyward (who manned the same spot while in Columbus) all possessed the strength needed to fight off offensive lineman all game long, while still being athletic enough to track down ball carriers. Cornell might not be as athletic as Watt or Bosa, but he certainly looks like he could be as disruptive as Heyward due to his strength.
The biggest question for Cornell will be his weight. As he continues to add more strength, he may outgrow the defensive end spot all together and move inside to tackle like Adolphus Washington. As guys add more weight, it's very hard to maintain the same level of athleticism. There is a reason guys like Heyward and Watt are first round picks in the NFL draft, as the lethal combination of size and speed is hard to find at that level.
Is Cornell "Tree in the grove" good? It remains to be seen. He's a bit more of a project than Hilliard at this point. But while we might have to wait a bit longer to see the results, the outcome has the potential to be very special.