After a strong June on the recruiting circuit, July is off to an even better start for Ohio State with the commitment of five-star linebacker Justin Hilliard, who made things official just moments ago during a ceremony at his high school, Cincinnati's St. Xavier.
The Hilliard File

Class 2015
Position OLB
Size 6-2/230
School St. Xavier (Cincinnati, OH)
Composite ★★★★★
Rank 2 (OLB)
The top player in the state of Ohio chose the Buckeyes over his other finalists: Alabama, Iowa, Michigan and Notre Dame. He also had offers from just about everyone else, including Michigan State, South Carolina, Texas A&M, USC, Florida and Georgia.
Hilliard is the 11th member of the Elite 15, and could very soon be joined by another five-star, Jashon Cornell, who will be announcing his college choice today as well.
Hilliard is ranked as the No. 1 player at his position by all four of the major recruiting services. ESPN and 247Sports list him as a 5-star and the No. 1 outside linebacker, while Rivals and Scout list him as a 4-star and the No. 1 inside linebacker. At Ohio State, he most likely projects to inside linebacker.
Having leaders in the recruiting class is always important, and Hilliard gives Ohio State exactly that. He's built friendships with many of the country's other top recruits, and will be representing Ohio State at The Opening next week in Oregon.
"I just wanted to commit at the right time and I felt that was it," Hilliard told 11W last week. "I'm glad the process is ending because it's time for me to be a recruiter. I'm excited to go out and get a class together that will hopefully be a top-three class nationally. I've been thinking about that since I got my first offer. I want to win."
Between being the top player in Ohio, playing a position of need, and being from an area of the state that the Buckeyes have struggled to recruit well, Hilliard was a huge target and landing him was a major victory for Urban Meyer. As he does with a few of the top prospects, Meyer handled this recruitment himself, talking with Justin almost every day.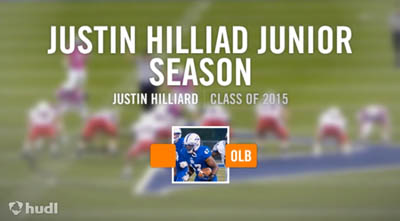 As a junior at St. Xavier, Hilliard recorded 56 total tackles (25 solo), 2.0 sacks, an interception and a fumble recovery while helping lead his team to a 5-6 record and a postseason berth.
Hilliard joins Nick Conner at linebacker in this recruiting class. Ohio State is also considered the favorites for four-star Ohio linebacker Jerome Baker, who plans to announce on July 11th.
After a slow start, Meyer and Ohio State got hot in June landing seven commitments in 11 days. The Buckeyes will look to ride this wave in July, with announcements from Baker, Cornell and Damien Harris right around the corner.