There's no shame in admitting that you're unfamiliar with Scottsdale, Arizona's Saguaro High School Sabercats. The Arizona desert isn't known for its gridiron success, at least not in the way high school programs are revered throughout Ohio, Florida, Texas, California, Georgia and Pennsylvania. It's not a program with the national appeal of Massillon, or Mater Dei or St. Thomas Aquinas, even if their recent on-field success merits such widespread deference.
"Saguaro won the first of three straight state championships in 2006, the year before I got there, under head coach Mike Reardon," Jason Mohns, the Sabercats head coach told Eleven Warriors. "In 2007, Reardon left to open Mesquite High School and his defensive co-ordinator, John Sanders, took over and we won state championships in 2007, 2008, 2010 and 2011. When (Sanders) left to join Todd Graham's staff at Arizona State after the 2011 season, I took over as head coach."
"So yeah, I inherited a pretty decent program."
THE COACH

Mohns took that "decent" program and has done more than just maintain it. Since taking the reins from Sanders, the Sabercats haven't missed a beat: they finished second in Arizona in a tightly-contested 2012 championship game and retook their crown as champions in 2013. Is six state championships in eight years any good?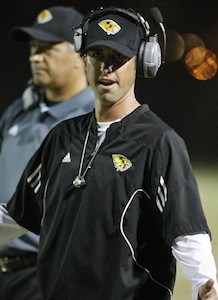 The son of a football coach, Mohns went to school at Arizona State with dreams of cracking backs as a chiropractor rather than teaching why crackback blocks are a no-no as a football coach. 
"My dad, Greg Mohns, coached at Oklahoma State under Bum Phillips and at ASU under Frank Kush," the younger Mohns said. "He was with the Kansas City Chiefs for seven years as their director of pro scouting and spent 20 years in the CFL with the Hamilton Tiger-Cats, the BC Lions and the Toronto Argonauts, but I never really had an interest to get into coaching."
"I went to ASU as a student and got accepted into chiropractic school after I graduated. As a side job in college I coached youth sports for the city of Scottsdale: I started with 4th and 5th grade girl's basketball and eventually moved into junior high flag football, and that really developed my love of coaching. I started a youth football club when I was 21-years-old called the Scottsdale Argonauts and it grew to be about 250 kids playing across nine teams. One day eight years ago, Saguaro contacted me out of the blue about coaching their freshman football coach and the rest is history."
"I put aside chiropractic schools and found a way to pay my bills while I worked my way up the coaching ladder. I definitely felt like I found my calling. It happened at the right time for me, because it would be much harder to do that as this point in my life. Most people don't view coaching your butt off for pennies an hour as a 'job,'" the recently married Mohns said. "Especially if it takes time away from your family."
THE PROGRAM

"My number one goal at Saguaro has been to try and grow our program by increasing the number of kids playing the game," the soon-to-be 33-year-old Mohns said. "That means we'll continue to compete year-in-and-year-out for state championships and we'll continue to send our players to the next level." 
There's little doubt that the Sabercat approach has worked. As they're currently constituted, Saguaro's roster includes the top player in the Grand Canyon State in 2015, 2016, and 2017. It's a roster that's deep and talented, and Mohns' offensive proficiency is a major reason for the influx of talent. 
"There's a tradition at Saguaro that started long before me and it will carry on long after I'm gone. That attracts great players every year," the Sabercats head coach said. "I've been lucky to spend a lot of time with Noel Mazzone when he was the offensive coordinator at Arizona State and now that he's at UCLA. I spent a week at Auburn with Gus Malzahn three years ago learning their offense and I've also spent a lot of time with Tony Franklin, the offensive coordinator at California and Louisiana Tech. I'd say we've stolen a lot of what we do from those guys and kind of shaped it into our own thing."
"My claim to fame, since I started calling the Saguaro offense," Mohns continued. "Is that we have had players break the single season rushing touchdown record, single game rushing touchdown record, single game rushing yard record and career rushing touchdown record (Arizona State junior-to-be D.J Foster) as well as the single season passing touchdown record, single game passing touchdown record, career passing touchdown record and career passing yards record (incoming Cal freshman Luke Rubenzer) and we have a great shot to break the career receiving touchdown record this year with Christian Kirk."
The population shift to warmer climates isn't hurting according to the third-year head coach.
"The population growth in Arizona, the quality of our coaching staff and a climate that allows players to train year-round all really helps," he said, mentioning how spring football and seven-on-seven training and competitions have helped give him a leg up. "It's great for our coaches and our players because of the teaching, the training and the reps. It's also great for our kids because of the exposure they gain. In 2012 I only had one Division-One player, in 2013 I had three and this coming year's team currently has five players with D-1 offers."
Of course, as the leader of young men who still need to learn how to be students and athletes, Mohns and his Saguaro support staff can't focus solely on X's and O's. There's A's and B's to consider as well. 
"Our district enforces a 2.0 GPA minimum and no 'F's' to be eligible to play, so that requires us to constantly monitor our players grades," he said. "On top of that, the recruiting element also is a great motivator for our players, so we are constantly talking to them about making sure they have an 'attractive transcript' for the college coaches. My reputation is very important as far as building relationships with college coaches. They know that if I promote a kid to them that he is a player on the field and a quality kid off of it."
THE CHRISTIAN KIRK EFFECT

One of those five current players with Division-One offers is wide receiver Christian Kirk, who has upwards of 40 scholarship offer. The 39th-ranked player in the country in the 2015 recruiting class according to 247Sports.com's composite feature, which averages a player's ranking across the major recruiting services, Kirk is the highest-ranked player Saguaro has seen. Fortunately for Mohns and his staff, Kirk — Arizona's top player in 2015 — has been a model student-athlete from the start.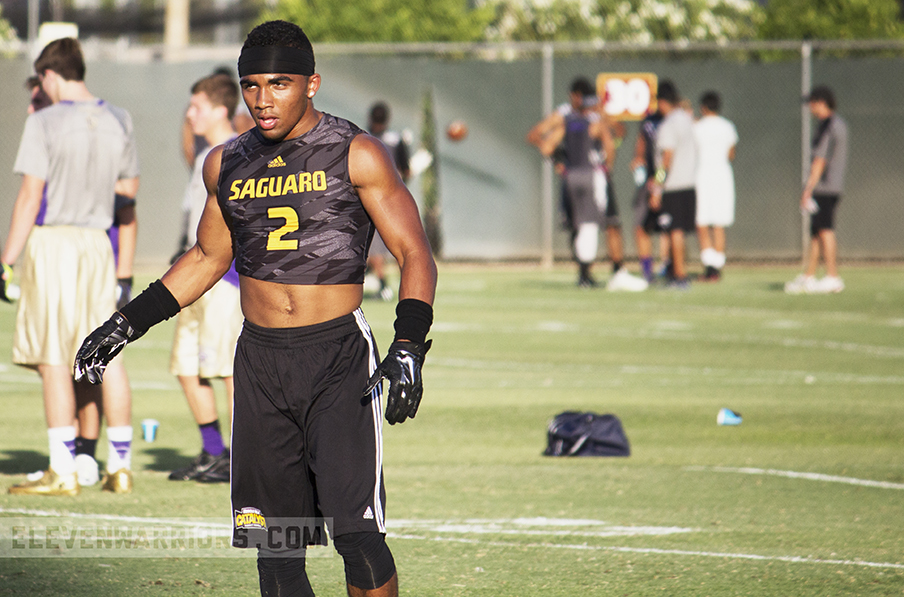 "(Christian) is on a different level," he said of his star two-way player. "He's the first high school kid I'd ever describe as a 'pro.'"
There's a tendency, when you have a player of Kirk's magnitude, to handle him with kid gloves, but that's not been the case with the 5-foot-11, 195-pound speedster.
"You hope and pray that the message you, as a coach, are giving him is being reinforced at home, and in Christian's case that's absolutely happening," he said when asked how to handle a "superstar." "His parents have done a phenomenal job raising him, and he's never had any issues staying humble, grounded. All I have to do is keep getting him a lot of touches (on the field) and he's happy, and I'd be a fool to not get him a ton."
In the past few weeks, Mohns has been able to accompany his All-American on a pair of key recruiting trips; one to Texas A&M and one to Ohio State. The Saguaro coach served as a camp assistant for the Aggies and the Buckeyes and got to take in a bit of the college life for himself. 
"I really enjoyed my visit to Columbus," Mohns said. "I got to spend a lot of time with (Ohio State wide receiver's coach) Zach Smith and came away impressed by him not only as a coach, but also as a person. We spent some one-on-one time with Urban Meyer when we first got in and it was great to hear more about his vision for Christian and the Buckeyes. The facilities at Ohio State are top-notch and the players all seem like they are on the same page and have fully bought in to what Meyer is doing."
As a teacher, Mohns isn't opposed to learning either.
"We also spent a lot of time studying Ohio State's option-route concept that is designed to take advantage of having a superior athlete, like Christian, in the slot in your offense. The position that Percy Harvin used to play for Meyer at Florida."
THE NEXT WAVE

While Kirk gets a majority of the accolades for the Sabercats, and deservedly so, he's not alone as a national-level recruit at Saguaro. Two of his teammates — 2016 defensive back Byron Murphy and 2017 offensive lineman Kayden Lyles — have each picked up major scholarship offers during this spring's evaluation period. 
"Byron transferred to Saguaro this spring after receiving All-Section honors as sophomore at cornerback," Mohns said of his new weapon. "He will be a two-way starter for us at wide receiver and defensive back, and he's got the tools to be a two-way All-State performer. He dazzled coaches all spring and summer with his athleticism and he's got tremendous ball skills. He went from a relatively unknown player to almost a half-dozen offers already including Ohio State, Texas A&M, UCLA and Arizona State. He's now the state's top-rated player for 2016."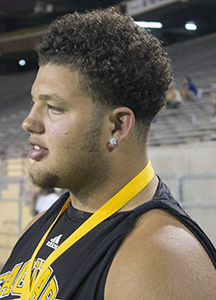 "Kayden Lyles started 13 games at right guard for us as a freshman last year, which is almost unheard of at Saguaro. He's got incredible strength and flexibility at his size, and even though he's already 6-foot-3 and 305-pounds he's nowhere near done growing," he continued. "He's got a 4.0 GPA and a great work ethic. He may end up being the top-ranked offensive lineman in the entire country for 2017; he's got that kind of ability. He has offers from Ohio State, Notre Dame, Oklahoma, Arizona, Arizona State and a other big schools."
"His brother, Karé will be our quarterback this year and he backed up (Luke) Rubenzer last year as a sophomore. He might've have been the starter on 12 of the 14 teams we played against last year. He's 6-foot-1, 210 pounds with a cannon arm and a very calm demeanor. He's got interest from schools like Ohio State, UCLA, Arizona State, Arizona and a few others, but Wisconsin is probably the closest to pulling the trigger and being his first offer. Most other schools are just waiting on game film from him; he will undoubtedly have double-digit offers after his junior year."
It's the support of Mohns and his coaching staff that drew the Lyles' to Saguaro, according to their father, Kevin, who played tight end for Wisconsin in the mid-1990s. 
"Originally, we lived in the Foothills and Karé attended Desert Vista High School," the elder Lyles shared with Eleven Warriors. "We decided to start looking at other schools for Karé because the offense there was very run-oriented, so we did our homework and I spoke to parents and coaches around Phoenix and Saguaro was constantly mentioned even though they were a D3 program. Everything we heard about Saguaro was true. The coaches are young and energetic and relate to the players so well, and they truly care about them on-and-off the field. They run a college tempo practice with excellent attention to detail and and they do a great job coaching up the young men and getting them to understand the why in what they're doing, not just expecting them to do what they're told without explanation."
"They hold the kids to high standards both on, and off the field," Kevin Lyles continued. "They place an emphasis on the little things like footwork, hand placement, etc. They're teaching the things these kids would learn in college. Coach Mohns is a football genius, he's got a very high football IQ and grew up around the game. He's also surrounded himself with a great staff, guys like (former Texas CB) Bryant Westbrook, (Arizona State alum) Sam Keller and Kyle Caldwell, who all played at a very high level. Simply put, his staff is the best I've seen in a high school staff in a long time. Maybe ever."
THE FUTURE

Because of their proximity to the nation's premiere high school talent, high school coaches have become a hot commodity in the college coaching ranks. Major college programs all over the country are reaching out and reaching in to talented high schools and trying to pluck a little piece of recruiting momentum by offering familiar faces jobs as interns, directors of player personnel or graduate assistants. The end game is to help lure star players, like say Christian Kirk, to your college because of the pre-existing relationship a player has with a coach who showed him the ropes as a prep star.
For Mohns, the thought of leaving Saguaro for greener pastures is not one that he's considered too seriously.
"I'm in no rush to leave Saguaro," he said of his future plans. "I feel like I'm relatively young and I'm in one of the top coaching positions in Arizona. We are set up very good for a very long time and let's be honest, Scottsdale is a pretty good place to be, and to live."
He doesn't discount that if an opportunity arose it'd be worth a listen, but he admits it'd have to be a pretty sweet situation.
"If I get the opportunity to go to the next level, I'll definitely listen," Mohns concluded. "But it will have to be the right situation to get me to even consider leaving where I am now. This is where I want to be."