Ohio State's offensive line of the future continues to take shape thanks to the commitments of mammoth 2015 tackle Kevin Feder and four-star class of 2016 lineman Tyler Gerald in the last few days, and the staff isn't finished.
The Buckeyes hosted one of the nation's top offensive linemen over the weekend, while an under-the-radar guard camped on Saturday looking for an offer. Later this week, a 6-foot-7, 330-pound prospect from Utah will visit.
Prince Down to Final Six

Four-star offensive tackle Isaiah Prince visited Ohio State over the weekend and had an opportunity to tour the campus and even meet Buckeye legend Eddie George.
Prince, the nation's ninth-rated offensive tackle according to 247Sports' composite rankings, told Eleven Warriors that his list is down to Alabama, Auburn, Florida, Maryland, Ohio State and Tennessee.
Though Ohio State's recruiting class is beginning to fill up, the coaching staff did not pressure Prince into making any decisions on his visit. He plans to return to Columbus during the football season for an official visit.
A Maryland native, Prince's crystal ball currently favors the local Terrapins, but it's far from unanimous.
Cupp Determined to Land Offer

Heading into Saturday's one-day prospect camp at Ohio State, Leipsic (Ohio) junior offensive lineman Gavin Cupp knew the Buckeyes' staff would keep a close eye on him during drills. Before the camp, the coaches told him he would have an offer in hand if he did what he showed on film.
The 6-foot-6, 280-pound lineman didn't quite perform as well as he hoped, and Cupp left without an offer. "It didn't go how I wanted it to go," Cupp said of his camp performance. "I didn't perform like I wanted to."
This is far from the last opportunity the junior will have to impress the Ohio State coaching staff. Cupp already plans to attend Friday Night Lights on July 25.
"Coach Warinner said to just keep coming back and I could get an offer," he said. "I'll work on the things I learned at camp. I'll improve and work my butt off to have a better showing in July."
While Cupp is currently not rated by any of the scouting services, he has the potential to develop into a four-star guard. He was clocked at 4.9 in the 40-yard dash, a solid time for an offensive lineman (though hand-timed results are usually suspect). He has already received offers from Bowling Green and Toledo, while receiving a lot of interest from Notre Dame and Ohio State.
Notre Dame and Ohio State are currently the favorites for the Leipsic junior, although he notes that his favorites could quickly change after taking other visits. He visited Notre Dame on June 9 and had an opportunity to take a short visit around Ohio State before camp.
"I talked to coach Meyer for a little bit," he stated. "He said he wants me [to be a Buckeye]."
Even though 2016 recruiting is in its infancy for the Buckeyes, they have already picked up four-star guard Tyler Gerald. The Buckeyes are also hoping to add in-state linemen Liam Eichenberg and Tommy Kraemer, both five-star prospects.
The offensive lineman haul in 2016 could be one of Ohio State's best one's yet. Don't count out a determined Gavin Cupp, who said not getting an offer "is going to fuel me even more."
Bowen to Visit

Draper (Utah) upcoming senior offensive lineman Branden Bowen is scheduled to visit Ohio State on June 25. He plans to arrive on the 24th, he told 11W.
The 6-foot-7, 330-pound lineman has offers from Boise State, BYU, Colorado, Oregon State, Utah, Utah State and Washington State. Ohio State could soon join the list of schools to offer the three-star. According to Bowen, "when coach Warinner came out to my school, he told me all they're waiting on is for coach Meyer to see me before they offer."
Even though the Buckeyes added three-star linemen Kevin Feder and Grant Schmidt, Warinner has kept in contact with Bowen.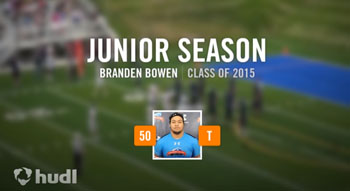 "I've been talking a lot with coach Warinner," Bowen said. "We haven't really been talking much football. We talk more about family life and all that."
If you remember from our previous update on Bowen, his high school trainer played for Urban Meyer at Utah. That connection could help Ohio State land another under-the-radar lineman.
"It's hard to say before I get out there and visit," Bowen responded when asked where Ohio State would stand in his recruitment if offered. "It'd definitely be in my top schools."
In addition to the two offensive line commitments, Ohio State is also in serious pursuit of highly rated linemen such as Matthew Burrell, Drew Richmond, Patrick Allen, James Daniels, Isaiah Prince and Venzell Boulaware. The Buckeyes are expected to take at least four linemen in this class.