Last year, Ohio State hosted a Nike Football Training Camps, or NFTC, and welcomed some of the country's top prospects in the 2014 class, including a number of eventual Ohio State commitments.
This weekend, Nike's elite camp series — along with the final 2014 regional of the Elite 11 quarterback camps — returns to Columbus and once again we'll be in attendance trying to bring you as close to the action as possible.
NFTC Columbus

When: Today, June 1, 9:00 a.m.–2:00 p.m.
Where: The Ohio State University
OSU Commits: QB Joe Burrow, QB Danny Clark
The event, which begins this morning at 9:00 a.m., will be a showcase for a handful of players hoping to earn an invitation to Nike's The Opening, which will take place in Oregon during the second week of July. 
With so many of the area's top talent in attendance, it'd be nearly impossible to list each and every player that we'll be paying attention to, but there's a couple on top of the list that are standing out.
OFoDile, Settle, Burrell Lead Important 2015 Group

As we've noted a few times before, the Buckeyes are continuing their appeal to a number of taller, outside wide receivers. Columbia, Missouri's Alex Ofodile has been a less-than-talked-about option, but perhaps that should change. At 6-foot-3 and 185-pounds, Ofodile is the nation's seventh-rated wide out and took in a campus visit with the Buckeyes Saturday morning, prior to Sunday's camp. 
Faster than his size, Ofodile is deceptively quick and runs good routes. How will he stack up against some of the country's best defensive backs will be interesting to watch. 
Matt Burrell had an excellent visit to Columbus in mid-April and he's returning to Ohio State to support some younger teammates but will not participate Sunday. The country's seventh-ranked offensive tackle, Burrell is not only an immense talent but he's also got a magnetic personality that will make him a centerpiece of any recruiting class that he becomes a part of.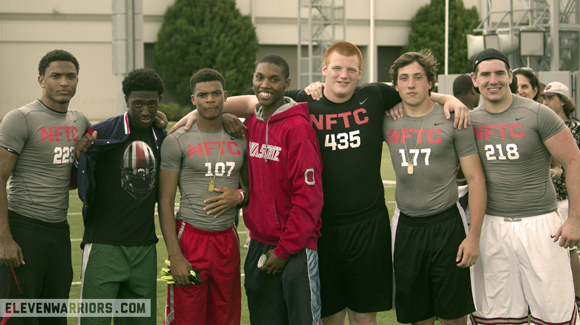 For Ohio State and Burrell, this visit, which began Saturday, will provide another chance to tighten his bond with the Buckeyes' coaching staff, and they'll get another chance to show him that he's a primary target. 
Arriving with Burrell is Tim Settle, who appeared at the NFTC last year in Columbus. Settle once had Ohio State at the top of his list. After a bit of a fall-out with the Buckeyes in recent months, Settle has the chance to earn an invite to The Opening and to perhaps rekindle his relationship with Zach Smith and Larry Johnson, Sr. Forget what you have heard about Ohio State's "issues" with Settle, it was purely academic and the Buckeyes have been assured that things are back on track in the classroom for Tim, so they're willing to once again try and convince him Columbus is the place for him.
Settle, who's already earned an invitation to The Opening, will not participate in Sunday's camp, so it's just a chance to soak up some Buckeye atmosphere.
Pulaski, Tennessee cornerback Cameron Ordway is another name on the official registration list that will not be making the trip due to personal reasons. A Buckeye offer, Ordway has sort of gone radio-silent with his recruitment since he's become a national recruit, but if he makes it to Columbus it will be interesting to see his reaction. He told Eleven Warriors months ago that he was a lifelong Buckeye fan and that the Ohio State offer was one he'd coveted, but it does appear things have remained stagnant with the Giles County High School standout despite his offer.
BUCKEYE QB COMMITMENTS

This weekends' camps, both Sunday and Monday, will have a distinctly Buckeye feel at quarterback as 2015 commitment Joe Burrow and 2017 pledge Danny Clark will be in attendance for each event. 
Burrow, who committed to Ohio State earlier this week, is one big camp away from being a nationally-lauded quarterback prospect and he's going to have some added pressure this weekend because of his new "relationship status." It will be interesting to see if the weight of being a Buckeye commitment tenses Burrow up or if his reputation as a cool customer under pressure shines through. He'll get a chance to go head-to-head for the first time with 2015 Michigan quarterback pledge Alex Malzone, so that's a fun piece of the puzzle as well.
For Clark, it's an opportunity to see how the 6-foot-4, 205-pounder stacks up against many of the country's best quarterbacks, even if most of them are a year or two ahead of him class-wise. Danny is not the type to back down from competition, and the hope is to show the world that he's got the tools to live up to the hype. The 2017 Buckeye verbal will compete Sunday and Monday and is definitely one of the players I'm most interested in checking out.
OTHER NAMES TO Watch

The official registration list for NFTC in Columbus has some major, major 2015 names like Justin Hilliard, Sterling Jenkins, Darrin Kirkland, Tyree Kinnel, Andrew and David Dowell, Jashon Cornell, George Brown, Jr. and yes, even Damien Harris. Whether or not the majority of them show up to the event is another question, but we'll definitely keep an eye on those situations, especially Hilliard and Harris.
One other player I'll be monitoring closely is Garner, North Carolina slot receiver Nyheim Hines. Hines, one of the fastest players in the country has long liked the Buckeyes and he made it up early to check out some campus life with his family. I truly believe if Ohio State were to get aggressive in their pursuit, they'd become a top contender to land the 5-foot-9 speedster.
2016 & BEYOND

Justin Layne, a standout 2016 WR from Cleveland Benedictine and Cass Tech (Detroit, Michigan) 2017 star Donovan Peoples-Jones are two young receivers with some hype that I'm eager to see live. Peoples-Jones has been offered by Ohio State, Layne has not (yet) but this camp setting will give them each a chance to go toe-to-toe with some top-flight defensive backs and see where they match up.
Traverse City, Michigan's Thiyo Lukusa will likely end up in Ann Arbor or East Lansing, and the 2016 offensive tackle has offers from each of those schools already, but he's consistently told me he's very interested in the Buckeyes. He's got a great frame and excellent feet, and is a player who could get a long look from Ohio State whenever they truly turn their focus to 2016 recruiting. 
Another top 2017 recruit from Michigan, St. Joseph's Corey Malone-Hatcher is scheduled to be on hand and is an intriguing prospect. 
---
Eleven Warriors will have coverage of the 2014 NFTC and Elite 11 all day today on Twitter (Birm, Kyle, John and Jordan will all have updates Sunday and Monday). Oh, and we're bringing our Vine game, too, so be sure to tune in.