Another busy weekend at Ohio State gave another handful of Ohio State targets a chance to see Urban Meyer's program up-close-and-personal. Some have been to Ohio State before, but the Buckeyes' recruiting efforts don't ever slow down with just one visit.
In this afternoon's recruiting recap we'll examine how those key visitors enjoyed their trips to Columbus. We'll also discuss what to expect as we head into the spring's ultimate recruiting weekend, the Ohio State Spring Game.
AUSTIN CLARK

One of the weekend's higher priority visitors, Lexington (Va.) offensive tackle Austin Clark, had an "amazing" visit to Columbus. A summer visitor a year ago for camp, Clark also visited the Buckeyes last fall for a game and Ohio State continues to stand out to the 6-foot-6, 296-pound lineman.
"My favorite part was definitely the scrimmage," Clark told 11W. "There was so much energy and intensity. I really liked how the students came out to support the team."
While Clark still has a ways to go before making a decision, he does hope to narrow down his list within a few weeks. Ohio State will absolutely be on the short list for the star of the Charlotte NFTC camp.
NICK CONNER

Dublin (Scioto) linebacker Nick Conner was back Ohio State yesterday and it seems the Buckeyes are still evaluating Conner for a potential offer. One of Ohio's top linebackers, Conner has been to Ohio State three times in the last month, and said yesterday's experience was a bit different than previous visits because of the atmosphere surrounding "Student Appreciation Day."
Ohio State's approach with Conner is similar to the approach being utilized with Lagrange (Ohio) tight end C.J. Conrad. If Conner is to end up a Buckeye, he's almost assuredly going to have to come back to Ohio State and camp this summer. The Buckeyes are pursuing a number of linebacker candidates, but as the numbers crunch on the 2015 class, Ohio State might find themselves needing to make difficult decisions soon.
Hallandale (Fla.) linebacker Sh'Mar Kilby-Lane is still scheduled to be on campus next weekend and a number of people close to Ohio State think it's possible he could commit to the Buckeyes soon. Cleveland's Jerome Baker would be the next in line at the linebacker spot and that leaves one spot left, and the Buckeyes hope that's for Cincinnati's Justin Hilliard. As of now, I believe it likely that the Buckeyes would not take a fourth linebacker in the class. 
STERLING JENKINS DOWN TO TWO

The budding Penn State/Ohio State recruiting rivalry could crank it up an extra notch thanks to the recruitment of 2015 offensive tackle Sterling Jenkins. This past Thursday evening, Rivals.com analyst Adam Friedman broke news that the 6-foot-8, 305-pounder was down to his final two schools: Penn State and Ohio State.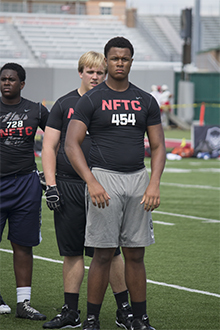 Prevailing wisdom is that Jenkins will ultimately choose the Nittany Lions, giving James Franklin another "win" over Urban Meyer on the recruiting trail. For his part, Jenkins says that the upcoming visit to Ohio State (April 11th) is not just cursory.
"I really do like Ohio State and what they have to offer," Jenkins shared on Thursday night. "I'm aware that programs don't win in April."
That quote by Jenkins, in response to Penn State's hot recruiting start, is encouraging. He knows that people assume the Nittany Lions have the lead, but he says that's just speculation. He admitted the one thing Ohio State has to do in order to change perception is "spend time." They'll get that chance on Friday afternoon.
Of course, Jenkins is going back to Penn State the following day. I believe this is another "head or heart" situation. If the Buckeyes want to win Jenkins' commitment, they'll do so by continuing to focus on history, winning tradition and a chance to play for a national title sooner than three-to-four years down the line.
Game on.
Randomness

Ohio State linebacker target Justin Hilliard made a weekend visit to Alabama and really enjoyed his time with the Crimson Tide. It almost goes without saying, but expect Nick Saban's group to be involved here until the very end with Notre Dame, Iowa, Michigan and Ohio State.
---
Missouri tight end Hale Hentges visited Columbus on Thursday and Friday as we discussed here. Over the weekend he checked out Michigan and Michigan State and I'm hearing that ultimately his choice could come down to those three Big Ten programs. Stay tuned.
---
The aforementioned Conner, scheduled to visit the Buckeyes for the spring game, told me that he's likely to head to Notre Dame next weekend instead of Columbus.
---
Ohio State legacy and in-state offensive line target James Daniels named Auburn the leader for his services following a visit to check out the Tigers last weekend, but he'll return to Columbus for the spring game next weekend. Ohio State will continue to fight off Auburn and Iowa for Daniels, and right now they're in the trail position. The spring game weekend, with his alumni father, could help turn that around.
---
Ohio State's 2015 basketball commitment, A.J. Harris made a defender look silly recently. Just something for kicks today.