A month ago, John Brandon gave you all the heads up on Gahanna (Ohio) Lincoln sophomore star Jonathan Cooper, who had just picked up his first offers, from Illinois and Kentucky after a dynamite showing at the "Best of the Midwest" combine in Indianapolis. This past weekend, Cooper and his family were on the road again, but this time it was to check out the hometown Buckeyes and their bitter rival in Ann Arbor, the Michigan Wolverines.
"I loved them both," the 6-foot-3, 215 pound Cooper said of his visits to a pair of the midwest's most proud football programs. "Both schools had great intensity during practice and I enjoyed that a lot. It's not easy (separating being a Buckeye fan and objectively viewing both programs) but it's about what's best for my future, not just about being a fan."
As you can imagine, Cooper is a Buckeye fan and getting Ohio State attention this early is a pretty big deal to not only him, but to his family as well.
"I actually graduated from Ohio State, so I have to watch that I don't get called a 'homer,'" Cooper's father, Jude Moorman told Eleven Warriors. "It's his decision. He has to be happy wherever he goes. So it's our jobs to give him the most information in order to make the best decision. Saturday is only part of the deal."
"It's easy, to be honest," Moorman said of separating his fandom from his role as a father. "He's my son and I want the best for him, academically and in football. My wife and I want him to go where he can get a great education, somewhere that will push him to strive to be great. We also want him to have good people around him. So wherever can can get that, that's who we'll be rooting for.
Cooper realizes that new opportunities are going to come his way and he wants to explore them, but he's happy to know he's on the Buckeye radar already. That said, he's got a long way to go in his recruitment and there's no hurry to make a choice.
"I do enjoy (the attention,)" Cooper said. "But I try to stay humble about it. I think I will take (recruiting) further into my high school career and then look at what I have, then I would decide."
It's early, yes, but Cooper knows what he's looking for in a good fit.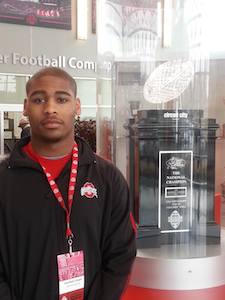 "Location and then just how I feel (on campus,)" the Columbus sophomore said. "It needs to be the right fit for me and my family."
As for what they saw out of the Buckeyes on Friday afternoon?  A football team and coaches on a mission.
"Those were guys on a mission," Moorman said of the Buckeyes practice. "They want to get it right. It was very intense and high energy. I like that they were teaching too. We watched a lot of the defensive line drills early on. Jonathon wanted to suit up to be taught by Coach Johnson. I think it's a lot of competition for spots, as it should be. One thing is for sure, they were getting after it."
Cooper is likely to return to Ohio State for the Spring Game on April 12th and perhaps even sooner. 
"I'm going to go to the Kentucky spring game on the 5th, and then to the OSU spring game after the ACT that morning," 11W was told of Cooper's upcoming plans. "I'd like the chance to sit in on the position meetings with the Buckeyes. To learn from a legend like Larry Johnson and getting with Luke Fickell will help my game. Other than that, it's training and getting ready for a couple of camps and combines."
"The tentative plan is to attend camp (at Ohio State) on June 8th and to be at the Rivals camp at Dublin Coffman next month, and Nike as well," he continued. "I'd like to attend Friday Night Lights too. I need to find a balance without burning out. I'll get back to Illinois and Kentucky this summer as well."