On Sunday, Avon (Conn.) 2015 star tight end Chris Clark surprised many when he ended his recruitment without making a visit to Ohio State. Clark, who had picked up nearly 45 offers in almost no time at all, was presumed to be Ohio State's primary target at the position in 2015. He held the Buckeyes in high-regard before his sudden commitment to North Carolina, and with that choice, the Buckeyes turn their attention elsewhere.
Of course, a good football team doesn't put all its eggs in one basket, and Clark has never been the only target at tight end for the Buckeyes. In fact, Jefferson City, (Mo.) prospect Hale Hentges, was offered a scholarship by Ohio State almost two months before they offered Clark. Hentges, who visited the Buckeyes on October 26th for the shellacking of Penn State, earned his offer that night from Ohio State. 
On April 3rd, Hentges will make a return trip to Columbus to check out the Buckeyes again, knowing full well that he's the primary target at a position of great need for Urban Meyer and his coaching staff. What do the Buckeyes have to do in order to convince Hentges that Columbus is the place for him?
"I'm looking at places where the coaches care about you (on and off the field,)" Hentges told 11W. "Places where (I'll) be featured and used in the offense and ultimately a chance to help them win a national championship, as well as a chance to play in the NFL."
Hentges, like other tight end prospects recruited by the Buckeyes, has heard the pitch from other schools hoping to land his services: the Buckeyes don't feature the tight end.
"I hear that a bit," he said of schools recruiting him using Ohio State's prolific running attack against the Buckeyes. "I'm just hoping to get there and see more of the campus. I want to spend more time with the coaches as well."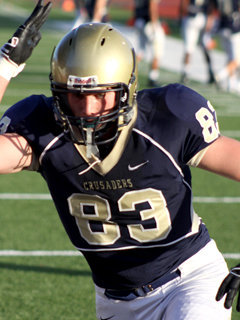 A 6-foot-4, 230 pound tight end, Hentges has the size and speed necessary to stretch a defense but to remain effective as a blocker. He's versatile and brings high-level athleticism to the position, a requirement for an Urban Meyer tight end. He talks to Meyer occasionally, but is being recruited by Ohio State's tight ends coach, Tim Hinton. He admits that there's a bit of a pull to stay close to home and play for the SEC's Missouri Tigers. His story sounds vaguely similar to Buckeye running back Ezekiel Elliott.
"I talk to Coach Hinton a lot, and I talk with Coach Meyer every so often as well," he said of his contact with the Buckeyes. "A lot of my family went (to Missouri) and I was born and raised here. I grew up a fan, but it's all about what's the best fit for me."
Ohio State is hoping to show why Columbus is the best fit for Hentges and his family, who also plan on visiting Michigan, Michigan State, Florida State, Auburn and Alabama — all of whom have offered him a scholarship — in the upcoming weeks. A commitment from Hentges isn't expected, but he says he's not operating on any timeline for a decision and that recruiting in general is wearing on him a bit.
"I'd like to have it done before my senior season," he said of when he could choose a school."But I'll know when I'm ready when I am the right place. It gets pretty tiring having to make call after call every night, but it's necessary."
A star at Helias High School, the nation's sixth-ranked tight end by 247Sports.com's Composite Rankings still finds time to be a kid.
"I'm a big nerd. I like to read and play video games. My favorite books are the Game of Thrones books by George R.R. Martin," Hentges said of how he spends his little free time and keeps himself focused on just being a teenager. "I set a limit on how many calls I can make in one night and I keep a smile on my face." 
As a Game of Thrones fan, I asked Hentges if he'd seen the now famous schedule poster by Buckeye graphic artist Samuel Silverman featuring Urban Meyer in a GOT-esque setting. He'd not, but when given the link to check it out, he was clearly impressed in his response.
"Coach Meyer on the 'Iron Throne'? Just awesome."