Christian Kirk, the nation's second-ranked wide receiver, visited Ohio State this weekend and the Buckeyes have made themselves a legitimate player for the Arizona star. A 5-foot-10, 195-pound dynamo, Kirk says the visit to Columbus exceeded his lofty expectations.
"I had high expectations coming in, but Ohio State exceeded them by a lot," Kirk said about his initial visit to Columbus. "The first day was filled with seeing just the main football facility and practice fields, stuff like that in the morning. The rest of the day was a series of academic meetings, and then we met with Archie Griffin which was an experience I'll never forget. The (second day) was more about football stuff, like seeing the weight room, the stadium, and sitting down watching film."
Kirk, who plans to enroll at his college of choice in January, spent much of his free time with two Buckeye freshmen who've recently done the same, linebacker Raekwon McMillan and wide receiver Johnnie Dixon. Kirk and Dixon became close last summer when they met at Nike's The Opening. Not coincidentally, McMillan and Dixon each from "warmer weather" states like Kirk.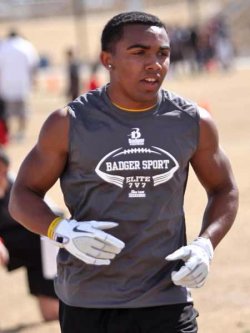 "I spent most of my free time with Raekwon and Johnnie," he said of his time with the current team. "(The weather) was perfectly fine the whole time, people hyped (the cold) up way too much." 
Kirk's ability to handle the cold notwithstanding, the purpose of this trip for his parents was to make sure that Ohio State was capable of delivering their son a top-notch education, not just a shot at the NFL. Kirk has a dream of working in the media when his football career is over, and Ohio State's reputation for putting guys in the broadcast booth is almost as impressive as their history of putting guys on the field.
"They showed me the guys that are in the broadcasting industry, like Kirk Herbstreit who is very successful. That's what I want to do," he said of life after football. "The thing that was most impressive to me is the "Buckeye family," they have the largest alumni in the nation so if you graduate from here there shouldn't be any reason why you don't succeed after football because there's opportunities everywhere."
Overall, it's hard to say the trip was anything but a complete success for Kirk and for the Buckeyes. He plans on making another trip to Ohio State for an official visit, but with the trip still fresh in his mind, it's too early to make any declarations about "leaders" for his signature.
"I would say the best part was (just) sitting down with coach Meyer," Kirk said of the Buckeyes' head coach. "He's a really cool and funny guy, but he's also full of intensity, and I like that. He's the kind of coach I want to be around because all he could preach was bringing out the best in me and that's what I want, and his focus is on wide receivers. (Meyer and his coaching staffs) have 9 guys that are currently starting in the NFL, guys that have gone through his program. That's a lot."
Kirk was scheduled to visit Oregon next weekend but will have to reschedule, instead he'll head home to Arizona and rest. As for his trip to Columbus: mission accomplished.
"I came here wanting to feel comfortable with this place," Kirk added. "I got just that."