When it comes to Ohio recruiting for 2015, everyone knows the big names: Justin Hilliard, Jerome Baker, Eric Glover-Williams and Shaun Crawford; these are the top four players in the state. Two of them (EGW and Crawford) are already committed to their childhood favorites (Ohio State and Michigan, respectively) and Baker/Hilliard will choose their colleges from a veritable who's who of powerhouse football programs, with Ohio State firmly in the mix for each of them. 
After the top four, there are still a number of known commodities: Lagrange's C.J. Conrad is the nation's ninth-ranked tight end. Winton Woods (Cincinnati) two-way lineman George Brown, Jr. has nearly 40 scholarship offers and we've talked at length about Dublin Scioto tackling machine Nick Conner, who I believe will be playing his college ball in Columbus.
With dozens of BCS-level talents inside of the state's borders, you might be surprised that there are a number of players who are still — as of now — flying a bit under the proverbial radar. While camp appearances and senior seasons will open up doors, these are a handful of players that MAC coaches are hoping don't get discovered by Ohio State and the "big boys." 
Denzel Ward / Nordonia / DB

Discussed initially in John's article a few days ago, there's no player in Ohio who is going to see his stock rise faster than Nordonia's Denzel Ward. How obscure is he at this point? He doesn't have a 247Sports, Rivals, or Scout profile yet.
A 5-foot-11, 170 pound cornerback, Ward burst onto the scene this past week, lighting up the "Best of the Midwest" combine in Indianapolis with a blazing 4.31-40 yard dash. Scout.com's Bill Greene, one of the region's most respected analysts, is one of few people who had an eye on Ward before this past week's show.
"He is very raw technique wise, but he has legit speed," Greene said of the Nordonia junior. "Great catch-up speed at CB, (which is) where I see him playing in college, but (he could be) a nice slot WR too. I think he's a high-BCS kid, possibly Ohio State and he will end up a 4-star kid I'm guessing."
Rashod Berry / Lorain / DL

Last summer, Rashod Berry, a 6-foot-4, 215-pound edge rusher from Lorain was starting to pick up some serious buzz thanks in large part to his incredible athleticism. One of the state's best pound-for-pound athletes, Berry is a standout basketball player and possesses many of the traits Ohio State looks for in a defensive end, but rumors of potential grade issues are clouding his recruitment and keeping it from really blowing up.
One MAC assistant coach told Eleven Warriors that Berry was the best athlete they'd seen in the state for 2015 and that they believe they'll have a shot to land him because of the academic difficulties. If Berry handles himself in the classroom, he's a player that could work himself back into the conversation at Ohio State. 
Dre'Mont Jones / St. Ignatius (Cleveland) / DL

When you play at a school as well known as Ignatius, flying under the radar isn't easy to do, but that's what Dre'Mont Jones has done until very recently. Physically imposing at 6-foot-5 and 250 pounds, Jones has caught the eye of a number of big regional coaching staffs of late, picking up his first college scholarship offer (Iowa, quickly followed by his second offer from Cincinnati) and receiving visits from Ohio State and Michigan in recent weeks. 
Jones says he plans on visiting Ohio State following his basketball season and he's very likely candidate for an Ohio State offer, in my opinion. He possesses a rare size/speed combination to go with an Ignatius' pedigree that consistently puts out college-ready student-athletes, not just football players. That makes him a very attractive candidate not just to Ohio State but to other schools hoping to break into Ignatius' pipeline.
Rob Dowdy / Westerville South / OL

If this list is focusing on players that MAC-level schools hope to keep a secret, then perhaps Dowdy ought not be on the list, but he's still — in my opinion — a player that isn't getting nearly enough "love" considering his present abilities and future prospects. Yes, he's currently holding offers from Arkansas, Louisville, West Virginia, Illinois, Kentucky and Georgia Tech, but Dowdy's a powerhouse offensive line prospect who already stands at 6-foot-6 and 280-pounds and is capable of playing tackle or guard.
Named to the "Best of the Midwest" All-Combine team by 247Sports.com's Steve Wiltfong, Dowdy could be the next in-state offensive lineman offered by the Buckeyes, and while he's currently favoring Georgia Tech, an Ohio State offer would be hard for him to turn down. He visited the Buckeyes a number of times during the 2013 season and has a fairly established relationship with Ohio State's coaching staff already.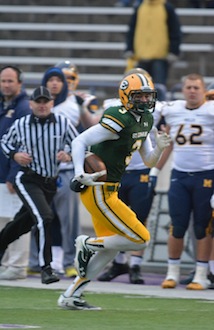 Alex Stump / St. Edward's / WR

Few high schools in the country have as much talent as Lakewood St. Edward's, and Alex Stump is an as-of-yet unknown commodity on a team with multiple players that could warrant a Buckeye look.
We know the names of Shaun Crawford and the twins, Andrew and David Dowell, but Stump could find himself right in the thick of the conversation by the time the summer rolls around, especially if he continues to go out and make himself seen around the state. 
Ohio State is hoping to land two — and perhaps three — outside wide receivers in 2015 and that is where Stump holds an advantage over a number of other players in the state. He's 6-foot-3 and 190-pounds already and he's recently run a very respectable 4.54-40 yard dash, earning comparisons to Denver Broncos' wideout Eric Decker.
Toledo, Western Michigan and Cincinnati have all recently offered the St. Ed's standout and they most certainly will not be the last to do so.
Joe Burrow / Athens / QB

Without question, 2015 is not the "Year of the Quarterback" in Ohio. In fact, most will come right out and tell you that it's a weak year for the game's most important position in the Buckeye state, but that doesn't mean their isn't a legitimate star burgeoning from within our beloved border. Joe Burrow is a top-25 talent in the state and the lone quarterback on the list.
He's recently picked up scholarship offers from Cincinnati, West Virginia, Fresno State, Toledo and Central Michigan among others and the 6-foot-4, 195-pound pocket passer is a player that could warrant a look by the Buckeyes down the line if they do in fact decide to bring in two signal-callers in 2015. While the names Torrance Gibson, Brandon Wimbush, Lorenzo Nunez and others are most commonly discussed, Burrow is a more likely candidate to be a "second quarterback" in a class than any of the aforementioned are, which makes him an attractive option for the Buckeyes if they do decide two is the number.