Last year, in April specifically, we ran a feature on Bethesda (Md.) Quince Orchard defensive lineman Adam McLean. At the time, McLean had two very early scholarship offers, one from Nebraska and one from eventual national champion Florida State, but he'd just been visited for the first time by Ohio State defensive co-ordinator Luke Fickell, and he felt an offer would be on its way soon.
"Coach (Luke) Fickell by came to visit me, and they told my coach that they really like me," McLean told 11W in 2013. "It was the first time I'd heard from them. They say they want me, so maybe the offer comes soon, but it hasn't come yet."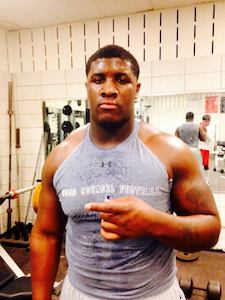 That offer came today — McLean's 27th offer — and was delivered by new Ohio State defensive line coach Larry Johnson; someone McLean is very familiar with.
"Coach Johnson (is who made the offer,) I've talked to him for a while," he said of the Buckeyes' line coach. "He said he would love for me to come play for him."
While Ohio State remains in the top five schools for McLean, the competition for Maryland's top player has gotten very intense. Michigan State, Nebraska, Ole Miss and Pittsburgh join the Buckeyes in his top five, and the Buckeyes were the only school who had yet to offer. Last year, McLean said he knew Ohio State would be on his list, no matter what.
"Ohio State is in the... schools I like, I know that," he said of the Buckeyes. "They will always be up there, no matter where my recruitment goes. I've always watched OSU and I feel like they have traditions and beliefs that I value. From what I've seen, their guys work hard and Coach Meyer is really good with getting to know you as a person and the guys there really enjoy the fans and the entire Ohio State community."
When you go from two offers to 27 in less than a year, it's safe to say you've "blown up" a bit, and McLean has certainly seen his star rise quickly. A year ago he talked about his timeline for committing with some uncertainty, stating "Maybe I'll decide at an All-Star game my senior year if I get invited to one," and today he announced his intentions to play in the Under-Armour All-American Bowl and shared his thoughts on the sudden surge of interests. He's now holding scholarship offers from Ohio State, Virginia Tech, Florida State, Penn State, Clemson and many more.
"It's mind-blowing for me a bit," he said of the whirlwind year he's had. "I know I am just working everyday to get better because I want to take over the 2015 class."
Ohio State has had little success in the past three years trying to nab Maryland's best players, losing out on Stefon Diggs, Damian Prince, Taivon Jacobs and more; can Larry Johnson's impact and reputation on the East Coast help land McLean?