Good afternoon Buckeye fans, welcome to your Tuesday afternoon dosage of Buckeye recruiting. I realize good numbers of you are currently stuffing your face with #TacoTuesday goodies and pregaming for Ohio State's big tilt with the University of Michigan, but we're going to talk football recruiting for a moment if you all don't mind. Last week was a good one for the Buckeyes as signing day came and went without any disappointing surprises for Urban Meyer and his staff; although Urban was able to pull out the spatula on New Jersey defensive end Darius Slade, bringing the Buckeyes' class to 23 members.
As Ohio State is constantly on the prowl for the next big name to don the scarlet and gray, we too will continue to do our darndest to bring you all the news that's worth knowing. Yesterday, on our recruiting forum, we asked you to help promote the players and prospects from your part of Ohio as we hope to give a broader voice to all of Ohio's prep talents. We hope to be able to talk about players with any level of collegiate aspiration, not just those who could potentially be Buckeyes; so please don't be shy and join in and help us bring the state's talent to the forefront inside of 11W.
That said, let's talk "stuff."
VIRGINIA LINEBACKER WILL RESCHEDULE PLANNED OSU VISIT

This weekend, Ohio State was slated to host top Virginia linebacker Ricky DeBerry, but it does not appear that the 6-foot-2, 240 pounder (who boasts almost 50 scholarship offers at this time) will make the trip. The reason? Urban Meyer's schedule dictates that he won't be on campus this weekend, and there's no reason for DeBerry and his family to make the trip if they can't get a chance to meet the big cheese in Columbus.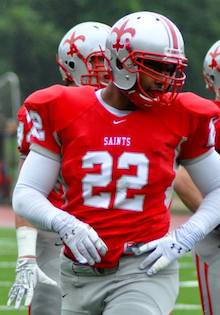 "Yes, we cancelled the visit this weekend because Urban Meyer won't be there," Rick DeBerry Sr., the father of the linebacker said of the planned visit.
Will they reschedule anytime soon?
"Maybe late spring," DeBerry added. 
Ohio State is one of a number of schools DeBerry still wants to visit, but the hiring of Larry Johnson — combined with the excellent recruiting continually being done by Zach Smith — seems to have moved the Buckeyes up on his list of priorities. Priority or not, the Buckeyes will have to wait a bit longer to impress the star junior from Richmond.
BUCKEYES CONTINUE TO SET BAR FOR GONZALEZ

Union City (N.J.) offensive lineman Steven Gonzalez has become one of the nation's hottest prospects of late, earning offers this past week from Penn State and Duke. The Nittany Lions and Blue Devils each offered, but it was Penn State and new coach James Franklin who made a significant move up the 6-foot-5, 300 pound guard's list. Ohio State remains at the top.
"Ohio State, Penn State and South Carolina are the top three from the schools that have offered me," Gonzalez told 11W. "With Ohio State, I just like everything about them. I have a good relationship already with (Buckeyes offensive line coach Ed) Warinner, and from the pictures I've seen online, the campus is nice and I know they focus a lot on academics, too. I like the new staff in place at Penn State, and as soon as they offered they moved up to number two on my list. I like their campus and their focus on academics, too."
Gonzalez plans on visiting Ohio State in the spring and a good visit would put the Buckeyes in a great position to eventually land the New Jersey star, but he says that he's unlike to make a decision until next year, close to signing day. He lists Alabama, Florida State, Miami (Fla.), Michigan State and Oregon as other schools he's currently hoping to hear from.
BOYKIN WAITING PATIENTLY
One player we've not discussed much yet is Providence Catholic (New Lenox, Ill.) standout Miles Boykin, who has already been to Ohio State twice (Friday Night Lights in July and 10/26/13 game against Penn State) on unofficial visits. Boykin has been very interested in getting an Ohio State offer and it seems that the 6-foot-5, 210-pound wide receiver/tight end could be getting closer and closer to that reality happening. 
"Notre Dame, Michigan, Ohio State and Michigan State have all been talking to me a bit more recently," Boykin said. "Coach (Buckeye defensive co-ordinator Chris) Ash has been coming around. I'm hoping they offer soon because they've been talking about it for a while."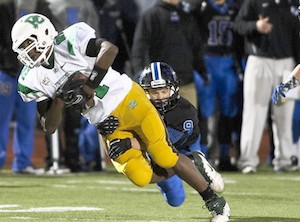 Boykin spoke to Ohio State tight end coach Tim Hinton on Monday night, but no offer was extended. 
"Coach Hinton said they have a big meeting about stuff coming up," he added. "So hopefully I'll find out more from him soon to see where things are. Since I've been there twice, there's no real rush to go back there unless they offer."
CLARK SAYS ALL EVEN AT THE TOP

Last week, following his late January visit to Georgia, outlets reported that Avon (Conn.) tight end Chris Clark had named the Bulldogs the new leader in his recruitment, a position previously held by Ohio State. 
"Right now, I really like Ohio State, Georgia, Tennessee and North Carolina," Clark told Eleven Warriors. "I have no favorite at this point, all the schools are even. New schools get added all the time."
He means that, too. I've dubbed Clark "Another Day, Another Offer" because it seems every school in the country has come calling recently. Ohio State has remained near the top of his list and the Buckeyes have made it perfectly clear to Clark that he's their primary target at tight end in 2015.
Clark will visit Ohio State on March 21st and would like to make a decision sooner rather than later. 
LUKUSA GETTING BIG ATTENTION EARLY

Not many 2016 offensive lineman have three scholarship offers already, but that's the position that Traverse City West (Traverse City, Mich.) Thiyo Lukusa finds himself in. He's got an offer from Michigan State and Michigan already, as well as offensive line churning Wisconsin, but he is definitely hoping to hear from the Buckeyes.
"I'm very interested in hearing from Ohio State," Lukusa told 11W. "I'm kind of disappointed I've not heard from them already."
At 6-foot-5 and 300 pounds already, Lukusa is bound to add a few extra inches to his already impressive frame; he says should top off around 6-foot-8. Big expectations are ahead for this big youngster.
"I'm visiting Alabama and Texas A&M this summer," he added. "I'm looking for schools with great tradition, where I can build great relationships with coaches that focus on a family atmosphere and academics."