The 11W Community Interview is truly of the people, by the people, and for the people. You submit the questions, vote on them, and then we pass the top ones on to the biggest names in the world of Ohio State athletics.
This week's 11W Community Interview subject, Maryland's Tyler Green, has had a pretty crazy few months. The three-star prospect from Hyattsville went from a relative unknown in Buckeye circles to perhaps the most recognizable recruit in his class, thanks in part to the power of social media. It was early afternoon on June 17th when Green sent me the innocuous picture of him throwing up the "Block 'O'" at the University of Michigan, and within hours that image had made him the face of the new "Buckeye Nation."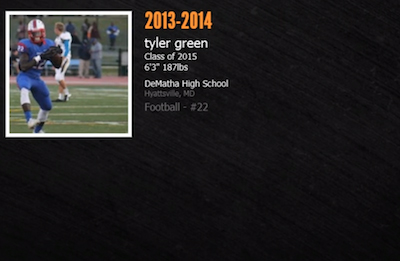 Green told Eleven Warrior's Jordan Wagner in March that Ohio State was the offered he coveted most, going so far as to insist that if a Buckeye offer came his way, that a commitment wouldn't be long after.  The 6-foot-3, 195-pound defensive back made good on that promise in early June when he committed to Ohio State just minutes after earning his offer during a one-day camp in Columbus. 
Now, a day before he prepares for his next major challenge: Nike's The Opening, Green takes some time to answer your questions about football, hobbies and of course, the picture that will live in infamy.
---
You were a kid who worked hard for your offer and seemed to commit on the spot. I love that. What was it like when the offer was extended and having all that work pay off? - ODeez330
TG: When the offer was extended I was extremely happy. It's always been a goal of mine to play for (Urban) Meyer. Just knowing that my hard work paid off is a great thing for me, to know I've made my family proud. I've always been the type to go get what I want and this was something I was determined to accomplish. 
How did you first become interested in Ohio State? - MN Buckeye
TG: I first became interested in Ohio State when I was in middle school. Whenever I'd be walking the halls with my friends we always talked about college football and the teams we wanted to play for. Big Ten football with my skill set, that's where I feel at home. My friends always wanted to go to the SEC with Florida or the ACC with Miami and growing up in Pennsylvania with a lot of family being around I knew the Big Ten is where I wanted to be. When Urban Meyer came in to Ohio State I definitely knew he was coming in with a plan, and I wanted to be a part of that.
From what I understand you have flown a little "under the radar" since you play for a pretty stacked high school team; that said, what are your goals for your senior season? Do you feel like you have a little bit of a chip on your shoulder? - JDunc686
TG: A lot of people look at the list of commits then see me and my tape and wonder 'Who is this guy and why did we give him a chance?' I love that because I know that my coaches at Ohio State see potential in me and they wouldn't have offered if they didn't think I could play. This season I can't wait to prove people wrong. I can't wait to show that I will come in looking to make a major impact in the program and be a big factor to my team. So yes, that chip is on my shoulder and eyes are on my back but that only gives me more reasons to ball. 
Most of us have a guilty pleasure (ie. One Direction fan, or in love with Jennifer Lawrence), do you have one you are willing to share? - BuckeyeTrappedInSouth
TG: I don't have any groups or specific people I like. However, there's quite a few females I like out there (laughs).
Did you have any part in the recruitment of Justin Hilliard and Jashon Cornell to Ohio State? And if so, what did you say to them?  - Urban_Can_Recruit
TG: Yes, Cornell more than Hilliard but I did talk to them a few days before they committed. I told them that I needed them both to help take this class to the number one spot if that's a goal we are trying to reach. They were the guys I wanted to play with on the defensive side and guys I believed could make it happen. 
What is one (or two) areas of your game the coaches really want you to work on before you sign and arrive on campus? - WesPatterson23
TG: As a safety at 6-foot-3 and being able to run a 4.4 you don't come across that much they say, so the coaches say they could really see using me early in my career, and that I can be one of those defensive backs to come through the program and really be something special. With my height and long arms they would love for me to use my size more and "out physical" receivers off the ball. They'd like to see me break up routes all together. 
Tyler, what was it like to throw the block O up in Ann Arbor? Do you have any specific memories of The Game? - Fly Patterns
TG: It felt great! I got a lot of hate from the time I stepped on campus to the time I left. I heard people using language that I expected and wondering why I would do such a thing by stepping on campus with Ohio State stuff on. When I saw the game this past season, I remember halftime when both teams were going back and forth about to fight in the tunnel and the actual fight on the field during the kick return. I loved every minute of it! 
How nervous were you performing knowing a potential scholarship offer was on the line? - Groveport_Buckeye
TG: I wasn't nervous at all. I knew that at that point it wasn't the time to let my nerves take over. I knew that I prepared and that God wouldn't put me in any situations He knew I couldn't handle. I did what I knew best: played hard, prayed and went to work! 
What was it like hearing Coach Johnson say "We're going to offer you because you're great?" - NPeterson5
TG: Honestly, hearing that made me almost want to cry. It was just knowing that my hard work and dedication paid off; that was everything to me. 
It felt great! I got a lot of hate (At MichigaN) from the time I stepped on campus to the time I left. 
 Tyler, do you have a role model, someone you look up to for guidance in football and life, and where do you seek inspiration?  - ISurvivedCooper
TG: If anybody, my father is a guy I listen to and see as a role model. He always tells me the right things. One thing he always says to me when I have an event coming up or a goal I want to reach is that "It's just another day in the office, wake up and let's go to work, nothing new." I always go by that. "Just another day at work."
A player I watch a lot is Tyrann Mathieu. He's a play maker and gamechanger and a guy you can trust on your defense in tough situations. He's faced a lot of adversity in his life and the way he bounced back and did what he needed to do was very inspirational to me. He's a guy I watch all the time. 
I want to say that I love all the fans who support me and reporters who take the time to get to know me. I will do my best to take this class above and beyond limits and do what I know best to help my team. 
Go Bucks!