This offseason, Chris Holtmann faces a challenge he's never had to overcome at Ohio State.
If you include the canceled 2020 NCAA Tournament, the Buckeyes went dancing in each of Holtmann's first five seasons at the helm of the program, which makes 2023 the first year Ohio State hasn't participated in March Madness since the Thad Matta era. 
Now the pressure is on. Holtmann and company must return to the promised land in 2023-24 or risk being subjected to an overwhelming outcry from fans who were already deeply displeased with this past season's performance.
Since there's no historical basis for how a Holtmann team bounces back from missing the tournament, even dating back to his three years at Butler, we're taking a look back at how Ohio State has fared in similar situations under its past five head coaches. Starting with Matta, we've examined the Buckeyes' success – or lack thereof – in each season after missing the NCAA Tournament, and how long it took the program to get back to the Big Dance thereafter.
Thad Matta
In 13 years as Ohio State's head coach, Matta only missed the NCAA Tournament on four occasions. Matta's stretch of seven straight NCAA Tournament appearances from 2009 to 2015 is the longest ever at Ohio State, and with five trips to the Sweet 16 or further, Holtmann is still chasing a single tournament run as deep as a handful of his predecessor's.
Year After Missing NCAA Tournament

| SEASON | RECORD | CONFERENCE | NCAA TOURNAMENT |
| --- | --- | --- | --- |
| 2005-06 | 26-6 | 12-4, reg. season champ | No. 2 seed, lost in second round |
| 2008-09 | 22-11 | 10-8 | No. 8 seed, lost in first round |
| 2016-17 | 17-15 | 7-11 | N/A |
But upon taking over the program in 2004, Matta inherited a program that hadn't made the NCAA Tournament in either of the previous two seasons under Jim O'Brien. Matta managed to cross the 20-win threshold in his first year with the Buckeyes, but a self-imposed one-year postseason ban stemming from the O'Brien regime kept Ohio State out of NCAA Tournament consideration.
However, Matta bounced back the very next season. Led by Big Ten Player of the Year Terence Dials, the Buckeyes were the Big Ten regular-season champions in 2005-06 and secured a No. 2 seed in the NCAA Tournament – its highest in 14 years. Seventh-seeded Georgetown ousted Ohio State in the second round of the tournament, but an early exit didn't stop the season from being a turnaround success for the program.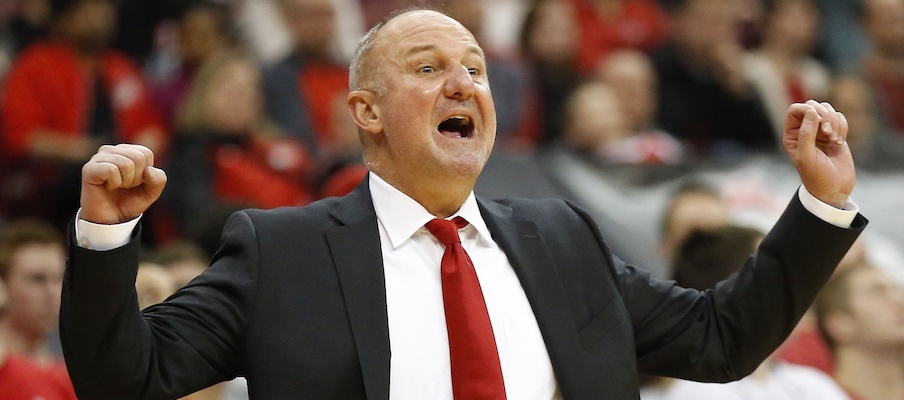 Following a national championship game loss in 2006-07, Matta faced his second NCAA Tournament miss in 2007-08 as Greg Oden, Mike Conley and Daequan Cook all departed from the program after stellar freshman campaigns. But the 2007-08 team foreshadowed Matta's future postseason success with an NIT championship, and the Buckeyes returned to the NCAA Tournament as an eighth seed the next year, where they lost to Siena in a double overtime upset in the first round.
Matta didn't miss the NCAA Tournament again until 2016, when the Buckeyes' 20-13 record after the Big Ten Tournament wasn't good enough to make the cut. Ohio State won one game in the NIT before its season came to a close, but that didn't buoy the Buckeyes into an improved effort the following year.
For the first time in Matta's career, he missed the NCAA Tournament for a second straight season in 2016-17, and Ohio State's 17-15 record was the program's worst since O'Brien's final year (2003-04). Matta wasn't given a chance to return to the tournament as Ohio State parted ways with him after the season, but Holtmann got the Buckeyes back in the NCAA Tournament the next year.
Jim O'Brien
Like Matta, O'Brien took over an Ohio State program that hadn't made the tournament in multiple years. The results of the 1997-98 season were historically bad for the Buckeyes, who went 8-22 overall and finished with a program-worst 1-15 record in conference play as Ohio State didn't sniff the Big Dance.
Year After Missing NCAA Tournament

| SEASON | RECORD | CONF. | NCAA TOURNAMENT |
| --- | --- | --- | --- |
| 1998-99 | 27-9 | 12-4 | No. 4 seed, lost in Final Four |
| 2003-04 | 14-16 | 6-10 | N/A |
But also like Matta, O'Brien enjoyed a resounding one-year turnaround as Michael Redd and Scoonie Penn led Ohio State to the Final Four the very next year, where the Buckeyes eventually lost to UConn in a six-point defeat. O'Brien garnered several national coach of the year honors for his efforts in his second year as the Buckeyes' head coach.
That was the first of four consecutive trips to the NCAA Tournament for O'Brien, which was a program record at the time, although he never made it past the second round of the tournament again. 
The Buckeyes went 31-31 in O'Brien's final two seasons and didn't make the NCAA Tournament in either year. Ohio State then fired O'Brien in 2004 citing NCAA rules violations. Two years later, the NCAA placed Ohio State on three years of probation and forced the program to vacate every game it played during O'Brien's four-year run of NCAA Tournament appearances.
Randy Ayers
Beginning his Ohio State tenure in 1989-90, Ayers ended a two-year NCAA Tournament drought as Jim Jackson helped lead Ohio State to a No. 8 seed and a first-round tournament win. The Buckeyes won the Big Ten regular-season title in each of the next two years as Ayers' teams went 53-10 and appeared in the Sweet 16 and Elite Eight in back-to-back seasons.
Year After Missing NCAA Tournament

| SEASON | RECORD | CONF. | NCAA TOURNAMENT |
| --- | --- | --- | --- |
| 1993-94 | 13-16 | 6-12 | N/A |
| 1994-95 | 6-22 | 2-16 | N/A |
| 1995-96 | 10-17 | 3-15 | N/A |
| 1996-97 | 10-17 | 5-13 | N/A |
But after three straight NCAA Tournament berths, two consecutive top-seed placements and back-to-back top-five finishes in the AP poll, the Buckeyes never got back to the NCAA Tournament under Ayers.
In Ayers' first season without Jackson on the floor, the Buckeyes went 15-13 and missed the Big Dance, and his program would never even get to 14 wins thereafter. Ayers' final five Ohio State teams went a combined 54-85 from 1992-93 through 1996-97, and the last three teams held a collective record of 26-56.
Gary Williams
Williams' short three-year tenure at Ohio State only featured one NCAA Tournament appearance, and he never got back to the Big Dance after his first miss.
With Ohio State all-time scoring leader Dennis Hopson averaging 29 points per game for the Buckeyes during Williams' first season (1986-87), the scarlet and gray secured a No. 9 seed in the NCAA Tournament and even notched a first-round win over Kentucky before losing to Georgetown in the second round.
Year After Missing NCAA Tournament

| SEASON | RECORD | CONF. | NCAA TOURNAMENT |
| --- | --- | --- | --- |
| 1988-89 | 19-15 | 6-12 | N/A |
But the Buckeyes won only 16 games the following regular season and wound up in the NIT, where they won four games before dropping the tournament title game to UConn. Williams only got one more spin as Ohio State head coach after that, when the Buckeyes missed the NCAA Tournament for the second straight season en route to another NIT appearance in 1988-89.
Eldon Miller
It took four years for Miller to reach his first NCAA Tournament at Ohio State in 1980, and the Buckeyes' berth as a No. 4 seed broke a streak of eight straight seasons in which the program failed to reach the tournament. The tournament field expanded several times throughout that stretch, though, with 32 teams in 1975, 40 in 1979 and 48 in 1980.
Year After Missing NCAA Tournament

| SEASON | RECORD | CONF. | NCAA TOURNAMENT |
| --- | --- | --- | --- |
| 1977-78 | 16-11 | 9-9 | N/A |
| 1978-79 | 19-12 | 12-6 | N/A |
| 1979-80 | 21-8 | 12-6 | No. 4 seed, lost in regional semis |
| 1981-82 | 21-10 | 12-6 | No. 8 seed, lost in first round |
| 1984-85 | 20-10 | 11-7 | No. 4 seed, lost in second round |
Miller's Buckeyes lost in the regional semifinal round in 1980 and then missed the tournament altogether the following year. But in 1981-82, Clark Kellogg helped Ohio State get back in the Big Dance as an eighth seed, and the Buckeyes returned again the next year with a run to the regional semifinal as a No. 3 seed in an expanded 52-team field.
But Miller never strung more than two straight tournament appearances together as Ohio State missed it again in 1984, bowed out in the second round in 1985 and failed to crack the field in Miller's final season in 1986.