Ohio State's baseline for success has been a picture of consistency for the past five years under Chris Holtmann. But the program has its sights set on achieving more.
Considering the massive undertaking Holtmann had in front of him this offseason in retooling both the majority of his roster and multiple positions on his coaching staff, it remains unclear just how realistic the Buckeyes' top-end goals will be to accomplish this year. But new assistant coach Jack Owens believes he was brought to Columbus for the express purpose of helping Holtmann get over the hump in short order.
The former Miami (Ohio) head coach already possesses the requisite Big Ten coaching experience, having spent nine years on Matt Painter's staff at Purdue before joining the RedHawk program in 2017. In his first season and beyond with the scarlet and gray, Owens hopes that will translate into a championship trajectory for his second stop in the conference.
"I've been very fortunate to be an assistant coach on a lot of levels, and obviously familiar with the Big Ten and being a head coach. So I can understand some of the things that Coach Holtmann goes through as well," Owens told members of the media on June 15. "But at the same time as a former basketball player way back when, I also can relate to the guys and what they're going through as well.
Buckeye Nation, help us officially welcome @CoachJackOwens to the family!

Read more: https://t.co/6ZPMVPmy8q pic.twitter.com/YRb5mEeaZF

— Ohio State Hoops (@OhioStateHoops) April 11, 2022
"Coach Painter was a great guy and gave me an opportunity to start out with coaching. At the same time, you always want to surround yourself with good people, I'm always gonna go back to that. But being here at Ohio State, we just want to be able to take it another step." 
Two assistant coaching vacancies needed to be filled for Holtmann and company over the offseason with the departure of longtime assistant Ryan Pedon and Tony Skinn. Holtmann quickly opted to promote Jake Diebler into Pedon's role as top assistant, but Owens became the first new hire for the staff back in April.
Following a 70-83 five-year head coaching run with the RedHawks, Owens said Holtmann's reputation went a long way in his decision to join ranks with the Buckeyes. Owens said he spoke with Painter and Boston Celtics GM and former Butler head coach Brad Stevens about Holtmann, and that "everybody raves" about the Kentucky native.
"He's a great guy, great coach. Just in passing throughout being in the Big Ten and obviously when he was at Butler, I was at Purdue, just crossing paths and know he does a great job," Owens said. "Ohio State's a great place to be and just excited to be here. … Just the opportunity to work for someone, first of all, like Coach Holtmann. I think it goes there. We do have a great staff here, everyone's on the same page. Obviously you want to be around good people. It starts right there, guys who do it the right way, and Coach Holtmann definitely does that."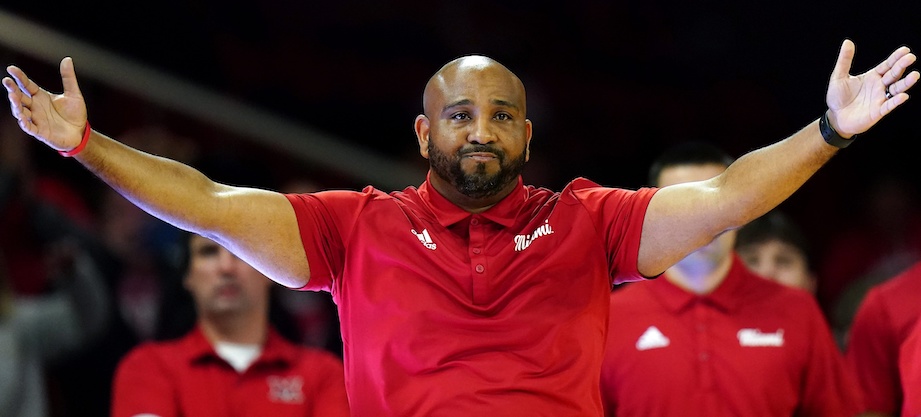 Owens was only given another positive sign regarding the stability of his position in the program when Holtmann was given a three-year contract extension and raise in mid-May. Despite the criticism that came Holtmann's way upon another season that ended before the first weekend of the NCAA Tournament came to a close this past year, Owens said the extension was certainly merited for his new head coach.
"First of all, it's something well-deserved for Coach Holtmann. Like I said, a guy that does it the right way and not just from a basketball standpoint, but from an academic standpoint. You're talking about a program, I've done my homework, the team has over a 3.0 GPA. That speaks volumes," Owens said. "And being able to go to the NCAA Tournament every year and now just trying to help him move the program forward is why I'm here and obviously I think we have a great chance to do that here in the future. But it's great to know he has stability. He wants to be here and the administration wants him to be here as well."
With continuity at the top for at least the next several years, Ohio State can begin working toward the championship aspirations that Buckeye athletic director Gene Smith has mentioned multiple times when discussing the state of the program over the last couple of seasons.
The Buckeyes have neither won a Big Ten title nor advanced to the second round of the NCAA Tournament since 2012-13. After a decade of coming up short of those benchmarks, Owens said he's confident the Ohio State program has what it takes to piece together a more successful run.
"I think it's a big-time opportunity for a coach like myself or a prospect to come here and have an opportunity to be here at Ohio State," Owens said. "I think we have a chance to put ourselves in position to win the Big Ten, go to the NCAA Tournament and have a chance to advance in the NCAA Tournament, for sure."
Owens knows a thing or two about achieving those heights, given that he won three Big Ten championships with Purdue and made it past the second round of the NCAA Tournament on three occasions. Even still, Owens admitted it takes a little extra luck when it comes to a deep foray into the postseason.
"Just gotta stay consistent. The NCAA Tournament, it's about matchups and those kinds of things. Obviously we want to compete, play at a high level," Owens said. "Then obviously you want to advance, but you want to put yourself in the best position to get a good seed. If you can get a good seed in the NCAA Tournament you allow ourself to get the favorable matchups. 
"You gotta have a little bit of luck as well. What I mean by luck is hopefully you can stay injury-free. Those things play a big part in a team moving on as well. But at the same time, you gotta put yourself in position because at the end of the day, you don't just start an NCAA Tournament, you gotta earn your ticket to go to the NCAA Tournament. That's hard in itself, but when you get there, you gotta get the most of it and obviously take care of business and hopefully you can advance."
But before the Buckeyes can enjoy that level of team success, Owens said he must craft relationships with the players themselves and hone in on their development. Recruiting is also of utmost importance, but with the Buckeyes already bringing in the sixth-rated group in the country in 2022, Owens and company already have some momentum to work with moving forward.
"I think developing players is gonna be key for all of us on staff. That's a big thing here in regards to player development. But at the same time, recruiting, we want to recruit at a high level, but also getting the right guys here that belong here at Ohio State is very important," Owens said. "It's a great place, you have an opportunity to get a great education and play at the highest level here at Ohio State."
With that combination of coaching experience and up-and-coming talent, Owens thinks the Buckeyes may be well on their way to breaking through to the next level perhaps even earlier than expected.
"You're talking about guys who are obviously very talented, but they're hungry and they want to win," Owens said. "But at the same time, it's our job to continue to get them better and mold them and allow them to be the best players that they can be. But they're hard-working guys and we're definitely excited about this group."