While I'm fully aware my typical articles lack the skill of a trained journalist, I do try to conduct some research and present semi-coherent thoughts and opinions on the topic at hand. 
Today I'm coming at you with basically zero preparation because I really just want to say what's on my mind and as always, you're welcome to agree or disagree. 
Ohio State basketball just finished up its fifth season of the Chris Holtmann era, and like the other four, it ended with the Buckeyes falling short of a regular season or a conference title along with a first-weekend exit in the NCAA Tournament. 
Yes, the 2020 Buckeyes didn't have a chance at a Big Ten tournament or NCAA tourney run thanks to the pandemic and while Holtmann's defenders are quick to assume that was the team primed to make a run, it's easy to say when the games don't happen. But the reality is Holtmann's track record as a head coach suggests neither tournament was going to end with overwhelming success, or even moderate success, again if we're looking at history. 
And while it might already be too late for me to convince you that I do indeed have an open mind about Holtmann, I still would like to say I think he's a supreme gentleman, the type of high-character guy you look for in a program lead, as well as a decent coach. I just have a hard time accepting what so many other Buckeye fans do – which is not being consistently successful in the final Big Ten regular season standings, the Big Ten tournament or the NCAA tournament. 
If you're a big-time Holtmann defender, one of your first retorts is something about his five-straight 20+ win seasons. Hey, I'm not here to say that's meaningless. But I don't think you can lean on that without also acknowledging he's lost at least 10 games in every season but his first – which is kind of wild considering he's made numerous comments about the situation he inherited upon arrival as being so terrible. 
IN THE four years in which his OSU teams were able to participate IN THE NCAA TOURNAMENT, they went a combined 3-4 with the best win coming against a 6-seed and the worst loss against a 15-seed. All the while, Ohio State's rival to the north has REACHED five straight... Sweet Sixteens.
More importantly, it's that the overwhelming majority of those losses came in conference play, leading to Ohio State finishing between fourth and eighth in the regular season B1G standings in each of the last four years. His first season – that one in which he supposedly inherited a dumpster fire – still stands as his most successful team, filled with players he didn't recruit, as they finished tied for second place in the league. 
And back to that pandemic-shortened season in which some believers are convinced the Buckeyes were set to make a run – Ohio State went 11-9 in league play to finish in 5th place. To their credit, and to potentially back the thought they would've gone on a run, that team admittedly didn't limp to the finish line like we've seen too many other times.  
Coach's biggest fans also like to point out his five-straight NCAA Tournament-caliber resumes. Again, no small potatoes. You can't win in March if you don't qualify for the tournament so it's certainly Job One. But in those four years in which his OSU teams were able to participate, they went a combined 3-4 with the best win coming against a 6-seed and the worst loss against a 15-seed. All the while, Ohio State's rival to the north has gone to five straight... Sweet Sixteens.
And trust me, I'm hyper-aware it takes both legit talent and good fortune to win in the Dance. In the tournament, unfortunately, the only significant good fortune Holtmann has received came in his final season at Butler when his fourth-seeded Bulldogs had the benefit of upsets providing opponents in the form of 13-seed Winthrop and 12-seed Middle Tennessee State on the way to his lone Sweet Sixteen appearance. 
In fairness, what Holtmann experienced this season was the opposite of good fortune as he lost Justice Sueing after just two games, Kyle Young missed five full contests and parts of two others down the stretch and Zed Key missed time late as well with a gimpy ankle. Those injury issues were magnified by the team's COVID pause in December, along with postponements of Nebraska and Iowa games creating a logjam of contests for a depleted roster to manage down the stretch.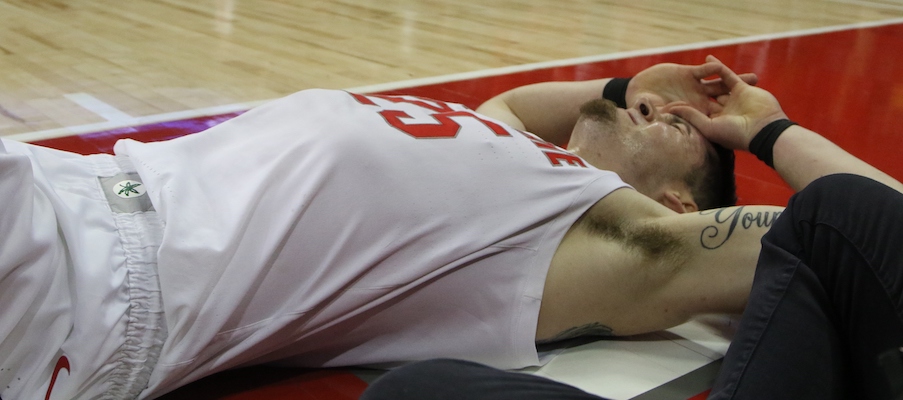 Unfortunately, that list of bad luck was compounded by less than ideal roster management.
To say the transfer portal has been an issue would be a pretty colossal understatement. Bringing in marginal and/or oft-injured talent from the Patriot League and Ivy League somehow didn't pan out, a big-bodied post-presence with his own injury history was someone Holtmann felt he could only give seven minutes a night and a transfer from the Sun Belt couldn't play defense at this level, basically negating any offensive bonus brought on most nights. Not great. I truly don't mean to disparage those guys - Holtmann's teams play incredibly hard - but the fact is, better Jimmys and Joes most often beat better Xs and Os. 
The lone transfer playing big minutes fit the defense-first point guard Holtmann coveted at the time but Duane Washington's untimely departure and Sueing's injury meant the point guard's skill set didn't as effectively complement the shooting guard and swingman spots even as Malaki Branham ultimately flourished in a way that might mean he won't be back.  
Throw that transfer portal roster construction in a stew along with the lack of growth from a few organic recruits and straight-up regression from at least one other, and you get a roster that simply couldn't overcome the type of adversity it faced this year. And hey, if not for last year's total collapse against Oral Roberts – known by some as the best 15-seed in the history of mankind –maybe this year's results would be a little more palatable for some. 
The time to put up or shut up is upon us.
The late regular season swoon, quick conference tournament exit and another NCAA Tournament appearance void of a second weekend were even tougher to swallow for me personally as Holtmann had a hair trigger on offering up the reasons/excuses why another game, and ultimately another season, ended without much to celebrate. 
The bottom line now is, what's done is done and it's time for Holtmann, his players and the fans to look ahead. I've said all along I'm not in the Fire Holtmann camp. That's just not reality even for those that have higher expectations for the basketball program. 
But, the time to put up or shut up is upon us. On paper, he's got a great recruiting class coming in; many of them, headlined by Bruce Thornton, should play legit minutes next season. Yes, it's up in the air if Branham and/or Sueing will be back and man, to lose both would be a tough putt but no matter how that shakes out, he still has a chance to right some wrongs via the transfer portal while developing the current players expected to return.
How ready the newcomers are by next winter, if he can land some upper-echelon talent in the portal, and whether or not the returning guys can actually take some leaps will go a long way in either winning back some fans or hemorrhaging more. 
Count me in the camp that wants nothing more than for Holtmann to steady the ship, win a 'chip of any kind (well, except the NIT) for the first time in his head coaching career, and put Ohio State on a trajectory it hasn't seen in far too long. 
What I won't do, however, is pretend slightly above average is good enough in Columbus, and you shouldn't either.