Terry Johnson no longer coaches for Ohio State, but his ties to the program – and the people who run it – have not dissolved.
Just last week, the first-year Purdue assistant drove from West Lafayette to Columbus to pay one last visit to the orthodontist he saw during his four years with the Buckeyes, and Johnson couldn't help but swing by his old workplace while he was in the neighborhood.
"I just drove by the Schott and I saw a couple guys, said hello outside before I drove back. … I talked to the strength coach (Quadrian Banks) and Robbie Rucki, a program assistant, and I saw Terence Dials," Johnson told Eleven Warriors Saturday. "I didn't want to go inside the Schott, I just wanted to say hello. I couldn't come there and not say hi to a few guys. I just told them to meet me outside real quick, we just chopped it up for about 10 minutes, and that was it."
Johnson won't have to travel very far to see his former players and coworkers on Sunday, as Purdue hosts Ohio State in what will be Johnson's first matchup with the Buckeyes since leaving the program last April. In fact, some family members of several Ohio State coaches were at Johnson's house on Saturday evening before Sunday's noon tip-off at Mackey Arena.
Emotions aren't necessarily running higher than usual for Johnson ahead of the game, he said, but some of his family members might feel differently.
"I have a lot of the coaches' kids staying at my house tonight, playing with my kids," Johnson said. "So in that regard, yes. When you're in a program, your families are close, they're together all the time. Obviously we had COVID the last couple years, so we weren't together as much, but you've been together for a while. Actually my wife was in Columbus a couple weekends ago staying at the Netti's, and they were sledding with the Banks, the strength coach, and (special assistant to the head coach) Mike Netti's family."
The Buckeye coaches themselves weren't going to appear at his house, but Johnson said he would consider stopping by the team hotel to greet them before tensions rise on the hardwood come Sunday. 
Johnson said he texted Ohio State head coach Chris Holtmann and forward E.J. Liddell this past week to congratulate the pair on their recent milestones – Holtmann notching his 100th win with the program and Liddell scoring his 1,000th point. Most of Holtmann's wins came with Johnson by his side, and this year marks the first in almost a decade in which the two have not coached alongside one another across stops at both Butler and Ohio State.
Johnson hasn't talked to Holtmann in the lead-up to Sunday about what it will be like to face off against one another, but they have bumped into each other several times on the recruiting trail since the summer.
One Buckeye coach did reach out to Johnson in the past couple days, though, as Ohio State assistant Jake Diebler passed along a message to his former colleague in jest.
"I did get a text from Jake Diebler, texted me like, 'Terry, you making brats tonight? We coming over and eating brats?' I was in a meeting so I couldn't respond to him," Johnson said. "But no, it's all great, because we spent a lot of time together. Jake and I were together two years, but I've known Jake for a long time. When you're in groups and you're meeting and in hotels, you can't help but to form a relationship with people."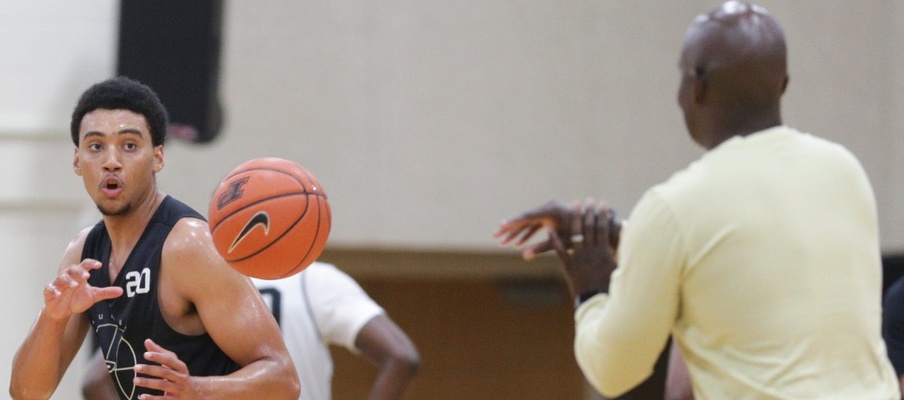 Those relationships were not the reason for Johnson's departure from Ohio State. Johnson, who played the role of defensive coordinator for Ohio State over the past four years, was ready to take on a different set of coaching responsibilities, and his Indiana roots did not hurt when mulling over the move.
"Most people know I'm not a selfish guy, but there was just a moment there where I was like, 'Alright, let's think about Terry here for a second,'" Johnson said. "You get this great opportunity to jump to the other side to help you grow as a coach, why not? And you're going back home. Like my hometown is an hour and 15 from here, my wife's from Indiana, my mother-in-law graduated from Purdue, my brother graduated from Purdue, I have cousins that graduated from Purdue. It just kind of all made sense for me personally.
"You kind of want to continue to grow as a coach. I've grown and learned so much in just this short amount of time being an offensive coordinator here at Purdue, and I probably have gained a few extra years on my life. I'm still passionate about the game, but you see me coaching on the sideline, if you're coaching defense, your body language is bad, you're excited, you're yelling out stuff. I'm a little bit calmer on the bench now, and you're thinking ahead on the next call." 
The timing made sense for Johnson, whose three boys are still young enough that a move wasn't earth-shattering. Just three-and-a-half hours away from Columbus, the distance isn't too great to travel back and forth on occasion as needed. Johnson said he hopes to be done making moves by the time his kids reach high school for the sake of their own personal stability.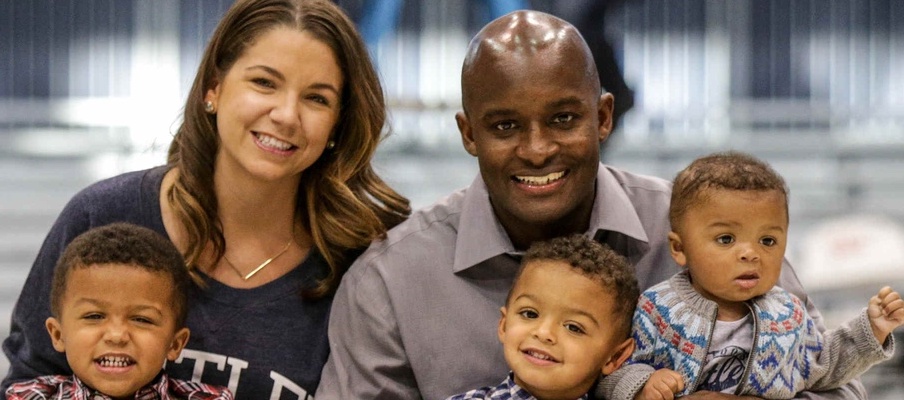 Beyond the impact on his family, Johnson said the most difficult part of his decision to leave Ohio State was his landing spot being in the very same conference.
"The hardest part, obviously the relationships, but the hardest part was leaving and knowing you're going into the same league," Johnson said. "That was the hardest part, because the relationships and the relationships with the players, their families. You call, you text them, let them know how they're doing, and then you're going to leave and you're in the same league."
Now coaching the Big Ten's most prolific offense at Purdue, Johnson has joined ranks with a team that has been nationally elite through its first 20 games and is still fueled in part by the overtime loss it suffered to the Buckeyes in the Big Ten Tournament last March.
All three games between the two teams were decided by single-digit margins a year ago, and although Johnson's side will be favored on Sunday, he expects a similarly close contest at Mackey Arena.
"It's gonna be exciting, it's gonna be fun," Johnson said. "I had a little bit of experience going through this when we left Butler to come to Ohio State four years ago, and I was at Butler for 13 years and I'd worked with Coach Holtmann for quite a while. It's gonna be a little bit different, but I do know one thing; the game's gonna be extremely physical, it's gonna be a hard fought game and the team that makes the least amount of errors is gonna win the game."
The feeling is somewhat paradoxical for Johnson, who enjoys seeing his former pupils succeed, but hopes the players he used to develop don't "have too much success" against his new team on Sunday.
"It will be weird a little bit, but that's just part of it," Johnson said. "It comes with the territory of being in this profession."