E.J. Liddell is "the guy" for Ohio State.
He might not have started his sophomore season with that title, but he certainly attained it somewhere along the way, becoming the first Buckeye since Keita Bates-Diop to be named first-team All-Big Ten. Liddell's decision to return for a junior year made him just the sixth Ohio State player in the past 30 years to come back the following year after earning a first-team all-conference honor, and without Duane Washington in 2021-22, the Illinois native is undoubtedly the top option for the Buckeyes.
Liddell's on-court importance for Ohio State this season is so obvious that head coach Chris Holtmann elected to highlight other qualities about his star player when discussing Liddell at Big Ten basketball media days in Indianapolis last week.
"He's got the best smile in college basketball, we know that. He has a joy to him as a person that I think is really contagious," Holtmann said. "Anybody who spends time with him just appreciates who he is and his personality, his disposition."
For other teams around the Big Ten, though, that smile might not be quite as welcome a sight on the hardwood.
Eleven Warriors caught up with six players and coaches around the conference – Michigan's Juwan Howard and Hunter Dickinson, Illinois' Brad Underwood and Kofi Cockburn, Nebraska head coach Fred Hoiberg and Iowa head coach Fran McCaffery – to get their perspective on what it's like to face off against the Buckeyes' versatile forward and what makes Liddell such a problematic matchup.
Illinois head coach Brad Underwood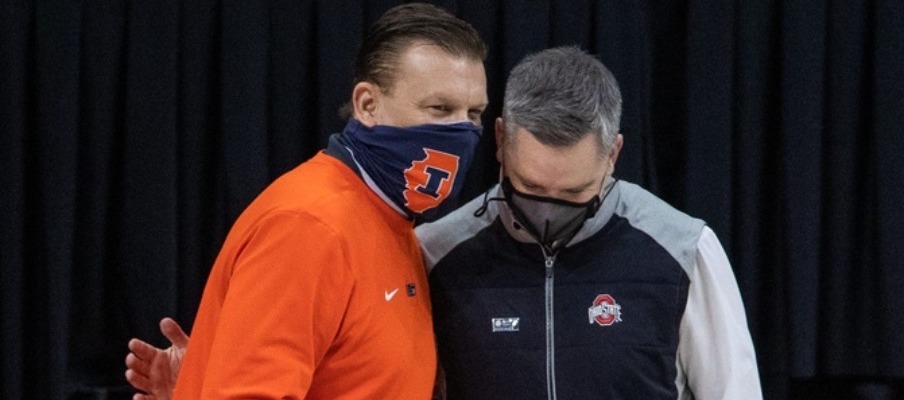 "He's really good. They played him as an undersized five, and he was a matchup nightmare for everybody in this league," Underwood said. "He's a guy that is very, very versatile. Seeing him as a high school player, he expanded his range tremendously. I mean, he was a center in high school. And yet he's very effective on the defensive end because he's so quick-twitch. He's a sneaky good shot-blocker. He's a guy that's very cerebral, he was very well-coached in high school, Chris does a great job with him. 
"He's just a really good player, and he's got that strength that allows him to prevent people from getting deep position all the time. It's why he's one of the best players in this conference and in the country."
Illinois center Kofi Cockburn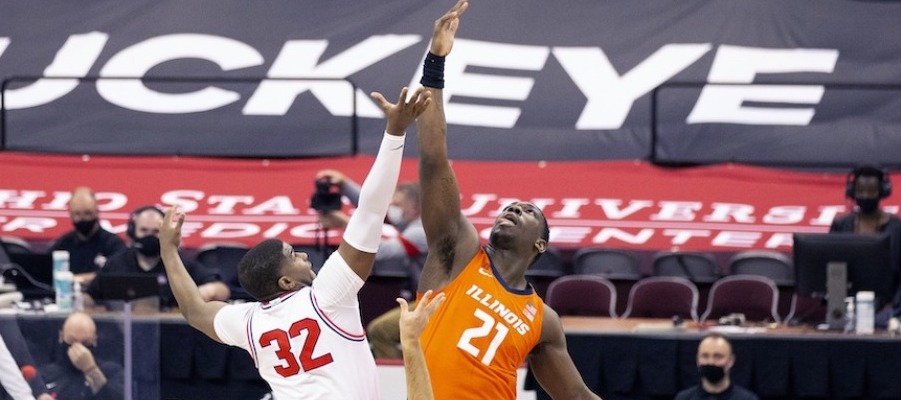 "He's a unique player, man. He's a big player that can drive it, he can shoot it, he does a little bit of everything," Cockburn said. "He can pass it, he has an incredible motor. I watched him a lot in high school, watching highlights and stuff like that. I think he's an incredible player, I think he's gonna do really good things this year.
"As far as our matchup, I don't really try to focus on the matchup as much, I focus on the team. Ohio State is a really good team, and I'm just really looking forward to competing and going up against them."
Michigan head coach Juwan Howard
"Wow. Wow. Super talented young man. He's today's game," Howard said. "He can play inside-outside, he's athletic, very skilled, can shoot the ball. Looking at my first year, 2019, I coached against him and he was coming off the bench at the time. He was more of like that third big for them, and he had a smaller role. But he never showed that he could shoot the ball from the outside, he was more of that dominant force in the middle, try to be more physical than you. 
"But then the next season, Liddell just came in and his game just went to another level. He showed he can do more than just play in the inside, and he also can put the ball on the floor too. I'm a fan of his game, I think he hasn't reached his full potential. He's gonna get better and better."
Michigan center Hunter Dickinson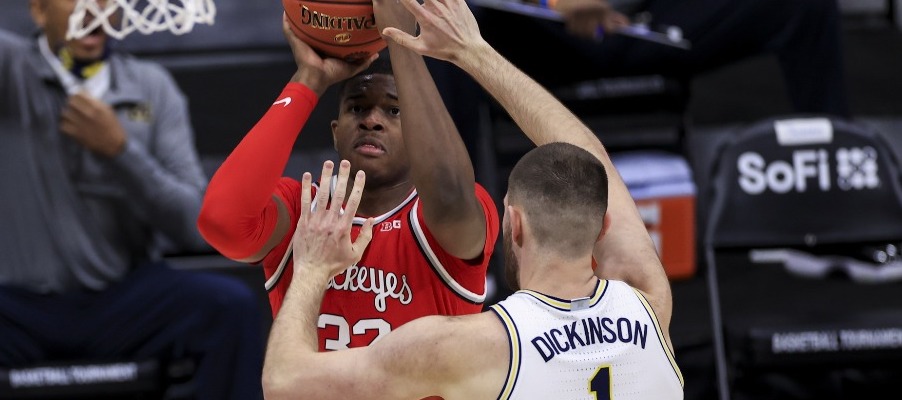 "It's always fun to match up with E.J. He's a pretty cool guy off the court, I got to hang out with him during the G League Combine. I'm not gonna lie, I didn't really like him before then," Dickinson said. "But I was able to talk to him, he's pretty cool off the court. I think we can call ourselves friends now off the court. 
"But on the floor, he's a great player, obviously he's one of the best players in the Big Ten and also in the country. He provides a lot of mismatches for Ohio State because they can play him at the four or the five. He's pretty strong, so he can overpower the fours, but he's really quick, so he can take the five-men out. So that's always the challenge for me and the other big men in the league. They put us in a lot of pick-and-rolls, and he'll pop and they have a lot of good guards that can get downhill. Like Duane Washington last year was able to do really good at finishing in the lane, so they kind of put us in some tough spots last year. But I love going against E.J., he's a great competitor and I look forward to playing him this year.
I asked Michigans Hunter Dickinson about E.J. Liddell, he said the two became friends during the G League Combine this summer.

Im not gonna lie, I didnt really like him before then. pic.twitter.com/MFOimRvPXA

— Griffin Strom (@GriffinStrom3) October 7, 2021
"I would've (talked trash) a little bit more if we didn't lose that one in the Big Ten (tournament). We were 1-1 so we couldn't say too much, but we just talked about how good that game last year was at Ohio State. That was probably my most fun game last year, just the way that it was so back-and-forth. I think we were three and four at the time in the country, and it was just a great game for us, and we ended up winning. So that made it good for sure."
Iowa head coach Fran McCaffery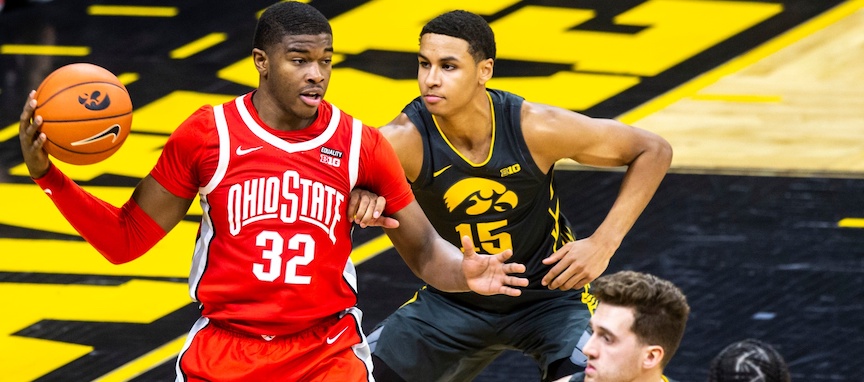 "I've been watching E.J. for a long time. We recruited him hard. I'm a big E.J. Liddell fan, always have been," McCaffery said. "His skill set is complete, we all know he can dribble, pass, shoot, he's strong, athletic. But I think he's a character guy, he's a team guy. And I think when you combine that, he's a winner. His teams always win, and there's a reason for that. 
"I quite honestly thought he was gonna leave. Want what's best for him, but I thought he was a guy that could do this for a living. I watch games all the time, I thought he was a guy that impressed me to the point where he's the modern-day NBA player. He'll be there eventually. We'll have to deal with him at least for this year, but like I said, the guy's just a winner."
Nebraska head coach Fred Hoiberg
"E.J. Liddell, he's one of my favorite players in the league, and a lot of it is just based on his toughness that he brings every time he steps on the floor," Hoiberg said. "It's a great luxury to have as a coach when you know what you're gonna get, and I'm guessing Chris knows every time E.J. Liddell steps on the floor, he's gonna get a warrior out there that's going to play extremely physical basketball. Skilled on the block, able to step out and knock down a shot, he just creates a very difficult matchup for the defense."