Chris Holtmann already knew Joey Brunk. Knew him as long or longer than anybody on last year's Ohio State team, in fact. Their relationship dates back to when the head coach recruited the Indianapolis big man to Butler, secured his commitment and had him on his Bulldogs team for one year before bouncing to Columbus.
He had a good idea of Jamari Wheeler, too, albeit in a different way. Rather than a personal relationship, he knew of the former Penn State point guard from playing against him year after year. The four seasons that Wheeler played for the Nittany Lions were the same four seasons Holtmann has coached at Ohio State. Though Holtmann got the better of Wheeler in both games in recent months, he made enough of an impact on him that the head coach went out of his way to call him a "warrior" in a February interview. 
Now, he'll get to know each of them quite a bit more.
The Buckeyes added both Brunk and Wheeler to their 2021-22 roster as additions through the transfer portal, which is increasingly how teams get constructed. They'll both be eligible to play next season in their final years of college basketball, with Brunk helping out at center and Wheeler rounding out the backcourt.
"As our team is currently comprised, we felt like those were the right additions for this group," Holtmann said on Wednesday.
Neither Brunk nor Wheeler could be described as a flashy player. Certainly, they won't be asked to score in abundance. They'll each be role players for what's expected to become a Big Ten title contender that has the potential to make a run in the 2022 NCAA tournament.
But those roles? They're important. And they're fairly defined.
The way Holtmann saw it, Ohio State didn't need world-beaters from the portal – at least, as long as E.J. Liddell and Duane Washington Jr. choose to stay. And he didn't view this team as needing high-level bucket-getters either. The Buckeyes can return their three leading scorers – Washington, Liddell and Justice Sueing – and seven of their top eight scorers off of last year's team. With all of that production expected back, Holtmann looked at adding size to the frontcourt and adding a feisty on-ball defender as two top priorities when scouring the transfer portal.
"I understand immediately sometimes your fans look at points per game and say, 'Well, we should be taking this guy or that guy.' But you're trying to assemble a team," Holtmann said. "While we don't know anything on a couple of our players, we do understand we have some guys that have performed well that are returning, so you're trying to put a team together."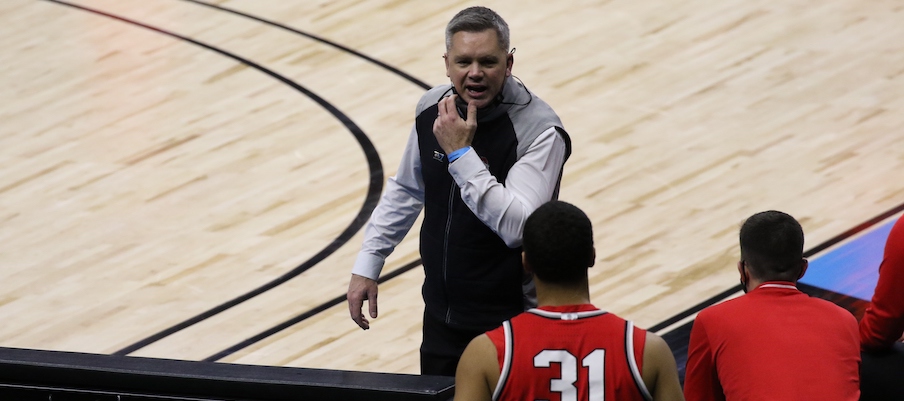 Surely, Ohio State would have enjoyed landing a five-star big man, the likes of Efton Reid or Chet Holmgren. The staff ran the race with several, most notably Reid, but didn't end up adding anybody to a recruiting class consisting of shooting guard Malaki Branham and forward Kalen Etzler. So, the coaches turned to the portal where Brunk came into the picture.
For his entire career, Brunk – who at 6-foot-11 and 255 pounds is the largest player on the roster – has been in a similar role to the one Ohio State will ask him to play. He and Zed Key are expected to see the majority of minutes at center. Brunk missed the entirety of the 2020-21 season with a back injury that's said to have healed. The year before, he recorded 6.8 points and 5.2 rebounds in 19.6 minutes per game as a starter for Indiana after transferring there from Butler.
"He never played more than 20 minutes, but he did play 20 minutes on an NCAA tournament team," Holtmann said. "Whatever people want to say about that team, that Indiana team was an NCAA tournament team and, I think, a quality team. He performed well there, was able to provide a big presence. I think in our minds, I do know we will not play as quote-unquote small as we did last year. I think that provides more opportunities for Zed and for Joey as well."
Wheeler will split time with an underclassman as well in Meechie Johnson, and Jimmy Sotos will fit into the picture somehow, too.
The reasoning behind the zeroing-in on Wheeler was simple: Defense, defense, defense. As he told Eleven Warriors, he thinks he was robbed of Big Ten Defensive Player of the Year the past two seasons, and he arrives in Columbus hoping to finally win it. Like Brunk, the 6-foot-1 guard isn't much of a scorer – having averaged 6.8 points per game at Penn State last season – but will provide the type of defense at the point of attack the Buckeyes felt they needed with CJ Walker leaving. Holtmann touted Wheeler as having "really good feet" which helps him stay in front of the ball.
"Jamari obviously meets a need for us in terms of both his defense, his on-ball presence," Holtmann said. "His offense has improved, as we know. He can be a real pest on the ball, that's for sure."
He can say that from personal experience, having watched Wheeler steal the ball twice and convert back-to-back layups in the final 20 seconds of the first half of last season's first Ohio State-Penn State meeting.
"I always admire the way Jamari competed. Always did," Holtmann said. "As well as obviously had recruited Joey dating back five, six years. I think that familiarity, knowing Joey's motor, knowing Jamari's competitiveness, was a factor."