The 11W Community Interview is truly of the people, by the people and for the people. You submit the questions and then we pass them on to the biggest names in the world of Ohio State athletics.
Jamari Wheeler, to the chagrin of some in State College, is a Buckeye.
On the second-to-last day of March, the two-time All-Big Ten Defensive Team honoree chose to leave Penn State and attend Ohio State for his final year of college basketball. As he told Eleven Warriors while explaining he became a Buckeye and his expectations of the 2021-22, he thinks this team can do something special next season.
Wheeler also was kind enough to take some questions from you Eleven Warriors readers. This Q+A has been lightly edited for clarity.
Enjoy!
---
How does it feel to be able to play alongside players that you know firsthand from competing against for the last several years? – Buckslan
JW: "I feel good. I'm excited just because I know what they could bring and they know what I could bring. We just respect each other's game. That's the No. 1 thing. We already played against each other, we know each other's game, we respect each other's game, so I'm excited and ready to get started."
Do you hate Michigan as much as we do? – NHBuckeye
JW: "If the opposite team don't have the same jersey, I hate everybody. So, yeah. If they ain't got the same color jersey, I hate them."
Which Buckeye was toughest to guard the past several years? – GoBux15
JW: "That's a great question. Jae'Sean Tate. He was like a driver-type player. It was him just because of his body. He was stronger than me at the time because it was my freshman year. I was just getting to college. It was physical, things like that. We switched a lot. My freshman year, we played 14 where one through four switch, and I had a bunch of switches on him, and just like, ah, I couldn't. It was tough. And also the player the time we one with the buzzer beater that Tony (Carr) hit at halfcourt. Remember that my freshman year? He had hit a 3 right before that to tie it up. Keita Bates-Diop. He was tough too just because he was longer than me."
Is the Creamery at Penn State all that? – Va_buck
JW: "Yes. No question. No question. It is. I had it once and it was all right. But then it was my freshman year after we won the NIT, my family came up here before the banquet and everything, and we went to it. We went to it, like, oh yeah. You could tell that's why they always praise the Creamery. Every football game's always packed."
(Important editor's note: He gets the cookies 'n cream ice cream)
What was the biggest reason you choosing to play for Ohio State? – Kiddbuckeye
JW: "I wanted to go somewhere where I could win at a high level. I want to go to March Madness because that's something that I didn't go to yet. Compete in March Madness and compete for a national championship. Also, I wanted to go somewhere where I could keep elevating my game, keep taking my game to the next level."
While Ohio State had an elite offense last year, the defense didn't live up to the standard Coach Chris Holtmann had set his first few years here. I know you hang your hat on your defense, so how do you see yourself fitting into the unit and improving the most obvious issue with last year's squad? – Rosenbuck
JW: "My goal is to get Defensive Player of the Year. So I feel like with me trying to go get that, that'll improve the whole team's defense. Just with me bringing that defensive mindset to have other guys be like, OK, defense is going to be what wins us games, and make them improve their defense and we're going to become a better team."
I'm a coach of a ninth grade AAU team that has some kids who have a chance to play ball in college. What would you say to a group of kids like this? – Smanpoint10
JW: "Don't stop working and trust your process. Trust the work you put in. That comes from me. I know I was one of the hardest workers on my team in high school and the offers came in late, and I was kind of like, 'Dang.' I see everybody else I'm playing against, we're beating them, I'm having a better game than them and I see them still getting offers and I'm like, 'Oh, what's going on?' But if you're good, they're going to find you. Trust your work. Don't ever doubt the work you're putting in. Just keep trusting it. At the end, it's always going to pay off. Hard work always pays off."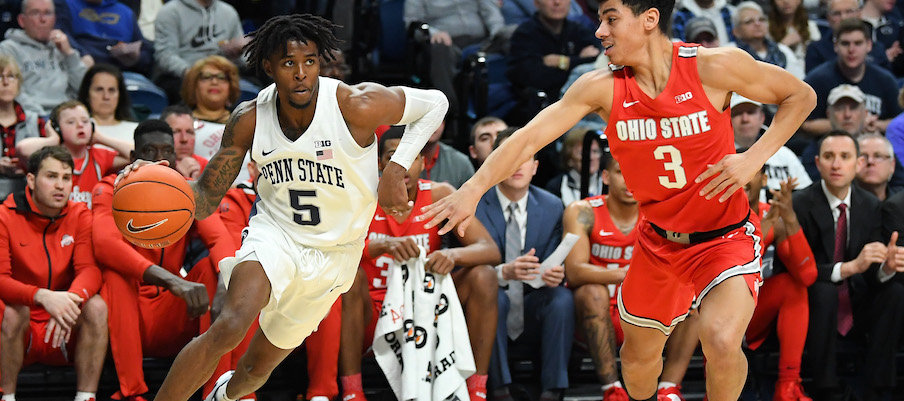 Which offensive actions do you like to run most as a point guard? – Nomatta
JW: "Ball screens. Coming off ball screens. Really, for me as a point, I really like pushing it, getting stops and pushing it in transition. Getting easy buckets."
Where do your football allegiances lie? – GareBear
JW: "Out of Ohio State and Penn State? (Insert a 10-second pause) I'm going to say, Ohio State. Ohio State because I'll be there, but I also have a bunch of good friends here on the football team. For team-wise, it's them, but individually, I know some of them personally. One of them football players, me and him actually came from the same city – his name is TJ Jones."
Is it easier to become a plus defender or a plus shooter? – Stxbuck
JW: "I feel like just me growing up as a player, my dad's my coach a lot in AAU when I was younger, so he always taught me you can't control the ball going in. You can have a good shot, you can feel good, but you can't control the ball going in or not. The only thing you can do is shoot it. He's like, you can control your effort and defense and stuff like that, because every night you're not going to have an on night. I don't care who it is. Even James Harden has off nights on offense. But you can do other things to help your team win, and one thing is playing defense. Playing defense and having great energy and giving good effort. That's something you can control yourself. So I feel like that's easier because that's something you can control. You can't control if the ball goes in or not."
Did anybody on Ohio State's team recruit you to come here or was it all based upon your personal decision and nothing else? – John-A-Tron
JW: "Actually it's crazy. Right when the coach hit me up, CJ hit me up. I talked to CJ Walker. Through the whole process, before I even committed, I was communicating with some of the guys like Liddell, Walker, Zed. Most of them, really, all of them. Just communicating. That kind of made it easy too because I could always tell, even not going on a visit just throughout phone calls and text messages, I could just tell what type of guys they are and everything. It kind of made it feel like an easier decision for me to make."
What is your major and what changes for you academically now? – Va_buck
JW: "My major is RHS. Rehabilitation and human services, which I'm graduating from Penn State with that. I'm going to try to get my Master's next year when I attend Ohio State. I know there's two classes right now – I haven't decided which one I'm going to stick with. It's basically with coaching, getting involved with coaching every day. Because that's something I want to do after I'm done with my basketball professional career."
Would you pick Michael Jordan or LeBron James to save Earth with the Looney Tunes? – Byaaaahhh
JW: "LeBron. The GOAT."