I have been asked on numerous occasions why Buckeye fans are so damn fragile.
Only Florida and maybe Oklahoma can stake comparable football/basketball competence claims over the past two decades, and yet we emanate this odd Spartyish aroma around our constant need for adulation and reinforcement.
America gets it, comrades. Ohio State is very good at both of the sports people follow the most. The Buckeyes don't seem to suffer anything that resembles even a modest recession, like ever. The latter part is why we're viewed as fragile without merit. We're definitely fragile, but this isn't why.
We haven't cheered for a team that's been helplessly lost in the wilderness for an extended period of time in ages. Randy Ayers was the last time for hoops. Football? Earle going 9-3 every year and Coop blowing top-five seasons with rivalry chokes only felt like End Times. It wasn't.
That wasn't bad. It was bad for us. That's good or great at most places. We're spoiled as hell.
Ohio State recently had three young, brilliant forever head coaches on its payroll - and lost them all abruptly.
Since the turn of the century basketball schools and football schools have leaned into their respective strengths without bothering (or failing) to diversify their portfolios. The Gators and Sooners have been pretty good at both, like your beloved Buckeyes. Outside of those three, you just don't see it consistently anywhere. Oregon tries. Texas tries. Many try.
Michigan bravely made the jump from football to the basketball school, which has been a fun exception. But it's very hard to find consistency in both sports on a single campus, and that's why there isn't a single elegant answer for why Buckeye fans are fragile.
Take Ohio State basketball, which has lost three consecutive games and is still projected as a 2-seed in the NCAA Tournament. If you took the temperature of the commentariat you'd think this program was easier to solve than a one-color Rubik's cube. No true point guard. Bunch of post players. Lousy defense. Hey, that's mostly true.
And yet, projected as a 2-seed. Could end up a 1 a 3 or, *gasp* a 4. This is precisely the shit sandwich the Indiana Hoosiers and Kentucky Wildcats would rob the entire deli to get right now. This is what fragility looks like from the outside.
Ohio State's national title drought in basketball entered a seventh decade this season, but it's not like the Buckeyes haven't been dancing regularly or suffering any significant resets. Every one of those since Ayers has produced very quickly. Jim O'Brien. Thad Matta. Chris Holtmann. Turnaround wizards.
We loathe our arena and wish our top-15 program was, like, top-5. Like it was last week.
Football is different. The isotopes from those Michigan meltdowns that defined Coop continue to burn brightly at the Woody. We traded the 1990s for the best kind of renewable energy source the program has ever had.
SEC paranoia from the previous decade created more fragility than opportunities, as Ohio State only shares a field with an SEC team about as often as we have the Olympics. Football is weird.
The Buckeyes finally broke their Clemson curse to start the year, which temporarily made us less fragile. Both football and basketball are doing well in high school and transfer portal recruiting, so why are we so on edge about slipping off of this two-decade perch? No one outside of Norman or Gainesville has had it this good, and even UF has been lost in the wilderness at times.
Alabama basketball has been good for about 20 minutes. Ohio State has been to more NCAA tournaments this century than the dastardly #basketballschool up route 23 from Columbus. We're fragile not out of concern for a recession or a depression, because we've seen how institutionally fierce Ohio State is about preventing those.
We are fragile out of fear of another catastrophe. We've earned every bit of our anxiety.
Acute, traumatic events have shaped the Buckeye psyche this century. We cheer for a football program that lost the focal point of its offense for the game within the opening seconds of the national championship. To an SEC foe. Twice! That has now happened t w i c e.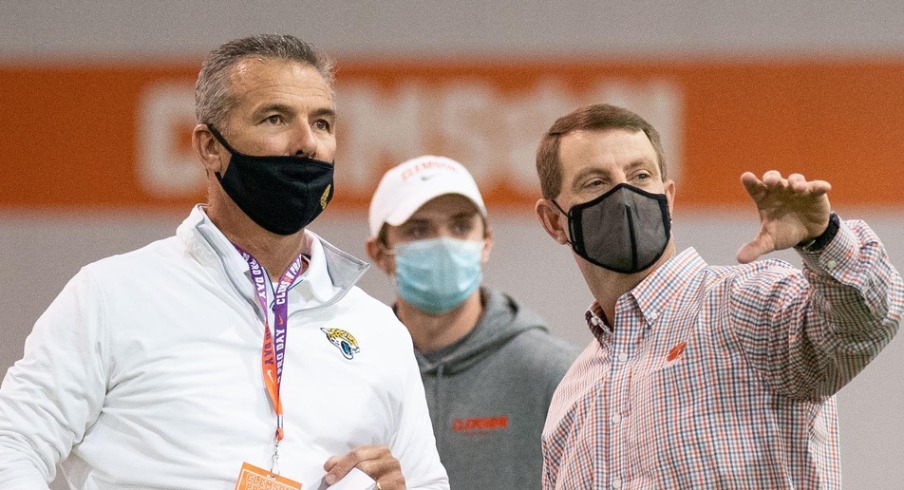 The Buckeyes have been left on the CFP doorstep three times because of failures to correct problems everyone pointed and screamed about until they were exploited into oblivion by Sparty, Iowa and Purdue. They snuck into the CFP in 2016 and cut a colossal wet fart as part of that Clemson curse.
Four championship-caliber seasons; four catastrophes that still haunt. We haven't even really broached the last football game the Buckeyes played in without half a defensive line or a serviceable secondary, or the supernatural larceny that took place at the previous season's Fiesta Bowl.
But hey, Ryan Day still hasn't lost a single conference game or a B1G championship yet - so you'll have to forgive outsiders for not quite understanding where this fragility originates. They're used to different terms and conditions for sports fan fragility.
Perhaps the envelope our collective anxiety resides in - the underlying reason for all of this skittishness - is the fact that Ohio State recently had three young, brilliant forever head coaches on its payroll and lost them all abruptly.
Jim Tressel was in his late 50s, had just finished atop the Big Ten for a sixth straight season and had personally flipped the Michigan rivalry. Rich Rodriguez was escorted out of town and replaced with Brady Hoke. The Wolverines finished right behind future conference rival Rutgers in recruiting rankings.
Buckeye Fans are fragile out of fear of another catastrophe. We've earned every bit of Our Anxiety.
Tress had just landed one of the nation's top classes - again - along with a generational quarterback to replace the one who would be staying for his senior season. Buckeye Football was heading into 2011 absolutely humming and there was no sign of it slowing down. And suddenly, Tressel was out of coaching for good.
Thad Matta was in his early 40s (!), had won the Big Ten four times, the conference tournament three times and about to make winning 30 games every season a regular occurrence before it all collapsed in a decline hastened by his health and the sordid nature of college basketball recruiting.
Hasn't coached since. Thad was never going to leave. At worst, Ohio State had its Jim Boeheim.
And then there's Urban Meyer, who had seemingly conquered his short-stay tendency at his forever home, which was his vocational and emotional destiny. His Columbus retirement turned out to be even more abrupt than his Gainesville one (where he quit twice before quitting-quitting). Sure, Day's winning percentage is currently higher. Football is weird; Ohio State is weirder.
This fandom is an absolute paradise, built on a fault line and located in a hurricane alley where everything is flammable. Whenever devastation strikes - and it happens, a lot more than we'd like - it is very quick, but the only thing quicker is the recovery.
So yeah, we're fragile - it's just not for the traditional and generally accepted reasons of sucking too much or sucking for too long. There's little peace in knowing your program has survived just about every self-inflicted wound possible and still somehow remains recession-proof.