Luther Muhammad's Ohio State career abruptly concluded on Sunday.
After joining Ohio State as the top-ranked prospect in Chris Holtmann's first full recruiting class in 2018, Muhammad chose to enter the transfer portal after two years with the Buckeyes.
Muhammad averaged 7.3 points, 2.5 rebounds and 1.5 assists in 25.9 minutes per game across his two seasons at Ohio State. He shot 37.8 percent from the field, 36.1 percent from 3-point range and 79.9 percent from the free-throw line. A source indicated to Eleven Warriors that Muhammad's desire to have more offensive freedom and a greater portion of the offense run through him played a role in his decision to head elsewhere.
His defense, though, will be what the Buckeyes miss most.
Provided Kaleb Wesson remains in the NBA draft, Muhammad will join him and Andre Wesson as the third starter who won't return for the 2020-21 season.
Walker/Washington Time
When DJ Carton announced his decision to transfer, CJ Walker unofficially became next year's starting point guard. And now that Muhammad is transferring as well, Duane Washington Jr. can be slotted in as the starting shooting guard, as well.
Why? Because there isn't anybody else.
Walker and Washington are the only true guards on the roster, though Musa Jallow will have to play shooting guard at times because of the lack of other options in the backcourt. Either way, the duo of projected starters will have their most important roles yet as Buckeyes.
Down the stretch of the 2019-20 season, Walker got a feel for what he'll essentially be tasked with doing next year, and he responded by playing his best basketball yet.
With Carton on a leave of absence for the final 11 games, his minutes per game (26.8 to 33.1), points per game (7.5 to 11.1) and assists per game (3.1 to 4.2) increased while his turnovers per game decreased (1.8 to 1.7). Ohio State needs Walker to maintain that level of play next season as the only true point guard on the roster.
Washington, too, is about to get a major playing time bump.
He has yet to play an extended stretch in his career without Muhammad. As a full-time starter next season, he'll likely play 30-plus minutes per game after averaging 17.1 as a freshman and 24.9 as a sophomore. 
As both the starting shooting guard and quite possibly the top backup point guard, Washington will have a significant hand in whether or not Ohio State reaches its ceiling. He finished second in scoring last year, behind only Kaleb Wesson with 11.5 points per game, and he'll have a chance to rank first next season.
"He just plays with outstanding confidence," Holtmann said of Washington a couple months ago. "He always has."
Along with that confidence, Ohio State will need him to improve both his shot quality and his game-to-game shooting efficiency. His team, more now than ever, will have a lot riding on him in 2020-21.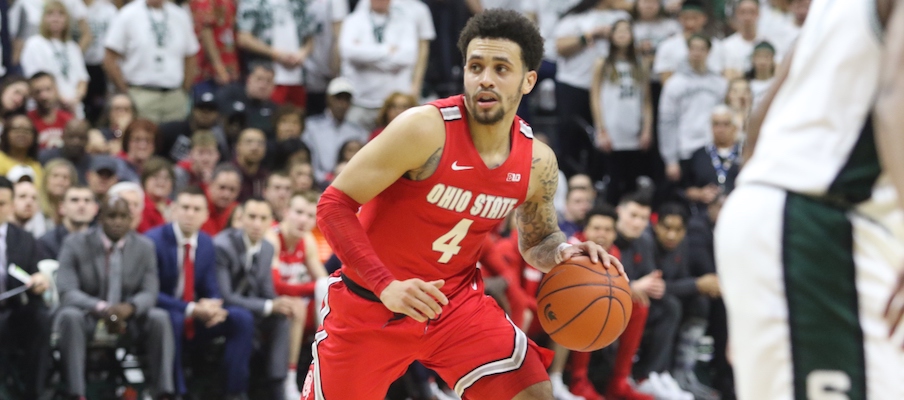 Need To Add A Graduate Transfer?
Recently, Ohio State has zeroed in on transfer guards who have multiple years of eligibility remaining but must sit out the 2020-21 season. 
Santa Clara's Trey Wertz and Wichita State's Jamarius Burton both put the Buckeyes on their final cut lists. They're rising juniors who would redshirt next season before playing two years at their next destination. Bucknell's Jimmy Sotos is an option, too. Though Ohio State will still likely target a sit-one guard, Muhammad's transfer could necessitate an additional guard with immediate eligibility who can come off the bench.
Ohio State has been linked to a couple graduate transfer guards since the end of the season, including Quinnipiac's Rich Kelly (who eventually picked Boston College), but the staff might again scour the graduate transfer market in search of somebody with immediate eligibility.
The Buckeyes reportedly reached out to San Francisco graduate transfer guard Charles Minlend Jr., who averaged 14.4 points and 4.7 rebounds per game last season. He likely won't be the only player the coaches talk to, though it could be a bit of a tough sell since they'd be after a rising senior who'd be willing to serve primarily as a backup to Walker and Washington in his final season of college basketball.
A Big Loss on Defense
In the second game of his career, Muhammad held Purdue Fort Wayne's John Konchar – who is now on a two-way contract with the Memphis Grizzlies – to 13 points on 15 shot attempts. Afterward, he explained why defense matters so much to him.
"Everyone who plays basketball likes to score, but what is scoring if your guy is also scoring?" Muhammad said. "It's better when you score and also you're getting a stop and your man's not scoring, because if you score 20 and your man scores 20, you really ain't score."
Muhammad lived by those words.
The past two years, he was Ohio State's best on-ball defender. He typically got assigned to blanket an opposing team's best guard, and he usually did his job well. As a Buckeye, Muhammad had significant swings in his offensive impact. Yet he remained a starter, even in his deepest shooting slumps, due to his impact on the defensive end of the court.
"His energy defensively did not change, which was the main reason we stuck with him," Holtmann said in mid-February.
Neither Walker nor Washington have the defensive acumen of Muhammad, who'll be especially missed by Ohio State for his on-ball defense.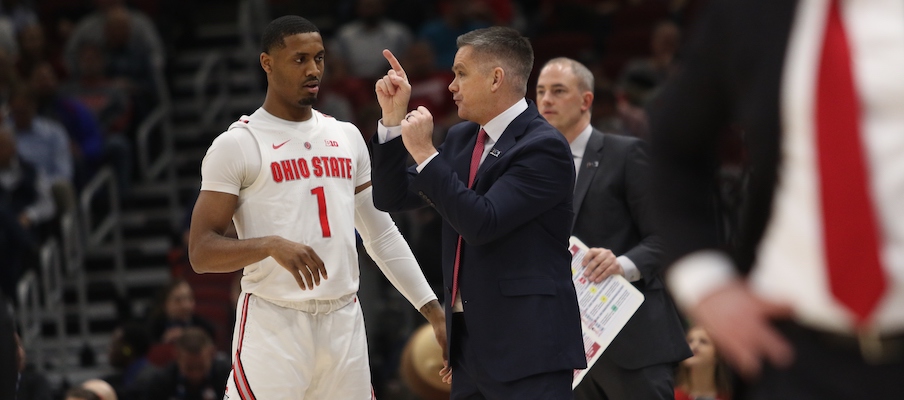 Too Much Roster Movement?
In the past year and a half, four players have chosen to transfer out of Ohio State's program.
Micah Potter, then Jaedon LeDee, then DJ Carton, and now Muhammad. They've come for a variety of reasons, too.
Potter and LeDee left to chase roles that they believed benefited them better. Carton struggled with mental health and is searching for a change of scenery. Alonzo Gaffney could also eventually be included, but he's likely to go pro. Muhammad's transfer might be the most confounding, since he spent the past two years as a starting guard and was headed for major minutes next season. But he, too, desires a larger offensive role that he might not have found at Ohio State.
To a large degree, a high number of transfers is just part of modern college basketball. Last year, 694 Division-I players transferred, per the NCAA.
"The reality for college basketball coaches nowadays is the single greatest challenge for coaches on a year-to-year basis is what's called roster management," Holtmann said on 97.1 on Friday.
But it's challenging to lose multiple quality rotation pieces to transfer in an offseason and reach the level in college basketball at which Ohio State should reside. 
Much Uncertainty About Next Season's Team
Good luck trying to project what the 2020-21 Buckeyes will look like on the court.
Will they be awesome? A mess? Probably somewhere in between, but it'll be remarkably difficult to have a great idea until… 1) The roster gets finalized 2) Everybody gets healthy 3) We actually see them on the court. 
So much offseason turnover has made it darn near impossible to know.
Ohio State is losing its best player (Kaleb Wesson), a two-year starter (Andre Wesson), its best on-ball defender (Luther Muhammad), its promising first-year point guard (DJ Carton) and another former four-star freshman (Alonzo Gaffney). To replace them, the Buckeyes will turn to a former Ivy League Player of the Year (Seth Towns), California's leading scorer two seasons ago (Justice Sueing), a four-star three-and-D wing (Eugene Brown III), a three-star throwback big man (Zed Key) and, in all likelihood, a yet-to-be-named graduate transfer guard.
Beyond just the roster movement, there are plenty of players rehabbing whom Ohio State needs to get back to full health sooner than later.
Towns, who hasn't played a game since March 2018 due to a knee injury, is aiming for a mid-summer return to the court. Jallow (ankle) and Sueing (foot) both had surgeries in January that kept them in walking boots through the end of the 2019-20 season. Kyle Young, who has dealt with a number of injuries over the past two years, also ended the season in a walking boot due to a high ankle sprain.
Plus, there are the questions of who Ohio State can add to the roster from the transfer portal and how much the returners can improve over the next six months.
Put all of that together, and it'll be as tough as it's ever been to predict how the Buckeyes' 2020-21 season will play out.