On Tuesday, it became official.
Kaleb Wesson, for the second year in a row, announced he has placed himself in the NBA draft pool. 
The Ohio State big man has one year of collegiate eligibility remaining. Though he said he'll sign with an agent, he can remain eligible to come back for his senior season by signing with an NCAA-certified agent, which he will, his father Keith told ABC6's Clay Hall.
Wesson averaged 14 points, 9.3 rebounds and 1.9 assists while shooting 44.4 percent from the field and 42.5 percent from behind the 3-point line as a junior in 2019-20.
The 2020 draft is scheduled to take place on June 26. He has to make a decision of whether or not to remain at Ohio State next season by June 3.
He Deserves Props for Transformation
Losing weight is one thing. Keeping it off is another beast. Wesson managed to do both.
Shortly after announcing his plans to stick around for the 2019-20 season, he got to work, dropping from 289 pounds when his sophomore year ended to 255 pounds when his junior year began. With the change in physique came a more well-rounded game. 
Wesson became a highly efficient outside shooter, draining 42.5 percent of his 3-point attempts while taking 3.4 triples per game. His rebound numbers shot up, going from 6.9 boards per game as a sophomore to 9.3 per game as a junior. He was an underrated post defender who suddenly became a better lateral mover. While his minutes per game increased to a career high of 29.5, his foul rate decreased to a career low.
Not everything Wesson did was perfect. His finishing around the rim became less efficient, and he still turned the ball over too often. But even with the imperfections, the offseason body transformation made him a better player on both ends of the court, and for that he deserves props.
Possible Second-Round Pick But No Guarantees
The NBA never gave Wesson a choice a year ago.
Either he could stay in the 2019 draft pool and go undrafted or opt to stay in college for his junior year. Even though he completed withouts with the Atlanta Hawks and Boston Celtics, no NBA draft analysts had him in any mock drafts or placed him on any of their big boards. That didn't really come as a surprise to Wesson.
"I had a feeling I'd come back (to Ohio State) because the buzz around, I don't really have any draft stock," Wesson told Eleven Warriors in mid-June.
This go-round is different.
Wesson isn't a guaranteed draft pick. But the majority of reputable draft analysts project him to get selected as a second-round pick in June. ESPN's Jonathan Givony ranks him as the 54th-best prospect and has him going 35th overall to the New York Knicks in his most recent mock draft. The Athletic's Sam Vecenie has him at No. 47 overall on his big board, predicting the Knicks take him in the second round at No. 38 overall. 
Though a few of the most respected analysts have him getting picked, it's always tough to feel certain whether someone projected as a second-rounder will get taken. 
Does COVID-19 Make Him Reconsider?
Dating back to last summer, all signs have pointed to Wesson moving on from Ohio State after the 2019-20 season.
The expectation that he has played his last game as a Buckeye remains, based on conversations with multiple people within the program. However, it's hard not to wonder how concerns about the coronavirus will affect the pre-draft process and whether or not that will make Wesson reconsider taking the leap to the NBA this offseason.
As a possible second-round draft pick, participation in pre-draft workouts with NBA teams and the draft combine matter a great deal to Wesson. He's the type of prospect who has to prove to them he's worthy of a selection. Yet as of now, it's unclear if those workouts will go on as planned.
The NBA is "bracing" for a delayed draft with a "heavily reduced pre-draft process," Givony reported on March 20. As of now, the draft is scheduled to take place on June 26, and players have to decide whether or not to remain in school by June 3, per an NCAA rule. Jon Rothstein of CBS Sports reported on March 23 that the NCAA will work with the NBA if it goes forward with an adjusted draft calendar.
With so much uncertainty caused by COVID-19, it's hard to have a great idea of how this process will shake out. But if Wesson can't work out in front of NBA coaches and executives before the draft, it's fair to ponder how that would impact his draft stock and whether he would think more seriously about remaining at Ohio State for his senior season.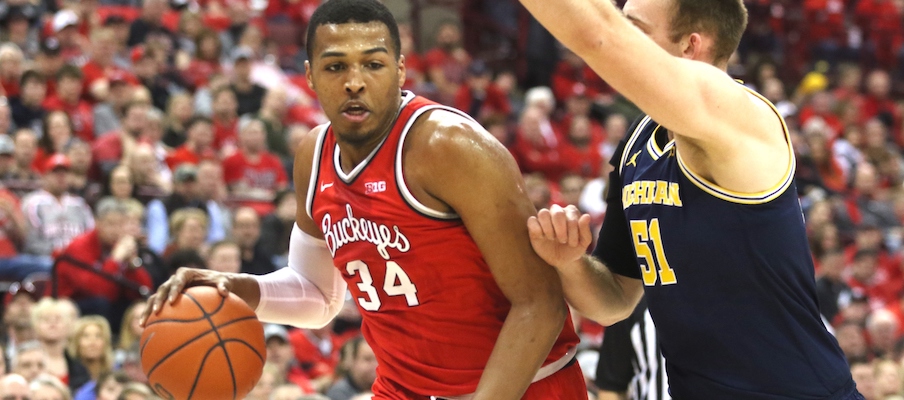 The Cornerstone The Past Two Seasons
It's hard to imagine anyone making an argument that someone else on Ohio State's roster was more important than Wesson over the past two years.
His value to the team was never more apparent than when he didn't play well in a particular game. When he struggled, the Buckeyes struggled. When he had an off night, the Buckeyes had an off night. When he didn't play, the rest of the Buckeyes damn near might have been better off just taking the day off, too.
The Buckeyes were unbelievably reliant on Wesson the past two years. Too reliant, in all honesty.
When Wesson shot better than 40 percent from the floor, Ohio State had a 15-2 record last season. In the 14 games when he shot 40 percent or worse, the team went 6-8. The dichotomy stretches back to his sophomore year when the Buckeyes went 2-4 in games when he shot 40 percent or worse. His team went 5-7 in games when he didn't score in double figures over the past two seasons.
Offensively, his ability to space the floor gave Ohio State offense life. Defensively, the Buckeyes were more stout with him in the middle. On the glass, he led the team in rebounding for each of the past two seasons.
If this is it for Wesson in Columbus, the Buckeyes will finally have to figure out how to win consistently without him on the court.
Ohio State Has Prepared Itself to Move On
If Wesson makes the surprising decision to pull himself out of the 2020 NBA draft pool in order to remain in school for his senior season, Ohio State would suddenly become a legitimate preseason top-10 team and a frontrunner to win the Big Ten next season.
But because the program has expected him to professionalize after the 2019-20 season, it has set itself up as best it can for the post-Wesson era.
No longer will it facilitate most of its offense through a big man, even though Chris Holtmann signed Ibrahima Diallo, a project of a three-star center in the 2019 class, and three-star power forward Zed Key in the fall. Instead, Holtmann has a roster of veteran guards and switchable wings and forwards that will require him to alter much of what Ohio State has done the past couple seasons.
CJ Walker will man the point, and Duane Washington Jr. and Luther Muhammad will be in the backcourt, as well. Seth Towns and Justice Sueing, a pair of transfers, are major additions at forward. Justin Ahrens and Musa Jallow will be back on the wing, and they're joined by Eugene Brown III. E.J. Liddell and Kyle Young could both start as the big men. Key and Diallo will offer interior depth.
Surely, Ohio State wants Wesson back for one more year. But it is prepared to switch up its style if Wesson goes pro, which has seemed like a given for a while.