Not everybody needs to create their own distinctive adage to believe in one.
Chris Holtmann, like just about every coach in the world, has a couple go-to phrases he didn't create himself. Often, he says, "Players win games." Just this season, he used those three words after Ohio State's wins against Kentucky and Cincinnati and both victories versus Michigan. In quite possibly every postgame press conference he's ever sat in, Holtmann has said, "Give them credit." 
No Holtmann phrase, though, might be used as frequently as variations of "old wins." 
At Ohio State hoops 2019 media day? "Old wins. Mature talent wins consistently in college basketball."
All the way back to a press conference in mid-June last year? "Old wins in college basketball. We know that. Look at the teams that advance and the teams that have won the Big Ten. I would challenge you to tell me how many of those teams have been really young teams in the last five or 10 years. We need to get old. That will take some time. We aren't there yet."
Well, Ohio State's at that point now.
With the addition of Seth Towns, even if Kaleb Wesson leaves school a year early to pursue his NBA dreams, the Buckeyes will be old. Probably older than any team Holtmann has coached since arriving in Columbus ahead of the 2017-18 season.
Here's the roster breakdown by years:
Senior: Kaleb Wesson, Kyle Young, CJ Walker
Junior: Justice Sueing, Seth Towns, Justin Ahrens, Musa Jallow, Luther Muhammad, Duane Washington Jr.
Sophomore: E.J. Liddell, Ibrahima Diallo
Freshman: Zed Key, Eugene Brown
Ohio State's currently at the limit of 13 scholarships following DJ Carton and Alonzo Gaffney's decisions to leave the team, reducing their sophomore class by two. Kaleb Wesson also still has an NBA decision to make.
Even without Wesson, the Buckeyes would have a glut of experience. Their roster would feature one fifth-year senior, one fourth-year senior, one fifth-year junior, two fourth-year juniors, three third-year juniors, two second-year sophomores and two incoming freshmen. Without knowing what other rosters will look like yet, Ohio State might legitimately become the oldest, most experienced team in the Big Ten.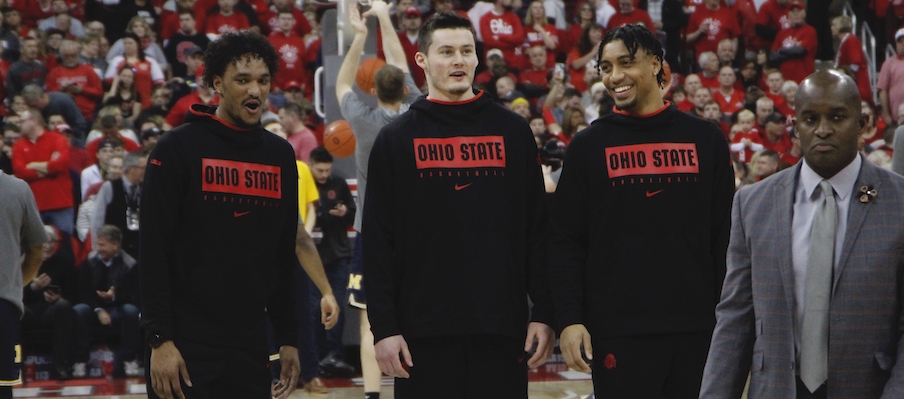 More than half of the team will be upperclassmen. Its starting lineup will include, at a bare minimum, four upperclassmen, and the team might only have one underclassman – Liddell – in the regular rotation.
Getting old and staying old, a philosophy Holtmann delved into at Big Ten media days before the 2019-20 season began, has worked for the Virginias, Villanovas and Purdues of the world. Now he wants it put into action in Columbus.
The past two seasons, the Buckeyes have been relatively young. They ranked 233rd nationally in team experience last season with an average of 1.53 years played, and the year before they ranked 251st with an average of 1.45 years played. 
Next season, Ohio State should have an average of at least two years of experience across its roster, which is something that no Big Ten team had last season.
To coaches, experienced players generally offer more game-to-game consistency throughout a season, and they've played in enough past away environments – and in the postseason – to leave town and perform at a high level in a neutral or road environment. Ohio State got some first-hand experience with that last season with a younger-than-average roster. Looking back on the year, Holtmann attributed some of the inconsistency on the road to youth.
That, hypothetically, won't be an issue next season. Up and down the roster, the Buckeyes will have an experienced bunch.
CJ Walker, a team captain before he ever even played a minute for Ohio State, will be in his fifth season, running the show at point guard. Both Luther Muhammad and Duane Washington Jr. will be rising juniors, having played heavy minutes in the backcourt. Having experienced guards is especially important to Holtmann. Redshirt junior wing Musa Jallow is back after sitting out last season with a sprained ankle. Justin Ahrens will be in his third season.
Kyle Young has a boatload of starting experience as a rising senior. Seth Towns hasn't played the past two seasons, but he started both years at Harvard. Similarly, Justice Sueing averaged at least 32 minutes per games for two consecutive seasons at California before transferring and sitting out last season. Even E.J. Liddell, a sophomore, played important minutes down the stretch last season.
The one aspect largely missing from the Buckeyes' roster, despite so many experienced players? Postseason success. 
Walker, who transferred from Florida State after his sophomore season, is the only player on the team who's won more than one game in a single NCAA tournament, having made a run with the Seminoles in 2018. Nobody has played on a team with more than a single win in a conference tournament. 
Older and more experienced than any other team in the Holtmann era, Ohio State will try to go further than ever before next season.