Twenty-one games into his sophomore season at Ohio State, it was beginning to look like Luther Muhammad may never evolve into a consistent offensive contributor for the Buckeyes. 
He was shooting a dismal 34% from the field and 31% from beyond the arc while missing one game due to suspension for failing to meet the program's standards and expectations following on off-court incident. 
Unable to find his jumper or really any offensive rhythm, Muhammad made at least three field goals in only four of those 21 contests leading to just five double-digit performances. 
The three-month struggle to this season came on the heels of a freshman season that saw him limp to the finish line after starting strong in Holtmann's program. 
Over the first 21 games of his first season in Columbus, Muhammad shot an unexpected 45% from three-point land, averaging 10.2 points per contest. He poured in 24 points on 7-of-12 shooting at Nebraska to help Ohio State stop a four-game losing streak. Three games later, he added another 20 points on 5-of-11 shooting in a key win over Penn State.
But then the wheels fell off. 
Over the final 13 games of the 2018-19 season, Muhammad shot a clanky 18% from the field (11-of-62) and 24% from distance (8-of-34) to average 3.4 points per game. 
Meanwhile, Keyshawn Woods came off the milk carton to give Ohio State a boost and Luther's minutes dwindled to from 30 to 21 per game before the sun set on an up-and-down freshman season. 
Add up those final 13 games of Muhammad's freshman season and the first 21 games of this season and Muhammad shot a frigid 28% from the field on 48-of-171 shooting. 
He generally kept playing solid on-ball defense and kept his head up but the reality is this season's Ohio State team needs Muhammad to give it more than just defense. 
To his credit, the Newark, New Jersey product has answered the bell over the last five games, the latest being his clutch season-high 22-point outburst in Ohio State's 79-72 win over No. 7 Maryland last Sunday in the Schott. 
Muhammad's big day included a 4-of-8 showing from downtown and a perfect 8-of-8 from the stripe. With Maryland forced to respect his jumper out top, driving lanes and room in the paint materialized for C.J. Walker and Kaleb Wesson in particular as Ohio State score 79 points. The offensive output was the team's most since an 80-point effort against lowly Nebraska 10 games ago.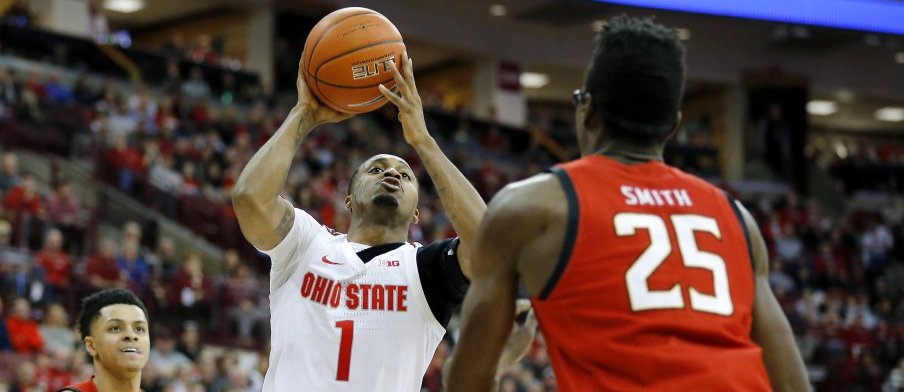 Beyond his work at the offensive end, Muhammad also added five rebounds and helped harass Terrapins star point guard Anthony Cowan Jr. into a 1-for-4 day from the field with three turnovers and 10 points – six below his average of 16.4 per game. 
Muhammad was also a factor in Ohio State's 68-52 blowout of Purdue as he logged 11 points on 3-of-5 shooting from distance. It was the same story in a key 72-66 win over Rutgers as he hit two more triples, on three tries, in a 10-point showing. 
His offensive resurgence started modestly enough three days prior in Ohio State's 70-57 loss at Wisconsin. Shooting 3-of-4 overall and 1-of-2 from beyond the arc, Muhammad tallied nine points with five boards and zero turnovers. 
The outlier during his resurgence came at Iowa as he shot just 1-of-4, finish with three points as the Hawkeyes blitzed the Buckeyes early and coasted to an 85-76 win. 
Even with the lack of contributions in Iowa City, Muhammad's offensive numbers over the last five games are eye-catching.
He's shooting 54% from the field (15-of-28) and a blistering 50% from distance (11-of-22) while hitting all 14 of his free throws. In fact, Muhammad hasn't missed a free throw since Ohio State's loss to West Virginia back on December 29. 
He also has just three total turnovers over the last five games while averaging 28 minutes a night. 
It remains to be seen if this recent five-game stretch will be a blip or a trend, and if we're being real, there's a mountain of evidence illustrating his susceptibility of going into protracted shooting funks. 
But if Muhammad can show some growth and give Ohio State another supporting offensive threat from the perimeter, that can only bode well for Kaleb Wesson's inside/outside game while taking some scoring pressure off guys like Duane Washington Jr., Andre Wesson and C.J. Walker. 
With only four regular season contests remaining plus whatever amount of postseason games the Buckeyes can earn, time is running out for Muhammad to ensure his sophomore season is one of at least slight progression. 
The last few weeks undoubtedly give him something to build upon.