No matter how many people express support for St. John Arena, Ohio State's basketball has no plans to abandon the Schottenstein Center in favor of the historic venue. None at all.
Chris Holtmann has previously discussed the possibility of playing more than one game at the arena, but a wholesale change won't happen. Having heard plenty of people express their hope for moving venues last year after the Buckeyes beat Cleveland State in their first game at the arena in nearly a decade, he felt like he had to make that clear. 
| Who | Where | When | TV |
| --- | --- | --- | --- |
| Kent State (5-0) | St. John Arena | 6:30 p.m. | BTN |
"Please, I'm off social media, but last year when we played this I had so many of our great fans talk to me about, 'Coach, can we move all of our games over there?'" Holtmann said after his team beat Purdue Fort Wayne on Friday. "So just, I'm off social media, but you can save those. I understand the love and the affinity for St. John Arena. I have the same."
Because of that affection, he's in full support of Ohio State playing at St. John Arena at least once every season. So, at 6:30 p.m. on Monday, the Buckeyes will tip off their only game of the season at the venue, facing Kent State.
After last season's game, which featured a classic presentation complete with old-school graphics, music and jerseys, there's plenty of excitement ahead of the game.
"I just love the atmosphere that's in the gym," E.J. Liddell said. "I feel like that gym is going to get really loud when it comes Monday."
Duane Washington Jr. added: "He's right about that. And it feels like they're on top of you. So it's going to be a great atmosphere."
Opponent Preview
As an in-state program in the MAC, Kent State might not outwardly seem like too much more of a test than Ohio State's past two opponents, Stetson and Purdue Fort Wayne. It's 5-0 record says otherwise, though.
The Golden Flashes, at No. 110 in the country, have by far the highest KenPom rating among Ohio State's mid-major non-conference opponents. They've rattled off wins against Hiram, Towson, Wright State, Purdue Fort Wayne and Concord to open the season. Led by head coach Rob Senderoff, they have Holtmann's attention.
"They're undefeated. They're undefeated for a reason," Holtmann said. "They've had some great road wins. They won at Wright State, which was a terrific win, and they won at Towson. Towson almost beat Florida at Florida. So we need to play well, and we need to have a couple days of rest and hard work and preparation for Kent State."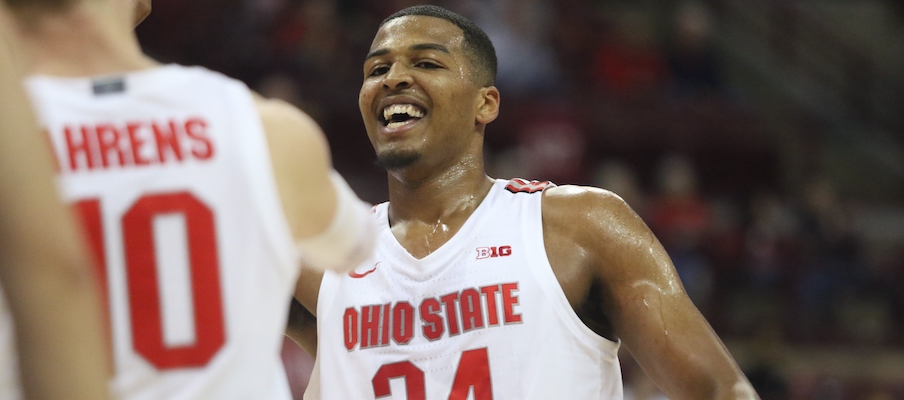 Four Kent State players – Anthony Roberts (6-foot-4, 190 pounds), Danny Pippen (6-foot-9, 222 pounds), Troy Simons (6-foot-3, 195 pounds) and Antonio Williams (6-foot, 185 pounds) – average between 12 and 16 points per game.
Roberts comes off the bench to lead the Golden Flashes with 15 points per game. Pippen averages 14 points and seven rebounds per game. Simons, who has scored 13 points per game, had attempted 7.3 3-pointers per game. Williams, the point guard, averages 4.8 assists per game.
Each of the team's three leading scorers – – have shot at least five triples per game and hit between 38 and 43 percent of them. The Golden Flashes have shot nearly 30 3-pointers per game, the second-most game among all MAC teams, and collectively hit 34.9 percent of their attempts from deep.
"Quick turnaround against a team that is, I think, really good," Holtmann said on Friday. "Any time you're playing a MAC team that's in-state that has the level of athletes and the level of success that Kent State has had, there's a lot of preparation that needs to happen between now and Monday night."
Ohio State Preview
Few teams in the country – let alone among those that remain undefeated – have such a balanced attack as Ohio State.
Nobody in any of the five wins has scored more than 15 points, including Kaleb Wesson who averaged a team-high 14.6 points per game last year. Scorers in double figures in each game include the following players:
Cincinnati: Kyle Young (14 points)
UMass Lowell: Young (13), DJ Carton (13), Luther Muhammad (11), Young (10), Alonzo Gaffney (10)
Villanova: Duane Washington Jr. (14), Muhammad (11), Carton (11), CJ Walker (10), Wesson (10)
Stetson: Young (15), Wesson (13), Carton (10)
Purdue Fort Wayne: Wesson (15), Carton (13), Walker (11)
The Buckeyes will take their diverse attack at a Kent State defense that has allowed opponents to shoot just 38.7 percent from the field and 33.6 percent from beyond the arc. Wesson, like always, will be key to manufacturing offense.
The big man showcased his expanded game in Friday's win against the Mastodons. He missed all four 3-point attempts in the first half. But with Holtmann's blessing, he didn't stop shooting and made all three of his triples in the second half, including two in the first two minutes after halftime.
"He's a really good shooter. I don't want good shooters passing up good shots," Holtmann said. "And if I didn't see him every day and if we didn't chart every one of his shooting workouts in the summer, then I don't know. We've got a base of knowledge on the kind of touch he has."
His inside-outside game combined with adept passing makes him especially difficult for mid-major teams to defend.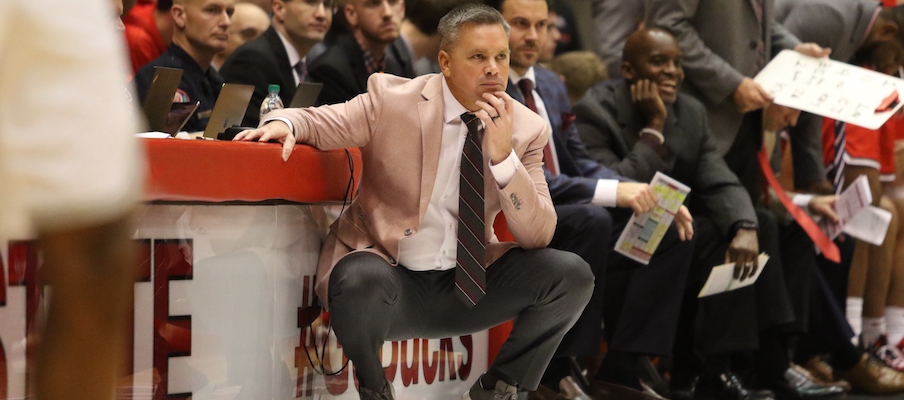 Other Notes
Ohio State began playing at St. John Arena in the 1956-57 season and ended with the 1997-98 season. Including the 6-0 record since they moved to the Schottenstein Center, the Buckeyes have a 421-151 record at St. John Arena.
Justin Ahrens remembers the old-school music playlist at St. John Arena: "It was throwbacks, I remember that. I know we didn't pick it. That's all I know. But it was pretty lit."
Ahrens on playing at St. John Arena last year: "It was kind of crazy, honestly. I felt like we were in a movie. Because it's so old, like it's such an old atmosphere. It feels like everybody's on top of you compared to the Schott. There's a lot of people there. With the throwback uniforms and everything, it's just a really cool atmosphere and a fun part of the year."
Holtmann said he was unaware whether the Buckeyes will wear alternate uniforms. However, Liddell said he's been "waiting to wear" the throwback jerseys that they rocked last year at St. John Arena. Washington agreed: "Like he just said, I'm excited to wear something else other than white. We've been wearing white for a minute now."
Will Holtmann break out his salmon-colored suit? "We'll see. It's 1-0, so we'll see."
How It Plays Out
Unlike Stetson and Purdue Fort Wayne, both of which had essentially no chance against Ohio State, Kent State can't be counted out. If the Golden Flashes can hit 3-pointers and catch the Buckeyes looking sluggish in an unfamiliar arena, an upset could happen.
With that in mind, though, Ohio State has earned the benefit of the doubt based on how it has played in the first five games of the season. No opponent has topped 35 percent shooting. Kent State has to break that trend to have any chance of an upset. And on the other end, it'll have to deal with a diverse arsenal of offensive weapons. That'll likely prove too much for the Golden Flashes to overcome, so we're picking a double-digit-point win for the Buckeyes.
Prediction: Ohio State 72, Kent State 59