College coaches at ranked teams across the country should send a round of Christmas cards to the Evansville and UMBC basketball programs – and, by extension, to Kentucky and Virginia.
Now, whenever coaching a team projected to beat an overmatched opponent by a boatload of points, they have a pair of unassailable examples they can cite. Just a week ago, Evansville knocked off top-ranked Kentucky as 25-point underdogs. And less than two years ago, UMBC toppled Virginia in the first-ever opening-round upset of a No. 1 seed in the NCAA tournament.
Chris Holtmann didn't shy away from referencing those games ahead of Ohio State's tussle with Stetson on Monday night.
No opponent on Ohio State's schedule has a lower KenPom rating than the Hatters. Not Morgan State, not UMass Lowell, not Southeast Missouri State, not Purdue Fort Wayne.
At No. 330, Stetson is rated as the worst team the Buckeyes will face this season. Per Bart Torvik, Ohio State has a 100 percent chance to win the game, which tips off at 8:30 p.m. at the Schottenstein Center.
| Who | Where | When | TV |
| --- | --- | --- | --- |
| Stetson | Schottenstein Center | 8:30 p.m. | BTN |
"I never look at percentages because you tell me the percentages before the Evansville-Kentucky game, what that was," Holtmann said on Friday. "I never look at percentages in today's college basketball. And I never go into a game assuming that we're going to win and we're going to be able to play everybody on our roster. I think if you do that, it's really a dangerous thing in today's game. We just had a one beat a 16 for the first time in the history of college basketball. It's a different day and age. It's really good players all over the country."
The day-by-day focus of his team is at the forefront of Holtmann's mind. He said he won't talk much with his players about anything beyond each individual practice and the upcoming game.
As Ohio State learned a bit too well last season by beginning with a 12-1 record before struggling mightily in the spring, wins against Cincinnati, UMass Lowell and Villanova were just the beginning of a months-long marathon.
"Obviously we will get to preparing for Stetson here as we move forward, kind of cleaning up some things from Villanova and spending time watching film," Holtmann said. "And then, we always are trying to find that blend between getting better as well as preparing for our next opponent, obviously, which is Stetson on Monday night. We'll continue to find that balance and move forward."
Monday's game against Stetson kicks off a stretch of four straight games against teams who are currently ranked outside the top 100, per KenPom, including three ranked 250th or worse. Ohio State won't face another ranked team until it heads to Chapel Hill, North Carolina, to take on the Tar Heels on Dec. 4.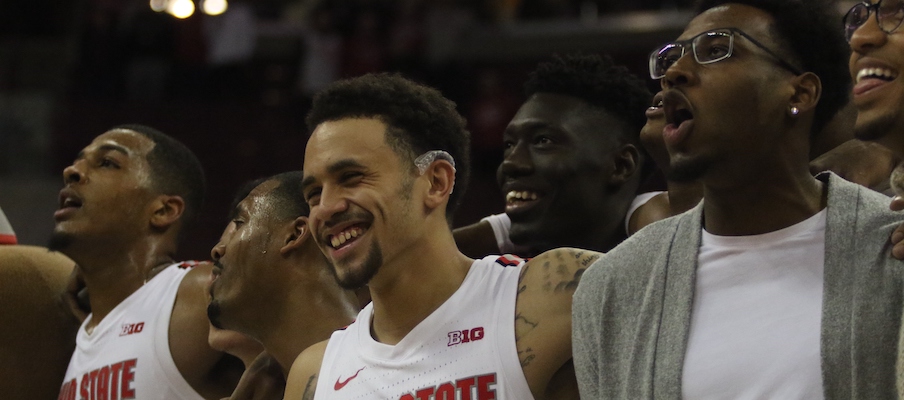 Stetson Breakdown
After Stetson opened the season with back-to-back wins against Trinity Baptist and Western Illinois, Purdue Fort Wayne sent the Hatters back to reality, beating them 79-55 on Saturday.
Under first-year head coach Donnie Jones, they're in for a rebuilding campaign. Last year, the Hatters finished 7-24, including a 3-13 record in the Atlantic Sun Conference. Their leading scorer, Abayomi Iyiola, transferred to Arkansas in the offseason.
Through three games, Rob Perry has led Stetson in scoring with 17 points per game. The 6-foot-3, 210-pound freshman guard exploded for a career-high 34 points in the win against Western Illinois. Perry also averages 5.3 rebounds per game.
Two other players – Mahamadou Diawara and Christiaan Jones – have averaged double-digit points per game. Jones, a 6-foot-5, 19-5 pound junior guard, was second on the team in scoring last year and has managed 12.3 points and 5.3 rebounds per game this season. Diawara, a 6-foot-10, 235-pound freshman center, averages 12.7 points and four rebounds per game.
Ohio State Breakdown
Early season matchups with Cincinnati and Villanova forced Holtmann to ride his typical rotation rather than give his backups extended playing time.
On Monday night, though he'll never say so before a game, Holtmann will likely empty the bench, giving the freshmen ample minutes. Provided Stetson doesn't offer any unexpected hurdles, Alonzo Gaffney, E.J. Liddell and Ibrahima Diallo might all set season-highs for minutes played.
Andre Wesson could miss Monday night's game. He has not played since suffering an eye injury with seven minutes remaining in the season opener against Cincinnati. On Friday, Holtmann said Wesson is in the process of working his way back but isn't able to go through contact drills in practice quite yet.
"I'm sure he'll be anxious to get back, but we'll be cautious about when's the right time for him," Holtmann said.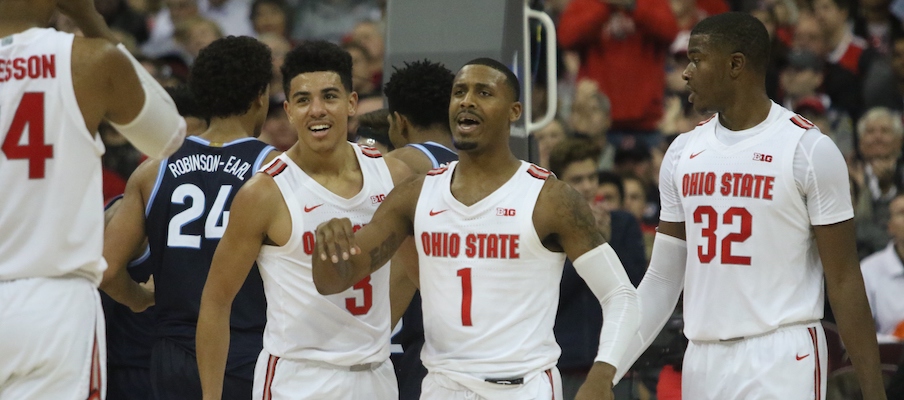 Other Notes
The game against Stetson begins Ohio State's participation in a three-game event called the Ohio State Classic. Its next two games – against Purdue Fort Wayne and Kent State – are also part of the classic. Despite the name, there isn't a bracket or a winner of the classic. Holtmann: "It's another way of getting home games. In reality, that's what it is."
The Ohio State Classic nearly fell apart in the spring. One of the tournament promoters got indicted in the national college basketball fraud scandal, Holtmann said. Holtmann: "We were left hanging with a tournament that we anticipated had been done really about this time last year. And then we are, in April and May, working on it. And in June, working on it. July 4, going to watch fireworks at my lake house, spending all morning on the phone with Stetson and IPFW and others trying to put something together."
Holtmann recently saw two of his former assistant coaches, Elon's Mike Schrage and Gardner-Webb's Jay McAuley, get their first wins as head coaches: "I'd probably say as enjoyable half-an-hour, 45 minutes I've had in the past couple weeks outside of our games that we've won is those two conversations I had with Mike and Jay McAuley."
How It Plays Out
This'll be a beatdown, the basketball version of what the football team has done to so many opponents this season, including what happened at SHI Stadium in Piscataway, New Jersey, on Saturday night. It's difficult to see anything else other than a dominant Ohio State win transpiring.
The Hatters haven't faced any team nearly as talented as the Buckeyes, who should have no problem cruising to a victory on their home court.
---
Prediction: Ohio State 84, Stetson 56