Not often does a second-round Big Ten tournament game have the postseason futures of both teams riding on the result.
But that's exactly what will be on the line when eighth-seeded Ohio State takes on ninth-seeded Indiana at 12:30 p.m. Thursday at the United Center in Chicago.
| Who | Where | When | TV |
| --- | --- | --- | --- |
| Indiana (17-14, 8-12) | United Center (Chicago) | 12:30 p.m. | BTN |
Neither the Hoosiers' nor the Buckeyes' NCAA tournament resumes look especially impressive – each of them hold 8-12 records against Big Ten opponents – but both find themselves teetering on the edge of the Big Dance, each likely needing one more win to secure an at-large bid.
As of Thursday morning, ESPN's Joe Lunardi had Ohio State as the last team in the field of 68 and Indiana as the last team out. The Buckeyes were the last team in, and the Hoosiers were the last team out of The Athletic's latest projections. 
A loss would likely eliminate either team from contention, and a win would possibly seal a trip to the NCAA tournament. Lunardi agreed with the characterization of the matchup being a play-in game when asked on Tuesday evening.
Both Ohio State and Indiana need the same result – a win – to earn a bid, but both have had significantly different recent trajectories.
The Buckeyes lost Kaleb Wesson to suspension for breaking an athletic department policy two weeks ago and proceeded to go into a free fall. They got smoked by 35 points Purdue, lost by 18 points to Northwestern and trailed Wisconsin by 23 points before putting together a second-half comeback then losing by six points in overtime.
The Hoosiers, conversely, have won four games in a row. They took down Wisconsin in double overtime, toppled Michigan in a one-point win and beat Illinois and Rutgers to somehow keep their dreams of going dancing in March alive.
"They're obviously playing really, really well here and have had moments, you look at large sections of the season and some of their wins," Holtmann said on Tuesday. "But most importantly for us right now, as we prepare for them, they're playing exceptionally well."
Under different circumstances, Ohio State defeated Indiana, 55-52, in Bloomington, Indiana, on Feb. 10. It had won back-to-back games, while the Hoosiers had lost eight of their past nine games.
They'll match up again on Thursday with not only advancing in the Big Ten tournament on the line, but more than likely a spot in the NCAA tournament hanging in the balance.
"I think the unspoken is always there," Holtmann said. "Guys understand what tournament play is all about. And if we don't have great preparation and play with tremendous urgency, then it'll be a short stay."
Opponent Preview

Juwan Morgan has been tough for teams to deal with for the majority of the past two seasons, and as his senior year comes to a close, he has produced exceptionally well recently.
The 6-foot-8, 232-pound forward had 20 points and nine rebounds against Illinois and 25 points and seven boards versus Rutgers. He grabbed 15 rebounds against Wisconsin and had 11 boards in the upset of Michigan State. Morgan averages 15.1 points and 8.4 rebounds per game.
"Morgan has played like a man possessed, he really has," Holtmann said. "He's played like a senior who is an all-league performer. He just has played like a man possessed. I mean, he has been everywhere, and I think it's not just him. (Justin) Smith has obviously had big games. (Devonte) Green's played very well. Obviously (Romeo) Langford is a special talent, and he's played exceptionally well. And I think Phinisee in a lot of ways has given them great stability at the point guard position."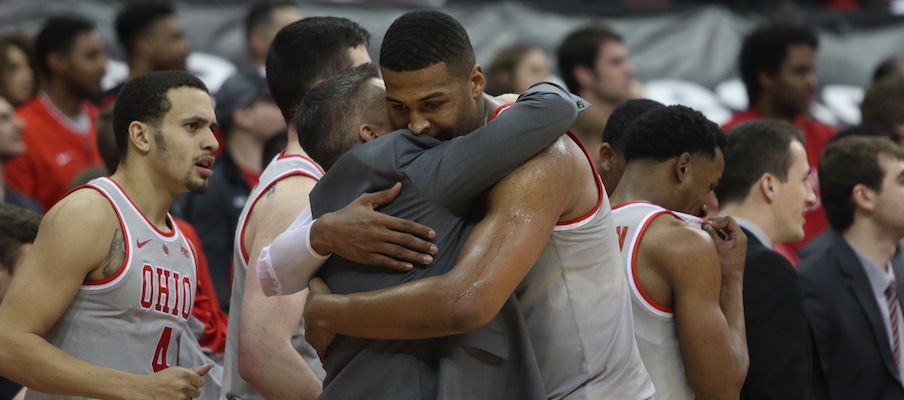 Ohio State held Morgan to just three points – though he had 14 rebounds – in the team's win against Indiana in February, and Wesson played a large role in his minimized production. The return of Wesson should aid the Buckeyes in defending Morgan once again.
Langford, as teams have found out the entire season, is incredibly difficult to stop. One of the top players in the country and a soon-to-be first-round NBA draft pick, Langford averages a team-high 16.7 points and 5.4 rebounds per game. He's not a marksman from beyond the arc, but Langford gets inside and can create his own shot.
Smith averages 8.7 points and 4.5 rebounds per game. Green shoots a team-high 37.3 percent from 3-point range.
Ohio State Preview

Without Wesson, Ohio State looked lost – until the latter portion of the second half against Indiana.
The honorable mention All-Big Ten performer will be back from his suspension on Thursday.
"He's got to be Kaleb. He's just got to be Kaleb," Holtmann said.
In Wesson's absence, the Buckeyes fell apart for two games and the first 2/3 of the third game. But with an impressive performance led by C.J. Jackson and Keyshawn Woods, they stormed back from a 23-point deficit to tie Wisconsin and send the game into overtime. Holtmann admitted he's considered the positive benefits of that type of performance heading into the Big Ten tournament.
"I've thought about that, and I hope so," Holtmann said. "It certainly would have, I think, been hard to have lost three consecutive games by double figures just when your team can already be a little bit young and maybe, some would say, at times fragile. So I think that would've been difficult. I think hopefully what we can hang onto is we had some really good stretches – some early, a lot late, not as much in the middle – and hang on to that, try to build from that and build off of that. You certainly would have preferred to feel the win and the momentum that that creates, but it's on us to create that momentum on Thursday."
The late-game comeback could give confidence to some players, most notably Jackson and Woods who have endured up-and-down senior seasons. They'll need to step up versus the Hoosiers for the Buckeyes to win.
How It Plays Out

Indiana is the hot team and a trendy pick to advance. Some analysts even believe the Hoosiers might have a chance against Michigan State in the following round considering they knocked off the Spartans just a couple weeks ago.
It's easy to look at the trajectories of both teams and choose Indiana to win, but that simply isn't fair to what Ohio State should look like on Thursday. The Buckeyes are a drastically different team when Wesson doesn't play. They have issues scoring and lack a defensive anchor.
With Wesson back, the Buckeyes should look significantly better than they have the past two weeks. His return aids the spacing on offense and makes Morgan work on both ends of the court. This is an even-matched game, but I'm picking Ohio State to edge out the Hoosiers.
Prediction: Ohio State 62, Indiana 60