Chris Holtmann has called it the most up-and-down season of his coaching career, and it's nearly over.
After beginning the 2018-19 season with a 12-1 record, Ohio State proceeded to go 6-11, falling from a team that seemed nearly guaranteed to lock up an NCAA tournament berth to a bubble team in danger of ending the regular season on a three-game losing streak.
| Who | Where | When | TV |
| --- | --- | --- | --- |
| No. 21 Wisconsin (21-9, 13-6) | Schottenstein Center | 4:30 p.m. | CBS |
The Buckeyes, who recently lost by 35 points to Purdue and by 18 points to Northwestern, will take on No. 21 Wisconsin at 4:30 p.m. Sunday. Kaleb Wesson, serving an indefinite suspension for violation athletic department policy, will miss his third game in a row.
Not only do the Buckeyes want to beat the Badgers to end the regular season on a high note and quash the losing, but they want to send their seniors out on a high note. The three seniors – Keyshawn Woods (fifth-year graduate transfer), C.J. Jackson (junior-college transfer) and Joey Lane (former walk-on) – each have a different background and have contributed to the team in different ways.
Jackson thought he was heading to Columbus to be a role-playing off guard, but turned into a starting point guard. Woods, at his third college, is fighting for a chance to win a game in the NCAA tournament for the first time. Lane has turned into a fan favorite despite only playing at the end of games.
"It's definitely the most unique senior class that I've had in that sense, in how it was put together," Holtmann said. "And I think we all kind of understand why it evolved into that."
Opponent Preview

Even if Wesson were able to play, Ohio State would likely have a difficult time scoring against the Badgers who posses the fifth-best adjusted defensive efficiency in the nation and the best in the Big Ten.
Only four teams in the country have allowed fewer than the 61 points per game that Wisconsin averages. Opponents shot 39.3 percent versus the Badgers, the 10th-best mark in the nation and the second best in the conference.
The stout defense, which Holtmann touted on Friday, has powered Wisconsin to its top-25 ranking, and Ethan Happ has led the offense – for years.
Happ, in his senior season, averages 17.9 points and 10.2 rebounds per game. The 6-foot-10, 237-pound forward has hit 53.5 percent of his shots and leads the team with 4.6 assists per game.
"Obviously Happ is a fantastic player," Holtmann said. "Has been for what seems like 10 years now. He's had a phenomenal career. But they've got a lot of really good players. (Khalil) Iverson is really playing well for them. (D'Mitrik) Trice has played really well for them. (Brad) Davidson and (Nate) Reuvers. They've got obviously a veteran group that played together last year and has had a great season, and (Greg Gard has) done a great job with that program and that team."
Ohio State held Happ to a season-low seven points last year, but that level of defensive success will be significantly more difficult without Wesson able to man the post.
Trice and Davidson each average double-figure points, as well, and are the team's top options from beyond the arc, both hitting at least 38 percent of 3-point attempts. Iverson, a native of Delaware, Ohio, has scored double digits in four of the past five games despite cracking 10 points just twice in his first 24 games of the season.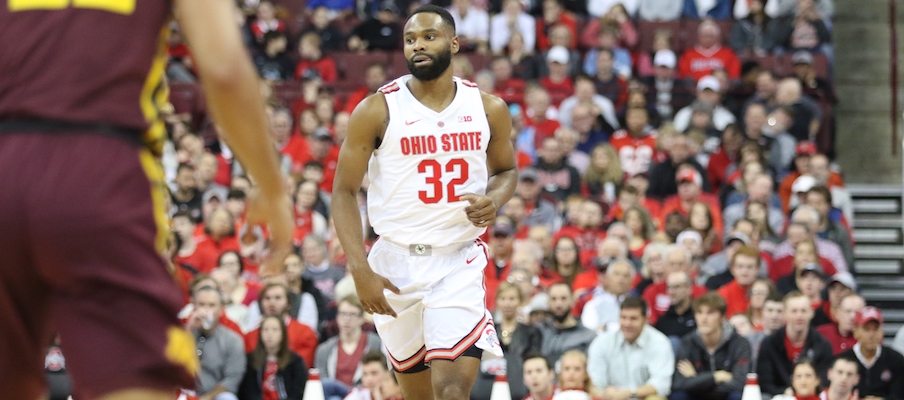 Ohio State Preview

Ohio State has looked helpless on both ends of the court for the vast majority of the past two losses to the Boilermakers and Wildcats.
Not having Wesson has proved to be a nearly unrecoverable from issue, and injuries and fatigue have exacerbated the problems.
C.J. Jackson has been banged up recently, Holtmann said, and Kyle Young still can barely practice, which has affected him during games. That has required Andre Wesson to play more minutes than usual, leading to him feeling tired, Holtmann admitted. Luther Muhammad has also hit the proverbial freshman wall, going 5-for-45 in the past eight games.
"You remain as optimistic and positive and forward-thinking as possible, because I don't know if there's another option," Holtmann said. "All those factors right now, we're sitting at 18 wins with a chance, just a chance, to put ourselves in better position. At the beginning of the season, we would've said, we embrace being in that position."
Ohio State must generate some sort of offense against Wisconsin to have a chance at winning, but that's been difficult the past couple games and likely won't get any easier versus arguably the top defensive team in the Big Ten.
Wesson's suspension hasn't led to drastic schematic changes, though, simply due to when it happened.
"It's hard to change your offensive identity in the last week and a half of the season," Holtmann said. "We've tried to tweak some things and change some things knowing that he's going to come back, but that's what's facing us right now."
How It Plays Out

Considering Holtmann said it's too late for Ohio State to make any sweeping changes offensively, is there any reason to believe the Buckeyes will topple the Badgers. Combine the recent offensive ineptitude with the injuries and defensive struggles sans Wesson, and it's hard to imagine a performance that would be worthy of beating Wisconsin.
Ohio State needs a multitude of players to step up in the absence of Wesson who simply haven't raised their levels of play without him. In order to pull off the upset, Washington and Ahrens have to find open shots, and Muhammad and Washington must play efficiently in the backcourt. As seen recently, that'll be difficult without a dominant center in the middle.
Prediction: Wisconsin 69, Ohio State 57