Just a couple weeks ago, Ohio State was mired in a slump. It lost its first five games of January and finished the month with a 13-7 record, a far cry from the 12-1 record it brought into the new year.
Things have changed again, though. The Buckeyes have won three games in a row and four of their past five. On Sunday, they toppled Indiana, 55-52, on the road to get back to .500 in the Big Ten.
Ohio State has a chance to make it four in a row and a better-than-.500 record in the conference when it takes on Illinois at 7 p.m. Thursday at the Schottenstein Center.
The teams already faced off on Dec. 5, with the Buckeyes picking up a 77-67 win in Chicago. But entering that game, the young Illini team had lost seven of their past eight games. This time, Illinois enters its game versus Ohio State with ample momentum. It has three wins in a row for the first time this season, including a victory against Michigan State.
Chris Holmann called the Illini a "much different team than what they were when" Ohio State faced them in December.
"They are probably just feeling confident," Chris Holtmann said. "Some of their younger kids have gotten some game experience under their belt. Obviously, (Trent) Frazier is a sophomore and he is playing really well. A couple of their freshmen are playing well and they are getting contributions from a lot of guys."
The Illini push the ball as often as possible, trying to control the pace and throw its opponents off. That has worked recently, but Ohio State saw them try to do it just a couple months ago.
In that December victory, Keyshawn Woods led the team with 18 points, and Kaleb Wesson (13 points) and Musa Jallow (11 points) also finished in double figures. Woods hasn't reached 18 points since that game, and Jallow's maintaining a scoreless streak of more than 70 minutes, so the offense will likely have to come elsewhere. 
Opponent Preview
Frazier and Kipper Nichols led Illinois in scoring against Ohio State in December with 18 points apiece. The scoring outburst is tied for Nichols' season high, but 18 wasn't too much off Frazier's season average.
Frazier, a 6-foot-1, 170-pound sophomore, leads Illinois with 14.7 points per game and averages 2.7 assists per game. He's not overly efficient from the field, shooting 41.7 percent, but is deadly from beyond the arc with a 41.2 percent 3-point rate while shooting more than five triples per game.
Freshmen Ayo Dosunmu (6-foot-5, 185 pounds) and Giorgi Bezhanishvili (6-foot-9, 235 pounds) also average double-digit points per game.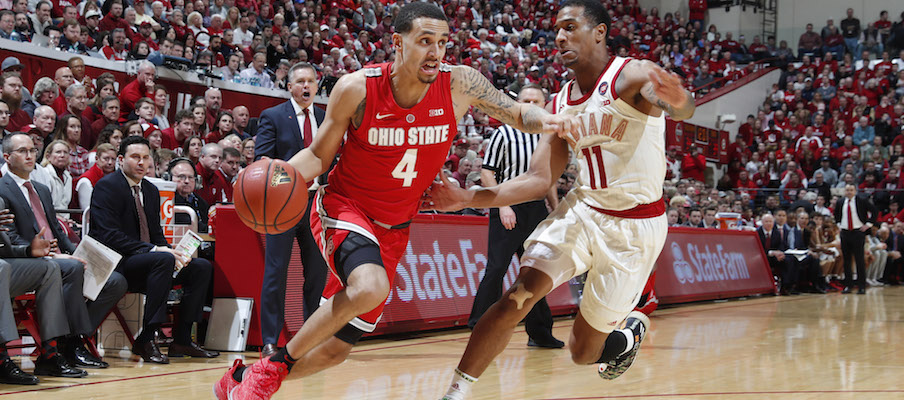 Bezhanishvili only played 19 minutes against Ohio State in December while struggling with foul trouble and turnovers. But he found his groove in Illinois' win against Rutgers on Saturday by dropping a career-high 35 points, hitting 14-of-18 shot and grabbing seven rebounds. If he stays on the court, he has the ability to do damage in the interior.
"Ultimately, that might have been a difference in the game," Holtmann said. "He is a versatile interior guy that plays really well in their offensive and defensive stuff. He is really smart. He can score over either shoulder. Obviously, when you score 35, you're playing pretty confidently."
Ohio State Preview
As well as Ohio State has played lately, it still coughs up the ball more often than it should. 
The Buckeyes have turned it over 14 times per game in Big Ten play and 13 times per game this season. Both Wesson and C.J. Jackson average more than two turnovers per game. 
That's not a great sign for a team facing one of the best teams in the region at forcing turnovers.
"We are playing the team that leads the league in turnover percentage defense," Holtmann said. "It's the area where we're the weakest in the league. So, certainly, it's a tough match-up for us in that regard. We have to play better in that area. I don't think we will ever be a team that is necessarily going to be top four or five in the league. But if we're at the bottom, I don't think we're going to have the kind of finish that we want."
Michigan State turned the ball over 24 times in its loss to the Illini.
Luther Muhammad compared Illinois defense to that of Penn State due to its physicality and aggression. That leads to the Illini gambling, Muhammad said.
"Our coaches are on us about it heavy," Muhammad said. "They make us run for every careless mistake we make in a game. That has helped us get better every day and be more careful with the ball."
How It Plays Out
Ohio State beat Illinois by 10 points in December and is an eight-point favorite on Thursday. These are the types of games the Buckeyes must win with the NCAA tournament in mind. Projections have them in the field at the moment, but they can't afford a bad loss.
Though the Illini are streaking and have the ability to force turnovers in bundles, Ohio State seems to have righted the ship and should win its fourth in a row. 
Prediction: Ohio State 76, Illinois 65