Kaleb Wesson scored Ohio State's first points of the game, then scored again. After a nearly four-minute stretch without the Buckeyes scoring, he hit 3-pointers on back-to-back possessions. The following possession, Wesson hit another shot for both his and his team's 11th and 12 points of the game.
Luther Muhammad ended the streak with a 3-pointer to cap off Ohio State's 11-0 run, but Wesson picked right up where he left off. He hit a pair of free throws, then nailed his third 3-pointer of the game. A pair of free throws and a layup later, Wesson had scored 21 of his team's first 24 points.
"He's allowed to do that," Chris Holtmann quipped.
Wesson singlehandedly outscored Rutgers for the first 14:38 of the game.
"I wasn't really paying attention," he said. "I was just playing. I was getting lost in the game."
He scored once more in the first half. C.J. Jackson took over most of the scoring output in the second half, but Wesson ended the game with 27 points, making 10-of-12 shots and 3-of-4 3-pointers, in Ohio State's 76-62 win.
"It's been a tough stretch of games," Wesson said. "I haven't scored a lot. It just felt good to finally let the ball go in the rim. And my teammates finding me, it felt real good."
February didn't only offer a fresh start to Ohio State, which went 1-6 in January. It provided Kaleb Wesson with the opportunity to re-find his groove, which he clearly lost as the month of January dragged on.
"Just relief, but you know, we've got to get back to the next game. We've still got a lot of the season left and a lot of things to accomplish."– Kaleb Wesson on how he felt after Ohio State's win over Rutgers
Wesson opened January with a 25-point, eight-rebound performance against Nick Ward and Michigan State in a losing effort. Even in that game, he eventually fouled out.
Wesson's offensive output tailed off shortly after, attributable to both foul trouble and defenses keying on him. As Holtmann has said multiple times and repeated after Saturday's game, "the book is out on us in terms of how to play Kaleb."
In the following five games – losses to Iowa, Maryland, Purdue and Michigan and a win against Nebraska – Wesson hit the glass well, averaging eight rebounds per game, but scored just 7.6 points per game. He fouled out three times in January and had four fouls in three other games.
"It's been rough, but you know, I just have to calm myself down and control what I can control," Wesson said. "I'm a competitor, so when things happen and I have to get taken off the floor, I get emotional. I really want to be out there with my guys. When stuff like that happens, I just have to take a step back. I talked to coach and everything, and he was telling me control what I can control."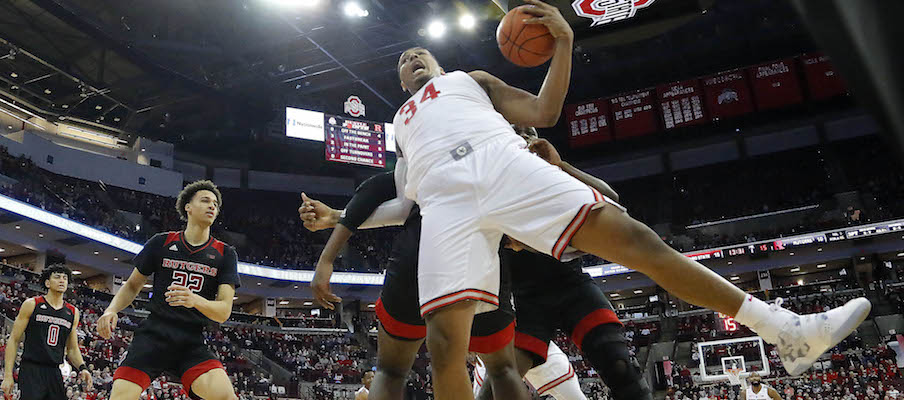 Holtmann and Wesson have had constant conversations in the past month, often centering on the issue of fouls and how to avoid them.
When Ohio State doesn't have the 6-foot-9, 270-pound forward in the game, especially with Kyle Young out of action, it doesn't have a consistent go-to scorer. In order to maximize the offense, the Buckeyes need him, and Chris Holtmann knows that. The rest of the team combined to hit 1-of-10 shots from the field to open the game while Wesson went off. Though C.J. Jackson, Luther Muhammad and Keyshawn Woods each finished in double figures, none of them have proven to be consistent secondary scorers.
Understanding his importance, Wesson said he worked to "show" his hands more to avoid reaching in and risk picking up fouls.
"I mean, I've never been one to stay out of foul trouble," Wesson said. "I've always been bigger than everybody, more physical. I've just always been in foul trouble. Just stuff like that, sometimes you think it's Big Ten basketball and you think, 'Oh, I'm getting horrible calls and everything like that,' but you've just got to take a step back, see what the refs are seeing. You've got to watch a lot of film."
Part of his ongoing development centers on controlling his emotions.
Wesson, just like Holtmann, doesn't hide his emotions. When he disagrees with a referee's foul call on him, he reacts. Sometimes that takes the form of him angrily storming away. Other times, he has argued his case. He rarely keeps his thoughts to himself, though.
"I'm not a calm guy," Wesson said. "I talk a lot. Like I said, I'm going to get better. When things happen, my first reaction is to react. I just have to stay mellow. The refs see that, they get a little antsy, so I've just got to stay mellow."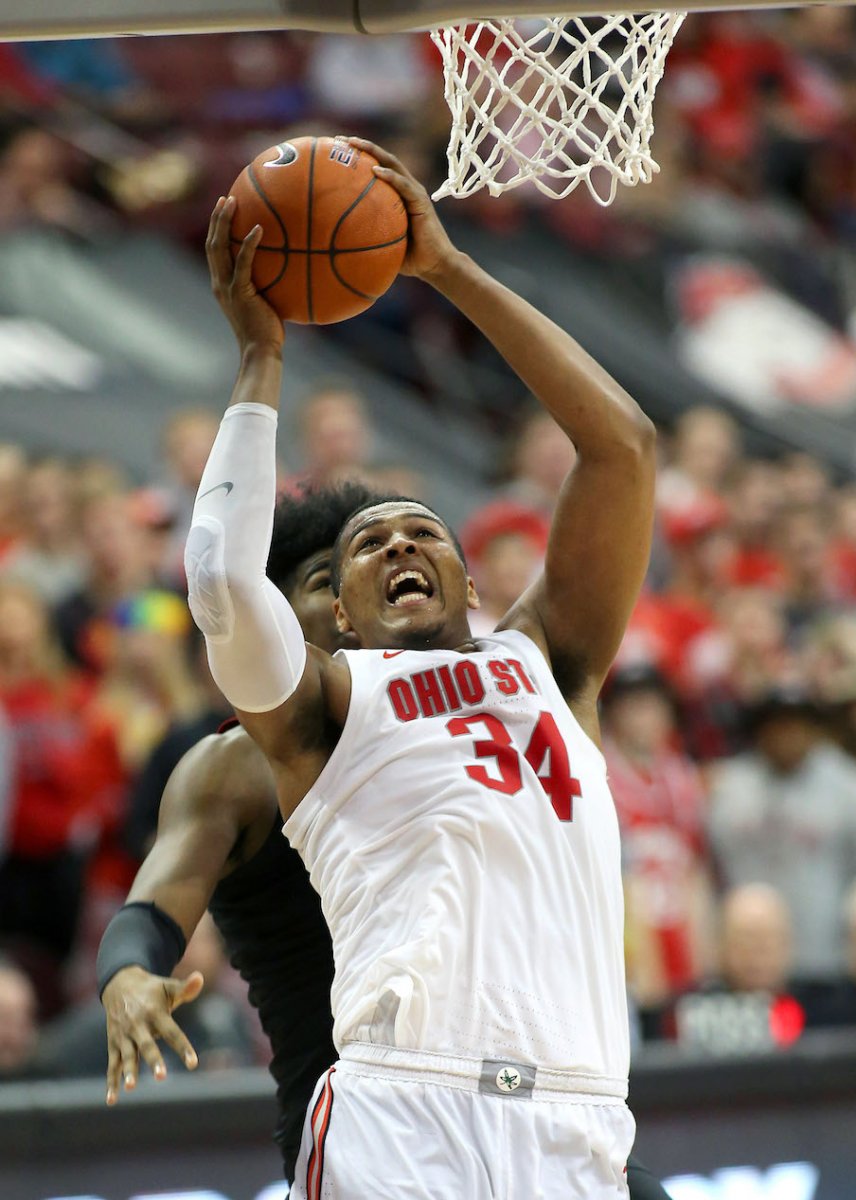 Wesson didn't pick up a foul in the entire first half of Saturday's win and ended the game with just two fouls for the first time since Ohio State beat Bucknell on Dec. 15, which allowed him to play a career-high 37 minutes. He said the game allowed him to feel "relief."
While on the court in the first half, the offense ran through him. In the second half, with Rutgers keying on him, C.J. Jackson scored 17 points and their teammates picked up some of the scoring from Wesson.
"I kind of think he took what the defense gave him," Holtmann said. "Obviously, he was on a roll there and we knew he was on a roll, and a lot of that was just within the flow of the offense. I thought he did a really good job in the second half not settling for some 3s when he could have. He had one in the corner that he passed, drove it, passed it to Keyshawn. I thought that was good a play as he made, as crazy as that sounds."
Nine of Wesson's points came from his three 3-pointers, which tied his career high. All came in the first 11 minutes of the game.
Rutgers head coach Steve Pikiell noted after the game how difficult defending Wesson is when he's hitting shots both inside the paint and beyond the arc. Holtmann has implored Wesson to take deep shots since the offseason, and it paid off on Saturday.
"You heard me in the summer say we need him to shoot threes," Holtmann said. "He has great touch. We charted every shooting drill. He's top five or six on our team in terms of shooting drills. So we want him to do that, but I also think he didn't settle.
"And defensively, they play a little bit different. He was pretty active there, he got touches there. They use their 7-footers and say, 'Hey, we're going to play you one-on-one.' Not every team that we play is going to do that, and when teams trap and do other things, we'll have to adjust."
Wesson has had issues facing size in the Big Ten portion of the schedule, and that won't get any easier with more than a month remaining until the end of the regular season.
But Saturday's performance reminded everyone what he can be when he stays out of foul trouble and provides efficient offensive production for a team that desperately needs it.
"Just relief, but you know, we've got to get back to the next game," Wesson said. "We've still got a lot of the season left and a lot of things to accomplish."