Kaleb Wesson's first experience playing in a raucous atmosphere came in January. Ohio State played host to Michigan State and shocked the country, shaking up the Big Ten early in conference play with an 80-64 upset victory.
Standing inside the Schottenstein Center, Wesson thought, "Oh this is loud in here. It gets loud." Then, exactly one month later, the Buckeyes headed to West Lafayette, Indiana, to take on Purdue.
"I was like, 'Oh, I haven't heard loud before,'" Wesson said with a smile. "It's definitely stuff like that makes you love it."
| Who | Where | When | TV |
| --- | --- | --- | --- |
| Creighton (2-0) | CHI Health Center Omaha | 7 p.m. | FS1 |
Ohio State (2-0) expects Purdue-like conditions in the arena when it head to Omaha, Nebraska, to take on Creighton (2-0) at 7 p.m. Thursday as part of the Gavitt Tipoff Games, an annual series pitting Big Ten teams against Big East opponents.
Chris Holtmann coached on the road against Creighton multiple times while at Butler, and he called it one of the three or four most difficult environments to coach in.
"Their environment has an impact on the game. There is no question," Holtmann said. "Obviously they shoot it very well at home. They play with great pace home and away, but certainly at home they play faster. You have to deal with some of the noise and confusion and energy that their crowd is going to bring."
Keyshawn Woods spent two seasons playing for Wake Forest. There, he got to experience some of the most intimidating road environments in college basketball. He said "all basketball players should experience" Duke's Cameron Indoor Stadium, and also listed North Carolina and Syracuse as having tough arenas to play in.
Woods might have to add Creighton's CHI Health Center Omaha to the list after Thursday's game. Creighton has won 24 non-conference home games in a row.
"You've got to be solid," Woods said. "We've got to stick with our gameplan. When teams go on runs and their crowds get into it, just like Cincinnati, we've got to take the crowd out of it the majority of the game, and we've got to stay connected as a group. When we're connected as a group, we can go in any environment and win a game."
Opponent Preview
Creighton went 21-12 last season and made the NCAA tournament for the second year in a row, but suffered key losses in the offseason.
The Bluejays lost Khyri Thomas and Marcus Foster, a pair of talented guards. Thomas, a second round pick by the Detroit Pistons, was named Big Ten Defensive Player of the Year while averaging 15.1 points, 4.4 rebounds and 2.8 assists per game. Foster averaged 19.8 points per game last season and earned first-team All-Big Ten honors the past two seasons.
Holtmann said he still views the Bluejays as an NCAA tournament team this season, though.
"They have a lot of young pieces," Holtmann said. "They had some really key injuries last year that kind of impacted them, even though they still went to the tournament and had a really good season. Greg's got a really good group. Lot of talented young players. Gifted backcourt. Good depth inside. Terrific shooting. And they're always a team that's well-coached."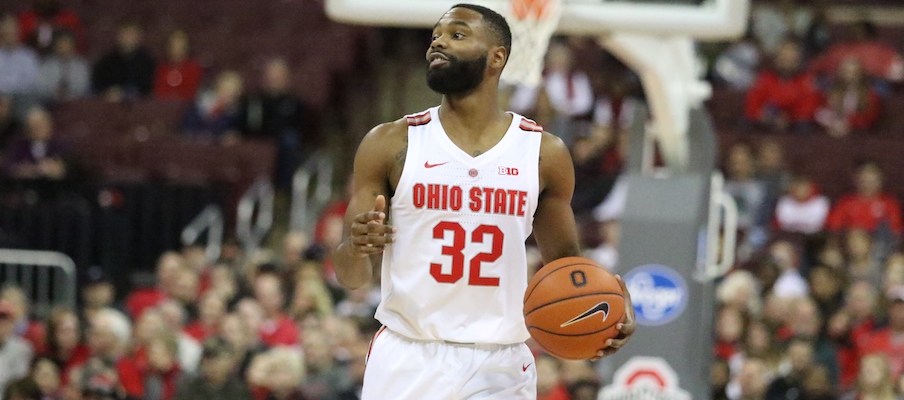 The Bluejays have a pair of wins against lowly regarded teams, but neither victory was particularly convincing. Creighton beat Western Illinois, 78-67, in the season opener, then nipped East Tennessee St. for a 75-69 victory.
As Holtmann said, the game should feel more like Ohio State's game versus Purdue Fort Wayne than the matchup against the Bearcats. Creighton likes to get out in transition, play fast and shoot 3-pointers. The difference from the Mastodons, Holtmann said, is the Bluejays' greater size.
Ty-Shon Alexander, a 6-foot-3 sophomore guard, averages five more minutes per game than anyone else (34.5 minutes) and leads the team with 16 points per game. Four Bluejays players average at least 10 points per game.
Creighton has hit an astounding 20-of-38 3-pointers in its first two games combined while shooting 49.5 percent from the field and holding opponents to 39.7 percent shooting.
Ohio State Preview
To begin the season, the Buckeyes knocked off Cincinnati on the road by eight points, then annihilated Purdue Fort Wayne, a solid mid-major program. They've caught the eye of both national pundits and locals who thought they might be in for a rebuilding year, but Wesson cautioned anyone from believing those inside the locker room ever doubted the potential of this group.
"We started this in June," Wesson said. "Everybody in our organization knew we were this good in June."
Thursday night's game against Creighton bookends a tough three-game stretch for Ohio State, but also begins a stretch of four games in nine days. After playing Creighton, it heads home to take on South Carolina State, Samford and Cleveland State without ever getting more than three days off in a row.
Holtmann said the Buckeyes had a "pretty hard" practice on Tuesday, but noted they have to tamp down the intensity in the next week.
"You want to get better, but you also want your guys fresh in mind and body for that stretch because it's a lot, it's a lot on a kid," Holtmann said.
The Buckeyes have focused on working on rebounding lately after Cincinnati out-rebounded them by six and the Mastodons grabbed more boards than them in the first half. With only one player taller than 6-foot-5 in the starting lineup, the Bluejays won't be exceedingly tall and had issues grabbing boards against East Tennessee State. While Creighton grabbed 22 rebounds, East Tennessee State had 19 offensive rebounds and 40 total boards.
Still, the Buckeyes have yet to dominate the glass in a game, and that should be a focus Thursday night.
"Guards have got to help our bigs," Woods said. "We can't rely on our bigs to get every rebound, and that's just who wants it more. As guards, we've got to make sure we get those long rebounds that our bigs can't get."
Creighton's fast-paced style will challenge Wesson, who lost substantial weight in the offseason and focused on improving his conditioning.
"Games like this one where it's going to be a lot of possessions, they're going to need me on the floor a lot more," Wesson said. "I feel like this is what I've been preparing for since June."
How It Plays Out
Ohio State and Creighton are separated by just five spots in the latest KenPom rankings. The Buckeyes are 32nd, while the Bluejays sit at No. 37. Ohio State is a 2 1/2-point favorite on the road.
In such a hostile environment, it'll be important to grab an early lead. Purdue Fort Wayne remained in striking distance in the first half due to Ohio State's young, inexperienced group playing a fast-paced, up-and-down style that fit the Mastodons. With the Bluejays likely to push the pace, the Buckeyes can't afford to be forced into playing the opposition's style.
Ohio State eased some uncertainty of playing in front of a crowd in the season opener against Cincinnati, though Holtmann said it takes more than a single game to show a team can handle adversity on the road.
"One game is a snapshot," Holtmann We handled some of those moments really well, but I think you're a good road team when you're consistently a good road team, not when you're just one time."
The Buckeyes have played stifling defense at times and have proven the ability to both knock down shots and manufacture points, both of which might be needed on Thursday. Both teams still have significant unknowns, so it wouldn't be a surprise if either team won, but Ohio State's proven ability on both ends of the court gives the team an edge.
---
Prediction: Ohio State 78, Creighton 74