Keita Bates-Diop is two days away from becoming Ohio State's first NBA draft selection in three years.
NBA draft prognosticators unanimously agree that Bates-Diop will be the first Buckeye to hear his name called since 2015, when the Los Angeles Lakers selected D'Angelo Russell with the No. 2 overall pick, and most of them also agree that Bates-Diop – though he won't go nearly as highly as Russell – will be a first-round pick.
What they don't agree on, however, is which team he will land with.
To get an idea of where Bates-Diop might ultimately end up during Thursday night's draft in Brooklyn, New York, Eleven Warriors took a look around the Internet for mock drafts from major media outlets and reputed basketball writers. And in the 12 mock drafts surveyed, 10 different potential landing spots were identified, with only two pairs of mock drafts projecting Bates-Diop to land with the same team.
Bates-Diop isn't the only Buckeye hoping to hear his name called on Thursday night. Jae'Sean Tate has worked out for several teams in the weeks leading up to the draft, while Kam Williams also participated alongside Tate in the Pro Basketball Combine. Neither Tate nor Williams, however, was included in any of the mock drafts surveyed below.
Projections for Bates-Diop, though, range everywhere from the Ohio State forward being selected just outside the lottery to coming off the board in the early second round.
The most optimistic projection for Bates-Diop has him being selected with the first pick outside the lottery by the Washington Wizards. Tim Bontemps, the national NBA writer for the Washington Post, views Bates-Diop as a good fit for his newspaper's hometown team, particularly in a scenario where both Texas Tech small forward Zhaire Smith and Kentucky combo forward Kevin Knox are both selected with lottery picks.
"This spot could go in a few directions. Smith will be a consideration if he's on the board, as could Knox and (Oregon guard) Troy Brown," Bontemps wrote. "But Bates-Diop should be able to immediately step in and provide shooting and defense on the wings, plus true size to defend big forwards — something the Wizards need in a big way."
Bates-Diop worked out with the Wizards last week.
Longtime NBA draft reporter David Aldridge is also among those who believes Bates-Diop could be selected just outside the lottery. While the Phoenix Suns won't draft Bates-Diop with the No. 1 overall pick – that pick is widely expected to be Arizona big man DeAndre Ayton – they could target him with their second first-round pick, No. 16 overall (acquired in a trade from the Miami Heat).
"This pick could certainly be moved/sold by Phoenix to one of the teams without a first-rounder looking to get into the mix. But if the Suns keep it, Bates-Diop would make a lot of sense here," Aldridge wrote. "In the multi-positional modern NBA, Bates-Diop will be a boon to any team with his potential as a switcher on pick and rolls. KBD also comes from a rock-solid family; he'd fit right in as the Suns continue to re-establish a winning culture."
The Suns have shown interest in the 2017-18 Big Ten Player of the Year during the pre-draft process, bringing him in for a workout at the end of May.
One projection for Bates-Diop that has been made in multiple mocks has the Minnesota Timberwolves selecting the Normal, Illinois native to round out the top 20 picks of the draft. While the Timberwolves already have one of the league's top wings in Jimmy Butler and one of the league's top young talents on the wing in Andrew Wiggins, they don't have much depth behind them, and Bates-Diop's experience at Ohio State gives him the potential to be an immediate contributor in Minnesota off the bench at both small forward and power forward.
"With the Timberwolves desperate for cheap wing help, a ready-to-play junior on a rookie scale contract is a match made in basketball heaven," Jake Paynting wrote in April for the Timberwolves fan site Dunking With Wolves.
The Utah Jazz, who also brought in Bates-Diop for a May workout, are another team that should be in the market for a rotational frontcourt player and could target the former Buckeye if he is still on the board with their first-round pick, No. 21 overall.
"The Big Ten Player of the Year could provide needed insurance to Utah's frontcourt with Derrick Favors entering the free agent market this summer and Alec Burks, Thabo Sefolosha and Jonas Jerebko all coming off the books in 2019," Scotto wrote.
USA TODAY's team of NBA writers "canvassed multiple league executives in shaping its latest mock draft," and after conferring with its sources from around the league, determined that the Portland Trail Blazers' No. 24 overall pick was the most likely landing spot for Bates-Diop.
"Bates-Diop has good mobility, anticipation and athleticism, and his face-up game was an asset in college," wrote the USA TODAY writers. "As a redshirt player, there are legitimate questions as to how much he'll improve."
Should Bates-Diop be selected by the Trail Blazers, who brought Bates-Diop in for a workout on June 1, he would join fellow former Buckeye and Big Ten Player of the Year Evan Turner in Portland.
After emerging as one of the Eastern Conference's top teams this past season, the Philadelphia 76ers are another team that should be in the market for a player with the polish to potentially contribute quickly, and Bleacher Report's Jonathan Wasserman believes that could lead them to drafting Bates-Diop.
"Bates-Diop could play both forward spots for the 76ers, who need depth at the 3 and 4," Wasserman wrote. "He's older and doesn't explode, but the eye test approves of his terrific physical profile, scoring versatility and defensive potential."
28. Golden State Warriors – ESPN's Adrian Wojnarowski
If Bates-Diop falls to the final three picks of the first round, ESPN's Adrian Wojnarowski – one of the most well-known and connected NBA reporters in the industry – believes he could end up with the team that has won three of the last four NBA titles.
In a televised mock draft special on ESPN on Monday night, Wojnarowski projected that the Golden State Warriors would select Bates-Diop with the No. 28 overall pick. Wojnarowski also noted that the Warriors have a tendency to trade cash for additional picks in the early second round, which could make moving back up for Bates-Diop an option if they go in another direction at No. 28 and he continues to fall.
The Warriors are also among the teams who have brought Bates-Diop in for a pre-draft workout.
The final projected landing spot for Bates-Diop in Round 1 is also one of the most popular, with CBS Sports' Gary Parrish and Broderick Turner of the Los Angeles Times both projecting that the Ohio State forward could land with the Brooklyn Nets at the No. 29 overall pick.
ESPN's team of NBA Insiders also slotted Bates-Diop to the Nets in their "Grade A" mock draft, in which they chose the players that they would select for each team, with ESPN's Mike Schmitz writing that the Nets should be in the market for more youth at forward.
If the Nets draft Bates-Diop, he would be reunited with Russell, who played with Bates-Diop at Ohio State for one season (2014-15) and is now the Nets' starting point guard.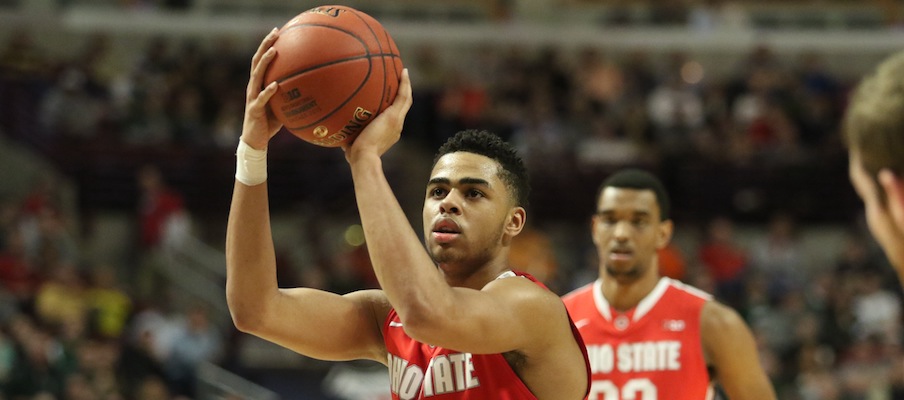 If Bates-Diop falls out of the first round, his second-round wait could be very short. The aforementioned Phoenix Suns also hold the first pick in Round 2, and that's where Sports Illustrated's Jeremy Woo projects he will land.
The Suns already have four young forwards (Marquese Chriss, Dragan Bender, T.J. Warren and Josh Jackson) who were lottery picks, so Bates-Diop would likely start behind all of them on the depth chart, but his well-rounded skill set could make him a valuable role player off the bench.
(Update: In a new mock draft published Tuesday morning after this article, Woo projected that the Los Angeles Lakers will select Bates-Diop with the No. 25 overall pick).
The far lowest projection among the mock drafts we surveyed came from NBADraft.net, which has Bates-Diop falling all the way out of the top 40 picks before the Orlando Magic bring his draft slide to an end at No. 41 overall.
While Bates-Diop won't be in play at the Magic's first-round pick (No. 6 overall), he'd be considered a steal if he fell that far into the second round. The Magic also could be in the market for a forward with their second-round pick, given that backup forwards Mario Hezonja and Marreese Speights are both unrestricted free agents.