It's pretty easy to make a case for March Madness as being the greatest sporting event in America. I know we all get hyped for various football games, be it the Super Bowl or The Game or whatever, and for an Ohio State or the increasingly rare Michigan fan, the latter obviously holds more weight.
But as a vehicle for pure joy and excitement that anyone can get involved in, March Madness is more or less unbeatable, because it's a giant-ass tournament that by its structure allows for this universal understanding of how cool it is. All teams are labeled with numbers, and as a result, underdogs and favorites are readily understood. The general parity of the teams makes for exciting and dramatic finishes. Individual players can go on tears and emerge as heroes.
The whole thing is this super cool, semi-egalitarian contest that is pretty impossible to turn away from. When I taught English in Japan years ago, one of the things that I made sure to show my coworkers was the NCAA Tournament, and they immediately understood what makes it so special (in part because it rules and in part because it's similar to Japan's Koshien Tournament).
Anyway, Ohio State has a long history in March Madness, but before we get into the details about where the 2017-2018 Ohio State men's basketball team is headed and who they'll be playing, let's take a look at what they've done since the NCAA started handing out seeds in the 1979 edition of the tournament (I've gone ahead and included the tournaments that Ohio State has vacated because they happened and no one can stop me). Lower numbers are obviously better in this case.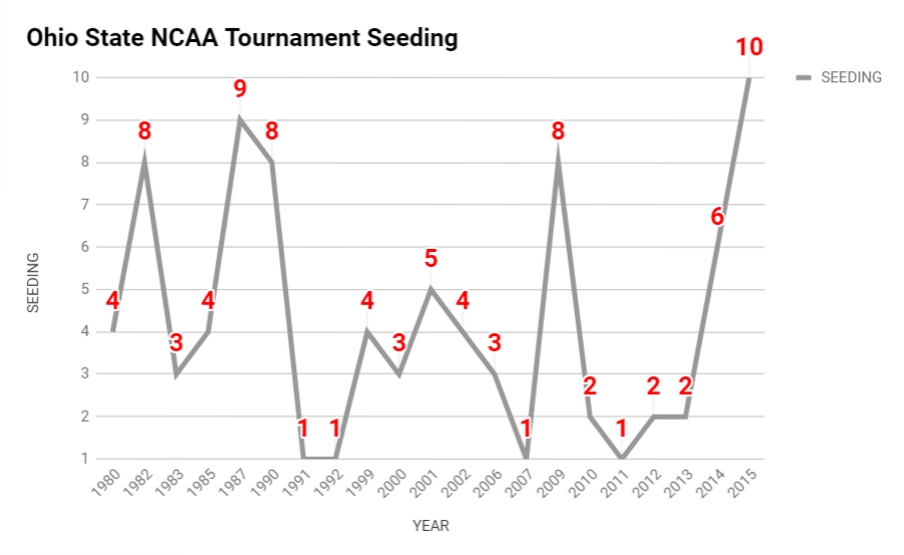 Ohio State has predictably never been seeded lower than 10th, which became somewhat more impressive after the expansion to a 64-team tournament in 1985. Something that surprised me is that the Buckeyes have also been given a No. 1 seed four different times, including the overall No. 1 seed in 2006.
Of course, a good seeding doesn't equal victories, so let's see how they fared once they were actually in the tournament. Higher numbers are good here. Duh.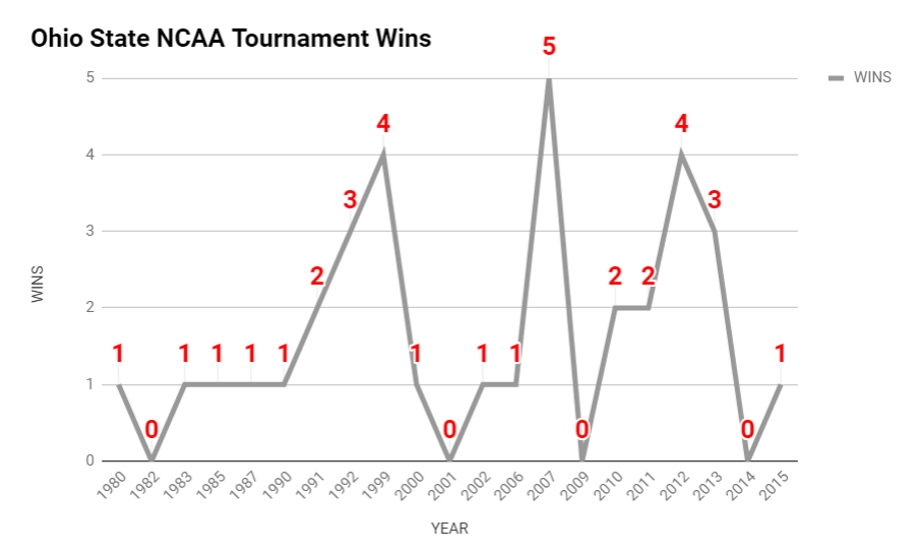 13 out of the last 21 times Ohio State has made March Madness, they've lost in either the first or second round. That's not a great record for a program that's had some sustained basketball success over the past several decades. Here's hoping Chris Holtmann can change some of that.
Whatever happens during the selection show this afternoon, I'm excited. It's been far too long since the Buckeyes got to go dancing, and had the opportunity to add some tournament wins to the program's March resume.