The big news this week as Ohio State's Cinderella basketball season raged on came Monday as Chris Holtmann won Big Ten Coach of the Year honors and Keita Bates-Diop snagged the Big Ten Player of the Year award while teammates Jae'Sean Tate and Kaleb Wesson each earned conference accolades.
The recognition came a day after the Buckeyes learned they would have to settle for a second-place finish in the Big Ten regular season standings. Of course that wasn't devastating news considering the preseason saw the experts predict Ohio State to finish no better than ninth in the conference race.
Holtmann's squad entered last Sunday with a chance to at least earn a piece of the Big Ten regular season crown and while eventual champion Michigan State was able to hold off Wisconsin and claim the outright title, Ohio State would not have even had a shot at a share if not for the heroics of C.J. Jackson just two nights earlier in Bloomington. 
A non-all-league performer, Jackson went for 13 points in Ohio State's double-overtime victory over Indiana including a game-winning 25-footer in the closing seconds. 
Along with that soaking wet jumper, Jackson registered more assists than turnovers (2 to 1) on the night which fell right in line with a season-long trend of Ohio State's wins and losses directly correlating to his Jackson's ball handling and decision making from game to game. 
Across Ohio State's 24 wins, Jackson had more turnovers than assists in just one of those contests. To find the lone anomaly you have to go all the way back to the second game of the year as Jackson turned it over seven times against three assists in an 82-72 win over Radford. 
COMPARING C.J. JACKSON'S STATISTICAL OUTPUT IN WINS VERSUS LOSSES


| OUTCOME | FG | FGA | FG% | 3FG | 3FGA | 3FG% | FT | FTA | FT% | APG | TOG | PPG |
| --- | --- | --- | --- | --- | --- | --- | --- | --- | --- | --- | --- | --- |
| 7 LOSSES | 29 | 66 | 43.9% | 11 | 27 | 40.7% | 16 | 20 | 80.0% | 2.0 | 3.6 | 12.1 |
| 24 WINS | 100 | 238 | 42.0% | 46 | 121 | 38.0% | 54 | 66 | 81.8% | 4.3 | 1.8 | 12.5 |
| 31 TOTAL | 129 | 304 | 42.4% | 57 | 148 | 38.5% | 70 | 86 | 81.4% | 3.8 | 2.2 | 12.4 |
In Ohio State's win over Michigan to kick off league play back in December, Jackson was +2 with four assists against two turnovers. Just over a month later during the most complete team performance of the year, Jackson had three assists with zero turnovers in a blowout of then-No. 1 Michigan State. 
Using the win over Tom Izzo's crew as a springboard, Jackson went +4, +5 and +6 over the next three games – all wins – albeit against lesser foes in Maryland, Rutgers and Northwestern. 
During Ohio State's second-biggest victory of the year, a 64-63 decision over then-No. 3 Purdue, Jackson was far from spectacular (2 of 9 shooting) but he managed to at least avoid the negative side of the decision making ledger with two assists and two turnovers.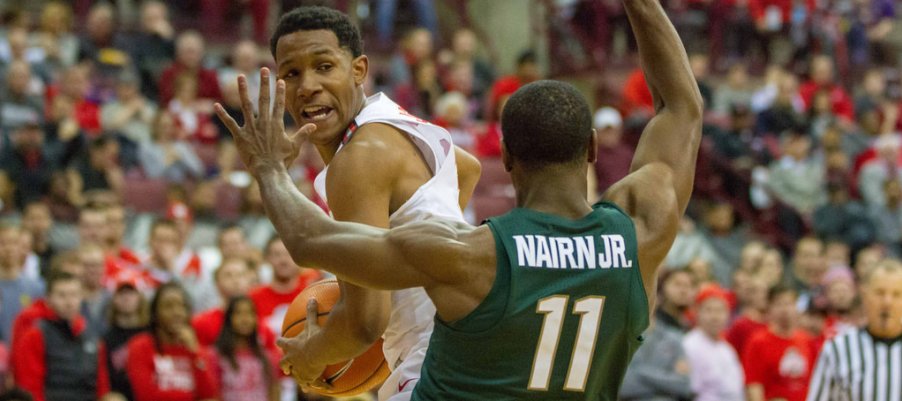 Ohio State's seven losses paint the opposite picture as Jackson registered at least three turnovers in all but one of those outings and tallied least four assists in just one of those defeats with both of those anomalies coming in the squad's first loss to Penn State. 
While the correlation of Jackson's ball handling and decision making to wins and losses is hard to ignore, it's interesting that his shooting percentages from the field, three-point line and free throw line are virtually identical, as our his points per game, regardless of the game's outcome.  
As such, it seems more important that Holtmann receives heady play from Jackson than scoring as the Buckeyes enter the single elimination portion of the season. 
With teams potentially more likely to focus on exploiting individual matchups, coupled with the reality Ohio State doesn't have a true point guard nor does it match up all that well against teams with big guards, the pressure will be on Jackson to make smart decisions with the ball in his hands if the Buckeyes want to make noise in March.