If you were tuning in to Monday evening's Big Ten end-of-season basketball awards announcements, you watched Ohio State absolutely clean house.
Buckeyes laid claim to both the men and women's Big Ten Player of the Year Awards, the men's coach of the year award, and saw eight total players receive Big Ten honors – a lot of hardware is coming back to Columbus.
The player of the year awards went to junior Keita Bates-Diop and Kelsey Mitchell, who've taken very different paths, but are both undeniably deserving.
This is Mitchell's third Big Ten Player of the Year award in her four-year, dominating career. She finished the regular-season second in the Big Ten and third in the nation in scoring, averaging 24.4 points per game to lead her team to its second-straight Big Ten regular season championship.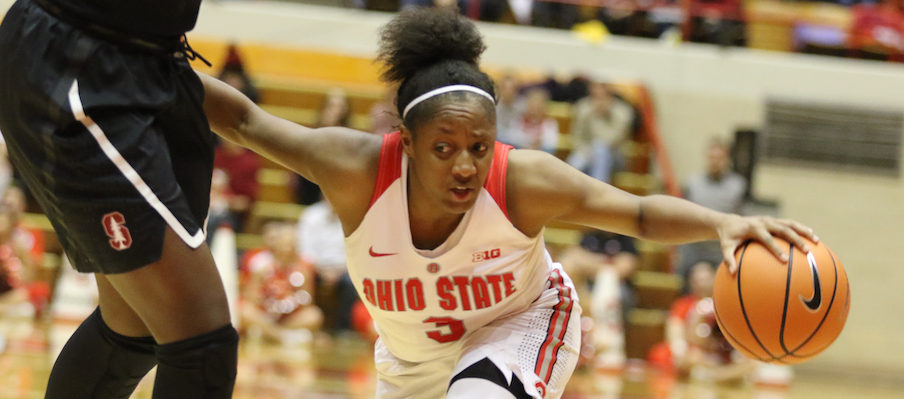 Mitchell has been dominant since day one, laying waste to school, conference and national records. She's already the Big Ten's all-time leading scorer, holds the NCAA record for most made three-pointers and consecutive games with a three-point make. When Mitchell's through, she'll likely be the second all-time leading scorer in NCAA history.
For her, the award is a celebration of a long, historic Buckeye career. But for Bates-Diop, the award is the mark of an unexpected, storybook breakout season.
Last season, Bates-Diop watched helplessly from the bench as his team fumbled its way to an 11th place finish in the Big Ten and missed the NCAA Tournament for the second-straight season, this team failing to even earn an NIT bid.
Coming off a leg injury which cost him most of his third season at Ohio State, Bates-Diop was not exactly a preseason favorite to take home the conference player of the year hardware. In fact, he wasn't even listed in one major publication's conference preview article which listed what they believed to be the Big Ten's 27 best players.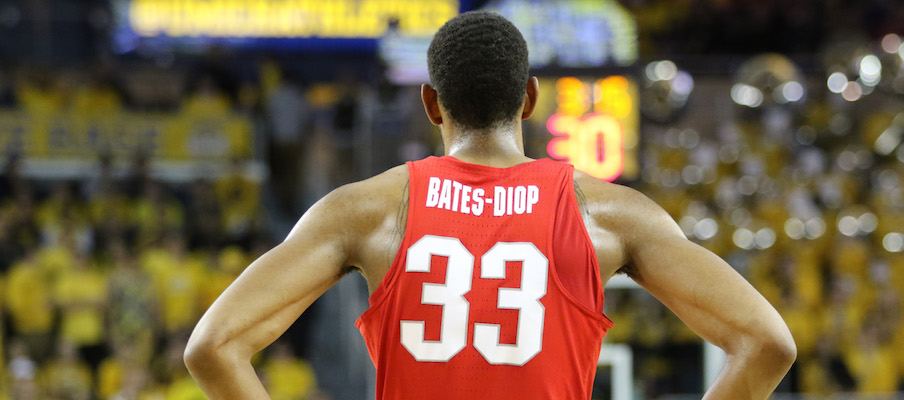 But that didn't stop Bates-Diop from exploding this season. He averaged 19.2 points and 8.9 rebounds per game – both good for second in the conference – recording 12 double-doubles. He also dropped dropped 32 points in a blowout win over No. 1 Michigan State and a career-high 35 in a drubbing of Illinois.
Bates-Diop wasn't even among those 27 names five months ago, but after his play this season, he's now alone at the top.
And then there's Chris Holtmann, who earned the Big Ten Coach of the Year award for performing one of the best coaching jobs Columbus has ever seen against all odds.
Holtmann inherited a Buckeye team in early June that hadn't been to the NCAA Tournament in two seasons, had just seven scholarship players and had just lost its top-three scorers from the previous season. The situation was so bleak, Holtmann said he nearly turned to a summer rec league to add depth to the bench.
Before the season, Ohio State was predicted to finish as low as 13th in a conference of 14 teams. And with what the Buckeyes were working with, that seemed like a reasonable projection.
Preseason Big Ten standings predictions for Ohio State, which finished 153 and second in the league under Chris Holtmann:
13th BTN
12th NBC Sports
12th Sporting News
11th Sports Illustrated
9th USA Today pic.twitter.com/Htv5KnuUwN

— Eleven Warriors (@11W) February 26, 2018
But Holtmann worked his magic. He filled the roster with a high school senior (Musa Jallow), a player that signed a letter of intent to a different school (Kyle Young) and a graduate transfer walk-on from Michigan (Andrew Dakich).
A few months later, Ohio State finished second in the Big Ten, boasting a 24-7 overall record and 15-3 conference record. Holtmann's 24 wins – and counting – set an Ohio State record for the most of any first-year coach.
But it wasn't just the star players or the coaches, this year Ohio State basketball was great top to bottom, male or female – and those players also got the recognition they deserved.
Along with Mitchell and Bates-Diop, six other Buckeyes were given Big Ten honors on Monday evening.
Starting with the women, senior forward Stephanie Mavunga joined Mitchell as first-team all-Big Ten while Linnae Harper was named to the conference's all-defensive team. Seirra Calhoun and Asia Doss also earned accolades, as each were given a Big Ten honorable mention.
All five of the women's team's starters were given Big Ten recognition following the season.
On the men's side, Jae'Sean Tate earned second-team All-Big Ten honors while Kaleb Wesson was named the conference's all-freshman team.
Two players of the year, one coach of the year and eight players honored in total. Monday evening was a celebration of a season's worth of domination, but the season isn't over yet, so here's hoping the domination isn't either.