Recruiting is a fickle, funny game. But college coaches better be good at it if they want to keep their jobs.
Recruiting is what brought the Thad Five to Columbus and ushered in a new era of Ohio State men's basketball under new head coach Thad Matta. It is what has kept Urban Meyer's football team operating at a monstrous level, with 61 victories in 67 tries, a Big Ten Championship and a national title during his first five seasons at the helm.
Recruiting is also part of Matta's current undoing, with multiple consecutive seasons of regression resulting in an increasingly uninterested and frustrated fanbase. The Buckeyes lost in the second round of the NIT to close the 2015-16 season before not even making the same tournament this past winter. Ohio State's most successful coach in program history now faces a do-or-die season, though his resume includes 337 victories, a pair of Final Four appearances and five Big Ten regular season championships.
Meyer inked one of the best recruiting classes of all-time in February. It ranked second in the country behind Alabama solely due to numbers — Ohio State signed 21 players while the Crimson Tide brought in 29 — and made the head coach pleased with the elder part of his current roster in addition to its youth. On Signing Day, he recalled strength coach Mickey Marotti saying his roster reminded him of an Oreo — hard-shelled on the edges, yet soft in the middle.
"You've got strength at the bottom, strength at the top and then there's a squeeze from some of the guys who haven't done enough around here to produce and be a part of it," Meyer said on his radio show that day.
Oddly enough, the reasons both for Meyer saying that and Matta fighting like hell to keep his job are due to the recruiting classes the two men signed in 2015. Both top-7 groups nationally, each already has lost five members of their respective class.
It begs the question — was something in the Columbus water that year?
---
Recruiting rankings are in no way foolproof, as top prospects sometimes don't pan out either due to injuries or another hindrance that varies with each individual. Yet Urban Meyer and the Buckeyes keep an eye on them all the time as part of their never-ending desire to be the best in absolutely everything.
"It cracks me up where you say 'Well, ratings don't matter,'" Meyer said on National Signing Day this past February. "Well, if they're keeping score we'd like to win that thing. I do look at that."
Thad Matta and Ohio State undoubtedly do too, though basketball recruiting is extremely different than things on the gridiron. Top national prospects on the hardwood eye programs like Duke or Kentucky, at times making it tough for Matta to get players like the Thad Five — Greg Oden, Daequan Cook, Mike Conley, David Lighty and Othello Hunter — to come to Columbus. While you assuredly have your own opinions on the Ohio State men's basketball program, the exodus of the 2015 class is a pillar in Matta's demise.
He signed five players that cycle, a class that earned a No. 5 national ranking from 247Sports. All five are no longer with the program: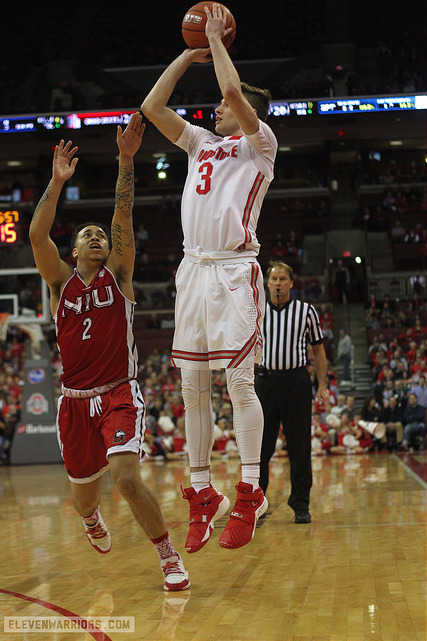 Four-star guard JaQuan Lyle; IMG Academy in Bradenton, Florida. At 6-foot-5 and 220 pounds, Lyle was ranked the 41st-best prospect in the country;
Four-star center Daniel Giddens; Wheeler High School in Marietta, Georgia. When Giddens signed, he was 6-foot-10 and 235 pounds and the No. 49 prospect in the nation;
Four-star guard Austin Grandstaff; Rockwall High School in Rockwall, Texas. Thought to be the next Jon Diebler with his pure outside shooting stroke, the 6-foot-4, 180-pounder was the 54th-ranked recruit in the class of 2015.
Four-star guard A.J. Harris; Dunbar High School in Dayton, Ohio. The lone Ohio commit in the class, the 5-foot-9, 160-pound Harris was thought to build future depth at guard for the Buckeyes.
Four-star forward Mickey Mitchell; Plano West High School in Plano, Texas. Another Texas export and brother of former Buckeye linebacker Mike Mitchell, the 6-foot-7, 210-pound prospect was rated 119th by 247Sports.
Meyer and the football program signed 26 players in 2015, the Big Ten's best class and one that checked in at No. 7 in the country on Signing Day. Like the men's basketball team, five players who signed have moved on. The five:
Four-star quarterback/athlete Torrance Gibson; American Heritage High School, Fort Lauderdale, Florida. An incredibly blessed athlete at 6-foot-4 and 204 pounds, Gibson was a top-75 recruit.
Four-star wide receiver Alex Stump; St. Edward High School in Lakewood, Ohio. Stump was the No. 301 recruit in the country out of high school.
Four-star cornerback Jamel Dean; Cocoa High School, Cocoa, Florida. The 6-foot-2, 195-pound Dean enrolled in January but was not medically cleared by the training staff because of his knee and never practiced with the team.
Three-star cornerback Joshua Norwood; Valdosta High School in Valdosta, Georgia. Another cornerback who went elsewhere, the 5-foot-10 and 175-pounder was a top-50 player at his position in the country.
Three-star offensive tackle Grant Schmidt; Roosevelt High School in Sioux Falls, South Dakota. The first Buckeye to come from South Dakota, Schmidt enrolled early as the best player from his home state.
Every player from the 10 above left for a multitude of reasons. Dean's knee kept Ohio State's medical staff from clearing him. Gibson wanted to play quarterback, switched to wide receiver, then got into some trouble and left in the hopes of a fresh start. Norwood, Stump and Schmidt were all buried on the depth chart at their respective positions. And in Schmidt and Norwood's case, they saw no path to playing time all while being far from home.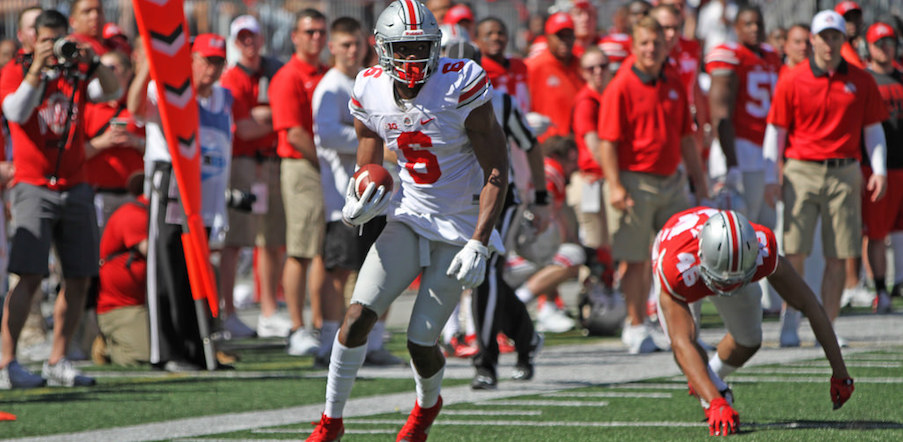 On the hoops side of things, Mitchell appeared in only 23 games after being ruled ineligible for Autumn Semester. He asked for a release from his scholarship at the end of the season. Mitchell headed to UC Santa Barbara and is now at Arizona State. Lyle skipped town last month, though we didn't learn of his exit until he got pinched in Vanderburgh County (Indiana) over the weekend for public intoxication, criminal mischief to a vehicle and disorderly conduct. His basketball future is uncertain.
Harris, Giddens and Grandstaff did the same thing as Mitchell and transferred out. Only Grandstaff did it at the end of Autumn Semester in December, appearing in just 10 games for the Buckeyes. He first went to Oklahoma but is now at DePaul. Giddens landed at Alabama, Harris is at New Mexico State.
A recurring theme for the 10 departed players is distance from Columbus and their hometowns. Only Harris and Stump grew up in the state of Ohio.
Is that to blame for such significant parts of a class — or in the basketball program's case, the entirety of it — leaving? Potentially. Meyer said he saw improvements from his class during spring practice and it isn't like the group was all bad. Denzel Ward, Jerome Baker, Mike Weber, Isaiah Prince, Dre'Mont Jones, K.J. Hill and Liam McCullough are all starters, while Damon Arnette, A.J. Alexander and Robert Landers are all in line to be key contributors this fall. Joe Burrow served as J.T. Barrett's backup at quarterback in 2016 and is vying with Dwayne Haskins for the job again this fall.
But Matta's entire group is gone, helping to cripple a program that has trended south over the last six seasons. The remaining players in Meyer's 2015 group are who the coach claims will determine what kind of team the Buckeyes have this fall.
"We're very strong at the top, we're very strong at the bottom and now we gotta squeeze it to make sure everybody's productive and provides value," he said. "You do that, you'll have a fine team. If you don't, you won't."
Ohio State's football program is clipping along at an unforeseen rate even with the departures. The men's basketball program is heading the other direction.