Last Friday marked 25 years since Gary Williams left Ohio State to take over his alma mater, Maryland, after only three seasons in Columbus. It was pretty shocking to me, since I considered very few jobs (read: none) were worth leaving Ohio State for.
I was disappointed, not quite irate like Jimmy Crum.
Williams had taken a lackluster Ohio State basketball program and turned it into a fast-paced, aggressive, exciting game that truly ignited a passion for the team. The results weren't spectacular (two 20-13 seasons and a 19-15 mark in his final year of 1988-89). He won a now-quaint-seeming 59% of his games, 44% in Big Ten play.
In fact, the Buckeyes finished sixth in the conference in Williams' first two seasons and eighth his last year. But the team was exciting to watch and it did reach the second round of the NCAA tournament in 1986-87. His other two years at Ohio State produced an NIT runner-up in 1987-88 and an NIT quarterfinalist in 1988-89.
The team, however, was getting better and you could see it. He was recruiting better players, like Jimmy Jackson, one of the guys Crum railed on him for running out on.
Williams took over for Eldon Miller. Everything about Miller was boring. He even looked boring. Miller's teams averaged a record of 17-12 from 1977 to 1986 and made four NCAA tournaments, but mostly did very little. Williams was dynamic, animated on the bench and his teams played hard. By and large they didn't win that many more games, but they did manage to steal a few they shouldn't have, and probably wouldn't have under Miller.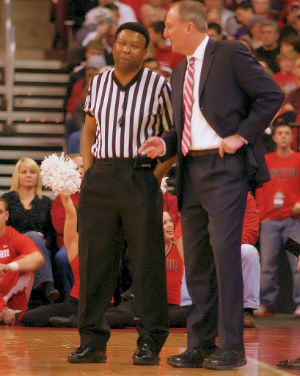 St. John Arena became a very difficult place for opponents to play in Williams' three seasons in Columbus. It was loud and intimidating. And so was Ohio State's defensive pressure. Williams brought in more athletic players and by the time the makeup of the team was what he needed to win, he bolted for Maryland.
So, the Buckeyes were changing coaches for the second time in four years.
"I really thought when I want to Ohio State that that would be the job," Williams said at the time. "There was nothing there that didn't meet my expectations."
And yet, he left. I'm sure the pull of the ACC and his alma mater was strong. I didn't like his decision and pretty much decided to hate him for a while. I got over it eventually, but I still tend to wrinkle my brow when his name comes up.
Like many fans of that era, it seemed like Ohio State would be stuck in mediocrity and even take a step backward from what Williams had begun to build. It seemed a shame for a coach of his caliber to bail just when things were getting good.
Big names were tossed around, but in the end, Ohio State promoted assistant coach Randy Ayers in a move probably designed to hang onto players and maintain some continuity within the program.
Ayers took Williams' team to the NCAA tournament three straight years, reaching the Sweet 16 in 1991 and the Elite Eight in 1992.
Then the wheels fell off. The Buckeyes went 15-13 in 1992-93, finished seventh in the B1G, and were knocked out of the NIT in the first round. Ohio State fell to 13-16 the next year and missed the postseason, and then had consecutive years of 6-22, 10-17, and 10-17, before Ayers was ousted.
But Williams proved that Ohio State could become an attractive job where a coach could win, even if he left before that actually happened. Jim O'Brien succeeded Ayers and was mostly successful, despite NCAA sanctions that wiped out a huge chunk of his wins.
O'Brien made the NCAA tournament four times in seven seasons before he landed in hot water, including a Final Four appearance in 1999.
Thad Matta replaced O'Brien in 2004 and I think we'd all agree that was a very good hire. Matta has won an incredible 77% of his total games and 70% of his conference games. He has won 20 or more games every year he's coached the Buckeyes, with three 30+ win seasons, a National Championship appearance, two Final Fours, an NIT championship and he's made at least the Sweet 16 in half of his 10 seasons.
Matta has been so successful that a first-weekend exit from the NCAA tournament in a 25-10 season is considered subpar in Columbus. That would have been considered an exceptionally good year under Miller.
So Williams' leaving didn't kill Ohio State basketball. It set the foundation for much better years under Ayers, O'Brien and Matta, and it gives us a nice reason to hate on the Terrapins now that they're going to be B1G East division rivals.
I'm over Williams leaving now. I appreciate that he paved the way for better things to come. But man, do I want the Buckeyes to throttle his alma mater.